CapeCodFD.com
Special Feature

<![if !vml]>
<![endif]>


Photos by Britton W Crosby



| FIREBOATS || BALTIMORE | BOSTON\ CAPE COD | CHICAGO | CLEVELAND\ CONNECTICUT| DAYTONA BEACH |
| HALIFAX & P.E.I. | HYANNIS | HAWAII | JACKSONVILLE | LOS ANGELES \ LONG BEACH | MASSPORT LOGAN |
| NASHVILLE | NEWARK | NEW BEDFORD | NEW YORK CITY | PHILADELPHIA | PORTLAND | PORTSMOUTH |
| PROVIDENCE | SAN FRANCISCO | SEATTLE | WASHINGTON DC | WILMINGTON | MORE FIREBOATS |



[ HOME ] [ SPECIAL FEATURES ]
<![if !vml]>
<![endif]>
Page 1 Page 2 Page 3 Page 4 Page 5 Page 6 Page 7
Page Added June 28, 2011 - Updated August 9, 2011
FDNY MARINE COMPANY 1
"THREE FORTY THREE"

FDNY MARINE COMPANY 1
New Marine 1 Station located on the Hudson River at Bloomfield Street
expected to open in 2011
Marine 1 Station from water.
NEWER FDNY FIREBOAT PAGES
Added July 2011
New York FDNY 4 - Marine 1 "Three Forty Three"
New York FDNY 5 - Marine 6 "Bravest"
New York FDNY 6 - Marine 9 "Firefighter II"
New York FDNY 7 - Reserve "Alfred E Smith" and Retired John J. Harvey"

Marine Company 1 temporary home at Pier 40.
Three Forty Three at sunset with New Jersey shore across the river.
July 2011
FDNY Fireboat - Marine 1
"THREE FORTY THREE"
The new FDNY Marine Company 1
Built in 2009 at Eastern Shipbuilding Group in Panama City, Florida
Commissioned on September 11, 2010
140' Length, 36' Beam, 9' Draft
50,000 GPM - 11 Remote controlled monitors
3,600 gallons of foam
Equipped with large boom / crane
Cost estimated at $27 Million.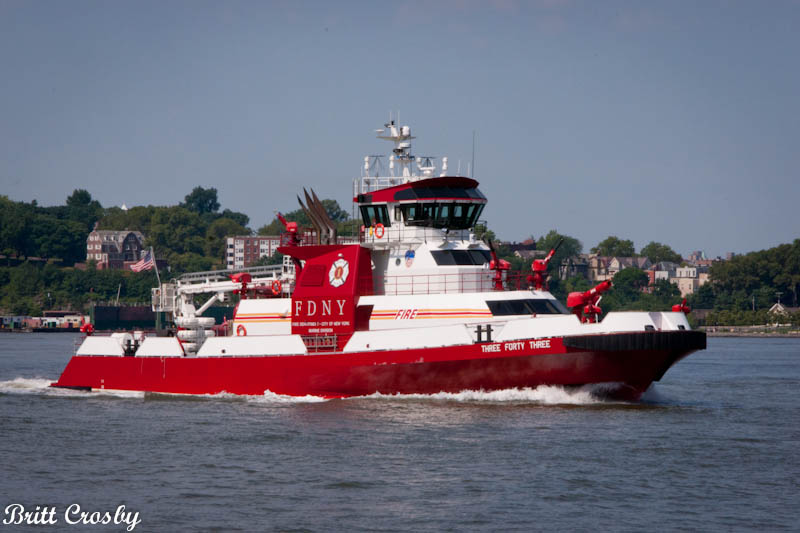 The Three Forty Three motoring up the Hudson
The Fire Fighter II and the Three Forty Three are identical.
The Three Forty Three, along with the Fire Fighter II, and Bravest put on a display during
the 2011 Blessing of the Fleet in July 2011.
NEVER FORGOTTEN
The "Three Forty Three" is named for the 343 Firefighters killed on September 11, 2001
at the World Trade Center. Their pictures are on the wall in the new fire boat.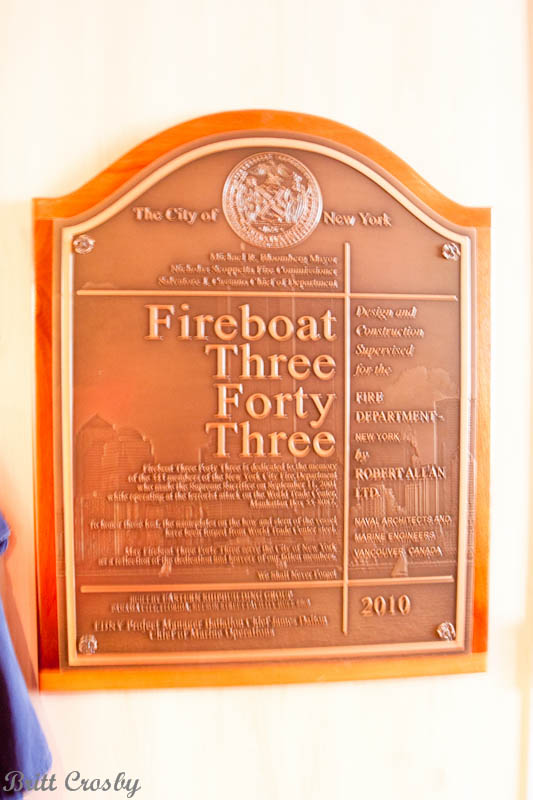 All FDNY Fireboats have a plaque that tells of the manufacturer, year,
mayor, and other facts about the vessel.
The wheel of the 343 in the modern control center high atop the vessel.
A deck below the wheel house is the fire command center with communications, planning, and other
resources used during any type of emergency.
She was on display at the Intrepid Museum on July 16 and 17 during Firefighter Appreciation weekend
and the Blessing of the Fleet.
FDNY Fireboat - MARINE 1 ALPHA
Along with the 140 foot 343, Marine 1 also operates a smaller approx 27' boat
able to respond quickly to any incident.
OLD MARINE COMPANY 1
JOHN D. McKEAN
FDNY Fireboat
"John D. McKean"
Former FDNY Marine Company 1
is now in reserve status at the Marine Division Headquarters
located at the former Brooklyn Navy Yard on the East River.
Built 1954 - Retired 2011
129' length, 30' Beam, 0' draft
19,000 GPM
photos Jul 2011

FDNY Fireboat
"John D. McKean"
Built in Camden, NJ in 1954
129' LOA, 30' beam, 9' draft
19,000 GPM capacity
The McKean and the Fire Fighter.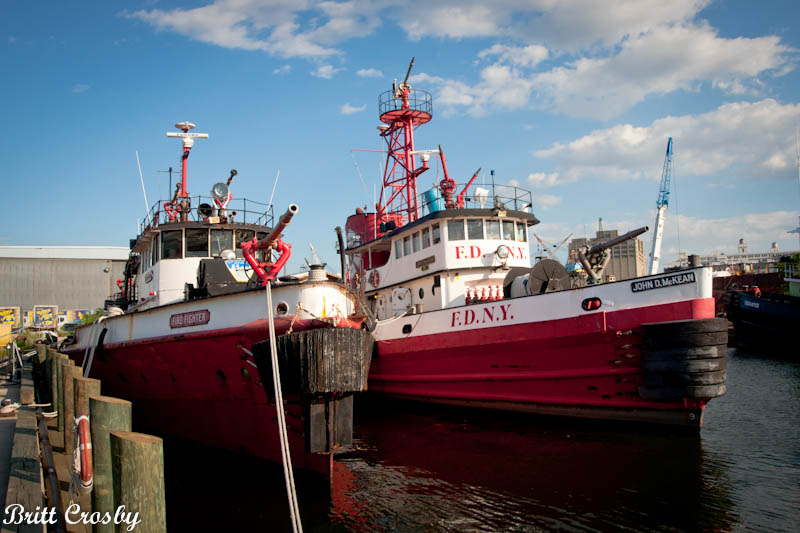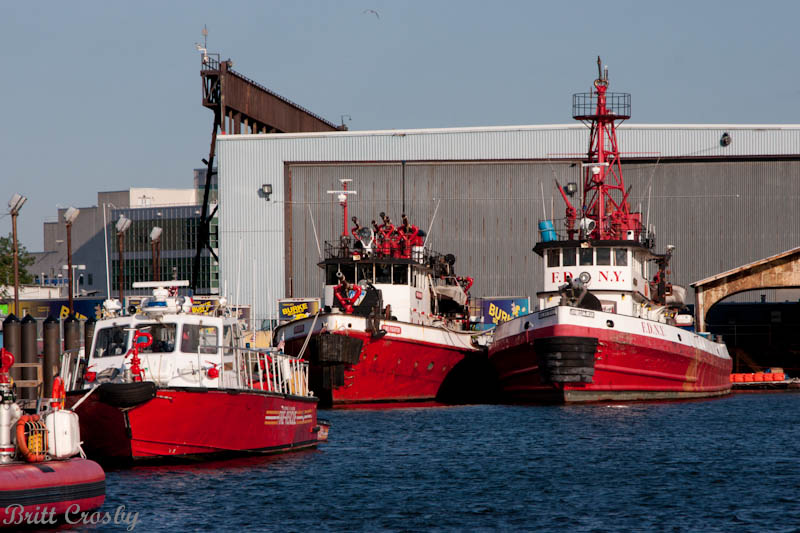 Reserve and retired FDNY Fireboats.
Kevin Kane (Marine 6), Fire Fighter (Marine 9), and John D. McKean (Marine 1)
July 2011
The Wheel of the McKean
RELATED SITES
FIRE DEPARTMENT CITY OF NEW YORK
UNOFFICIAL FDNY SITE
FIREBOAT.ORG
THE BRAVEST.COM
FDNY FIRE BOAT
YOU TUBE VIDEO OF
LAUNCH OF MARINE COMPANY 1 "THE 343"
"343" SEA TRIALS
ARRIVAL OF THE 343
"343 COMMISSIONING"


<![if !vml]>
<![endif]>
Page 1 Page 2 Page 3 Page 4 Page 5 Page 6 Page 7

FIREBOATS

FROM

Baltimore 1
Baltimore 2
Baltimore 3
Baltimore 4
Boston
Boston 2
Cape Cod 1
Cape Cod 2
Chicago
Cleveland
Connecticut
Daytona Beach
Halifax, NS & P.E.I.
Hyannis, MA
Hawaii
Jacksonville, Florida
Los Angeles City
Long Beach
Massport Boston
Massport Boston 2
Nashville, TN
Newark
New Bedford, MA
New York City 1
New York City 2
New York City 3
New York City 4
New York City 5
New York City 6
New York City 7
Philadelphia
Portland
Portsmouth, NH
Providence, Rhode Island
San Francisco
Seattle
Washington DC
Wilmington
More Fireboats
| Baltimore 1 | Baltimore 2 | Baltimore 3 | Baltimore 4 | Boston | Boston 2 | Cape Cod 1 | Cape Cod 2 | Chicago |Cleveland | Connecticut |
| Daytona Beach | Halifax | Hyannis, MA | Hawaii | Jacksonville, Florida | Los Angeles City | Long Beach | Massport Boston | Massport Boston 2 |
| Nashville | Newark | New Bedford, MA | New York City 1 | New York City 2 | New York City 3 | New York City 4 | New York City 5 |
| New York City 6 | New York City 7 | Philadelphia | Portland | Providence, Rhode Island | San Francisco | Seattle |
| Washington DC | Wilmington | More Fireboats |

Copyright
Britton W Crosby
CapeCodFD.com
2004-2011