CapeCodFD.com
Special Feature

<![if !vml]>
<![endif]>


Photos by Britton W Crosby



| FIREBOATS || BALTIMORE | BOSTON\ CAPE COD | CHICAGO | CLEVELAND\ CONNECTICUT| DAYTONA BEACH |
| HALIFAX & P.E.I. | HYANNIS | HAWAII | JACKSONVILLE | LOS ANGELES \ LONG BEACH | MASSPORT LOGAN |
| NASHVILLE | NEWARK | NEW BEDFORD | NEW YORK CITY | PHILADELPHIA | PORTLAND | PORTSMOUTH |
| PROVIDENCE | SAN FRANCISCO | SEATTLE | WASHINGTON DC | WILMINGTON | MORE FIREBOATS |



[ HOME ] [ SPECIAL FEATURES ]
<![if !vml]>
<![endif]>
Also See Cape Cod, Massachusetts
Page 1 Page 2
Hyannis Fire Boat
Added Nov 9, 2009 - Updated August 9, 2011

The new Hyannis Marine 808 arrived September 6, 2009
2009 Metal Craft FireStorm 30
Built in Kingston, Ontario, Canada
Brought home over 5 days via the Erie Canal system, Hudson River,
Long Island Sound, and finally to Cape Cod.
She is equipped with twin diesels and jet drive propulsion.
The boat has a 1750 gpm pump (over 2000 gpm capable)
and carries 35 gallons of AFFF.
It has two remote control monitors and one manual deckgun.
It has advanced navigational electronics.


The fire boat moors at the Steamship Wharf at the end of School Street.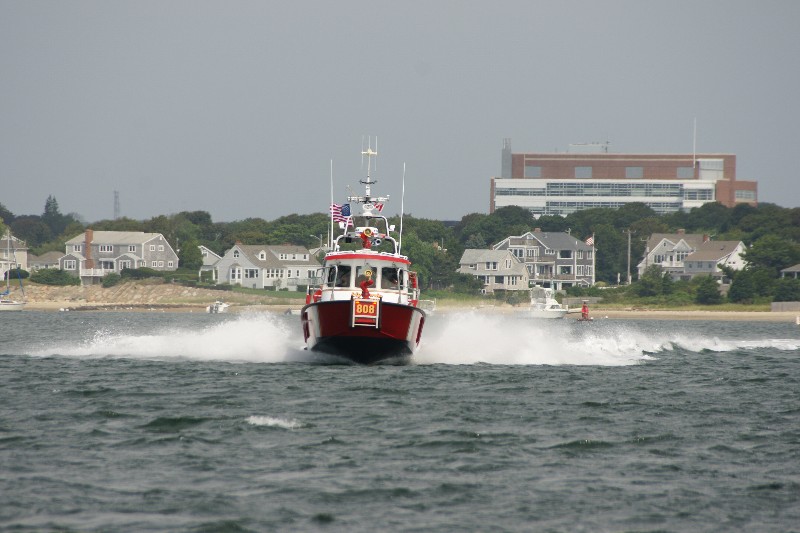 The boat can travel in excess of 35 knots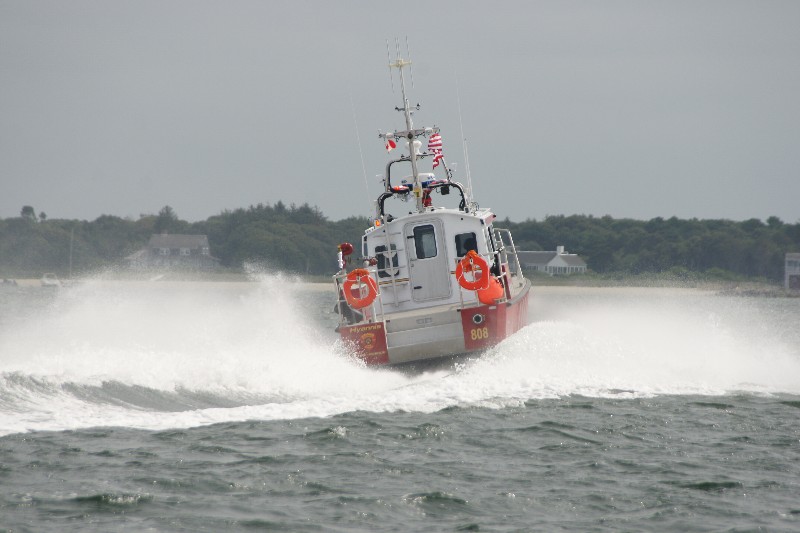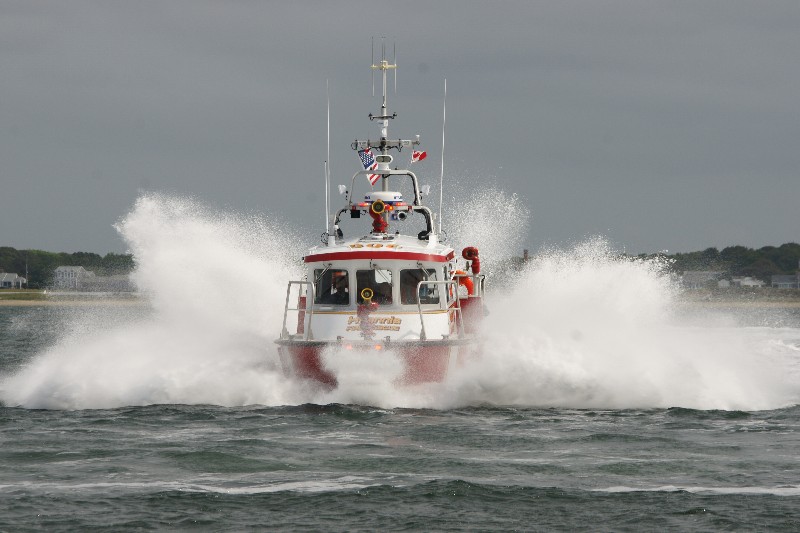 Marine 808 can stop almost instantly by reversing the jets and "Putting on the brakes!"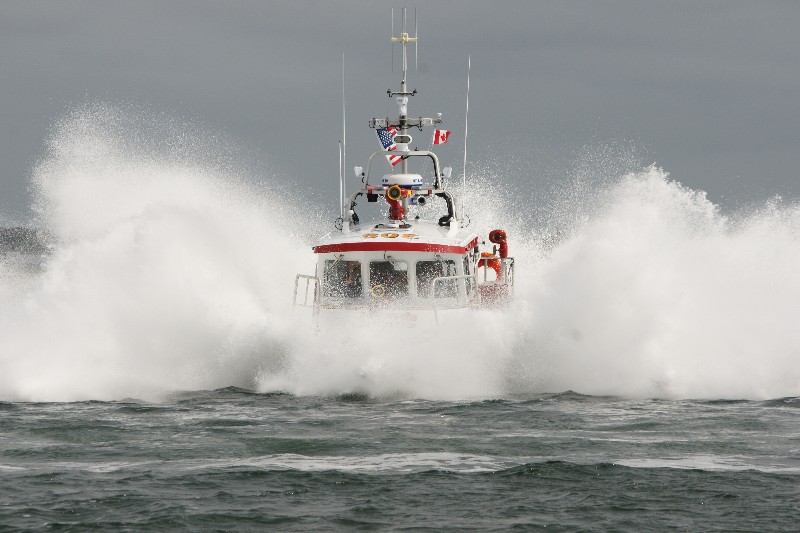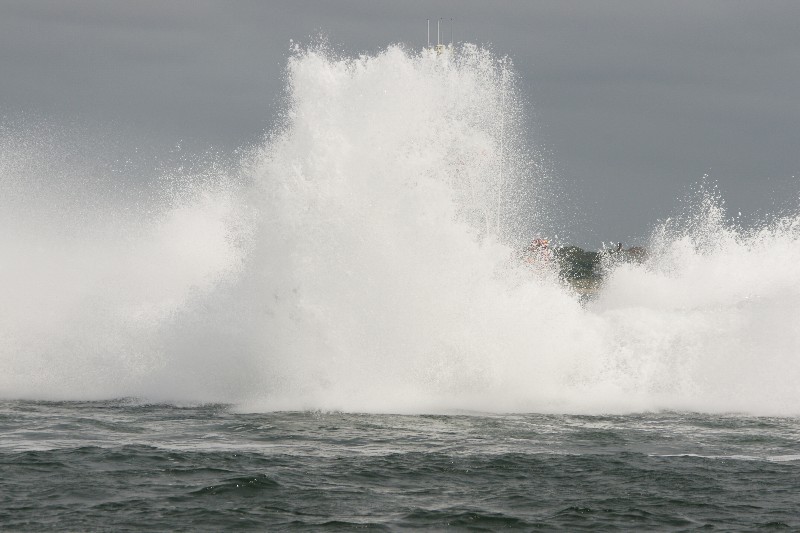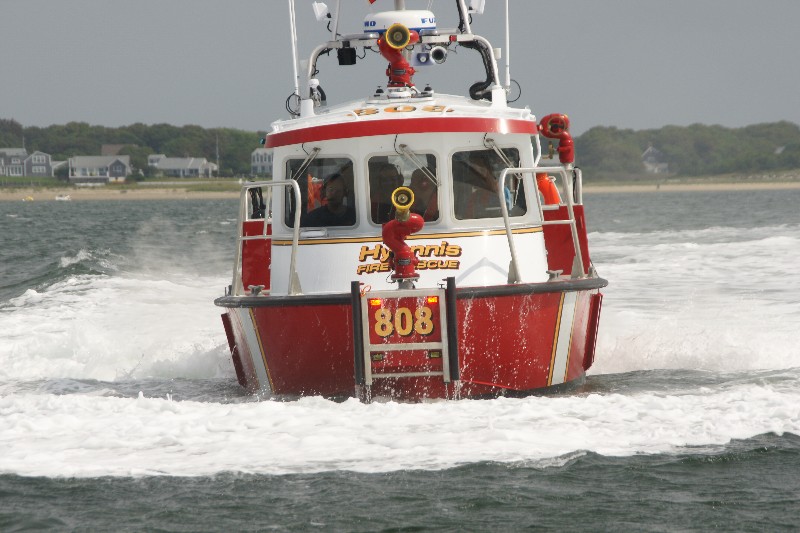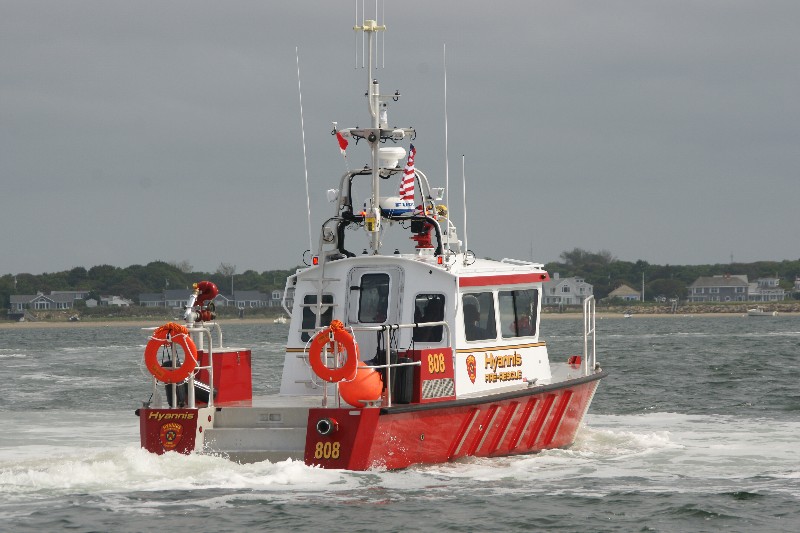 The boat is also capable of almost instant 180 degree emergency turns

Bow and roof mounted monitors flow about 2000 gpm total
and are remote controlled from inside cabin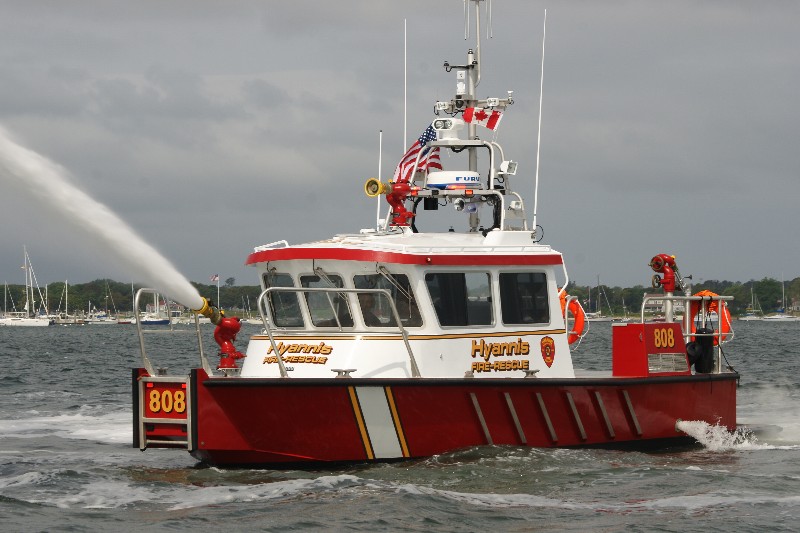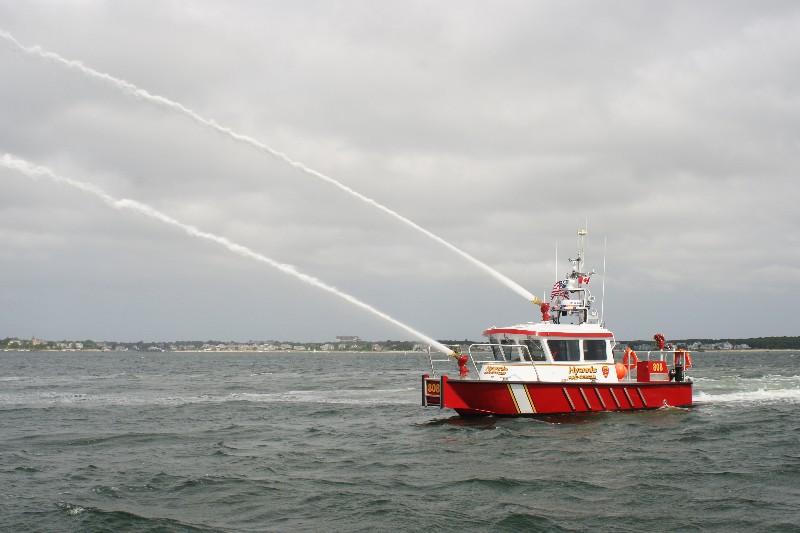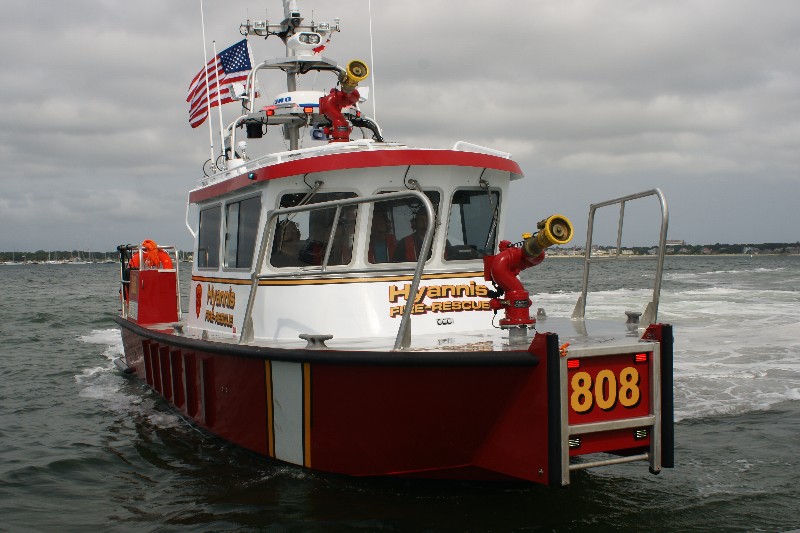 Hyannisport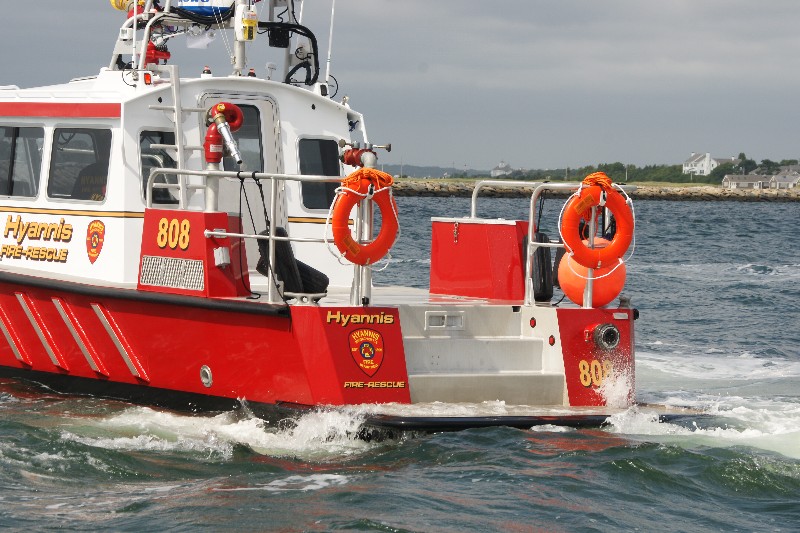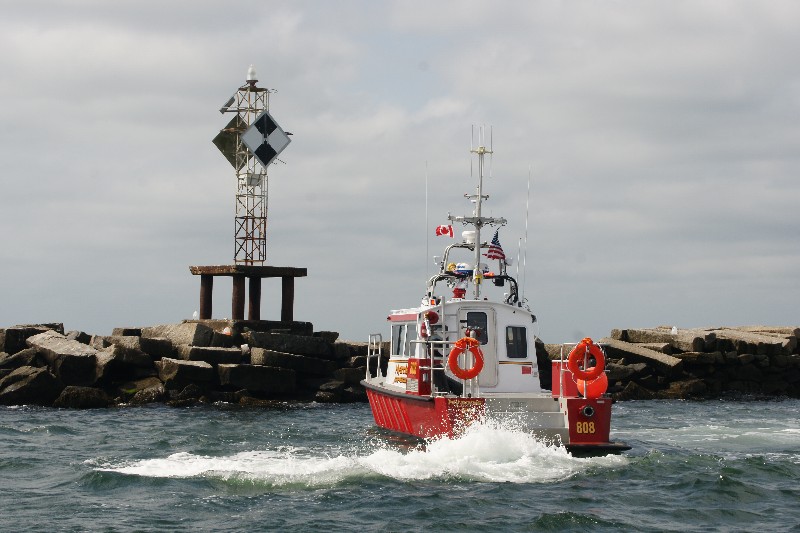 The Hyannis breakwater is a common rescue spot when tides and waves catch people
off guard and they have to be picked off the breakwater by Hyannis fire fighters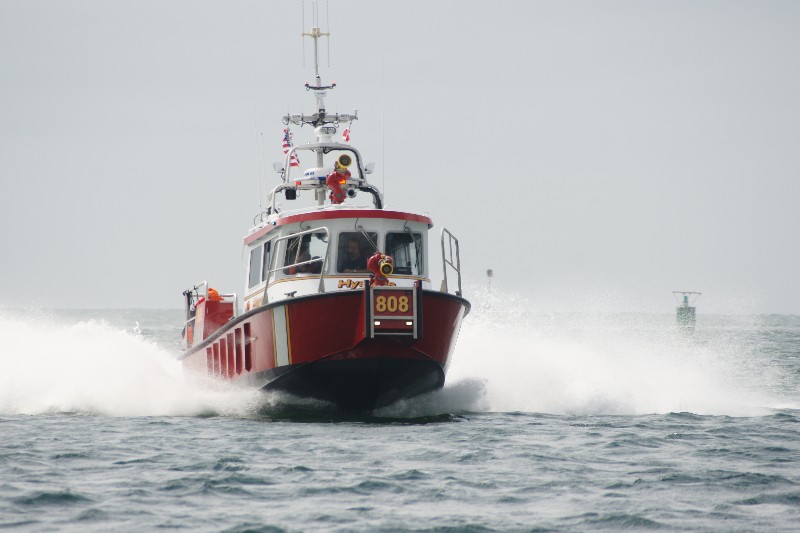 Hyannis is a busy port for ferries to Nantucket and Martha's Vineyard
as well as many fishing and pleasure boats
<![if !vml]>
<![endif]>
Also See Cape Cod, Massachusetts
Page 1 Page 2


FIREBOATS

FROM

Baltimore 1
Baltimore 2
Baltimore 3
Baltimore 4
Boston
Boston 2
Cape Cod 1
Cape Cod 2
Chicago
Cleveland
Connecticut
Daytona Beach
Halifax, NS & P.E.I.
Hyannis, MA
Hawaii
Jacksonville, Florida
Los Angeles City
Long Beach
Massport Boston
Massport Boston 2
Nashville, TN
Newark
New Bedford, MA
New York City 1
New York City 2
New York City 3
New York City 4
New York City 5
New York City 6
New York City 7
Philadelphia
Portland
Portsmouth, NH
Providence, Rhode Island
San Francisco
Seattle
Washington DC
Wilmington
More Fireboats
| Baltimore 1 | Baltimore 2 | Baltimore 3 | Baltimore 4 | Boston | Boston 2 | Cape Cod 1 | Cape Cod 2 | Chicago |Cleveland | Connecticut |
| Daytona Beach | Halifax | Hyannis, MA | Hawaii | Jacksonville, Florida | Los Angeles City | Long Beach | Massport Boston | Massport Boston 2 |
| Nashville | Newark | New Bedford, MA | New York City 1 | New York City 2 | New York City 3 | New York City 4 | New York City 5 |
| New York City 6 | New York City 7 | Philadelphia | Portland | Providence, Rhode Island | San Francisco | Seattle |
| Washington DC | Wilmington | More Fireboats |

Copyright
Britton W Crosby
CapeCodFD.com
2004-2011