CapeCodFD.com
Special Feature

<![if !vml]>
<![endif]>


Photos by Britton W Crosby



| FIREBOATS || BALTIMORE | BOSTON\ CAPE COD | CHICAGO | CLEVELAND\ CONNECTICUT| DAYTONA BEACH |
| HALIFAX & P.E.I. | HYANNIS | HAWAII | JACKSONVILLE | LOS ANGELES \ LONG BEACH | MASSPORT LOGAN |
| NASHVILLE | NEWARK | NEW BEDFORD | NEW YORK CITY | PHILADELPHIA | PORTLAND | PORTSMOUTH |
| PROVIDENCE | SAN FRANCISCO | SEATTLE | WASHINGTON DC | WILMINGTON | MORE FIREBOATS |



[ HOME ] [ SPECIAL FEATURES ]
<![if !vml]>

<![endif]>
Page 1 Page 2
Hyannis Fire Boat
Added Nov 25, 2007 - Updated September 7, 2011
There are a number of boats protecting the shorelines, harbors, lakes, and ponds
around the Cape & Islands area. Some of these are designed primarily for rescue
while others have capabilities for fire fighting, either by permanently installed
pumps or portable pumps when needed.
HYANNIS MAINE 808
Hyannis took delivery of their new Metal Craft Fire Storm 30 on Sept 6, 2009.
Built in Kingston, Ontario, the new fireboat was brought home over 5 days via
the Erie Canal system to the Hudson to Long Island Sound and to Cape Cod.
Equipped with twin diesels and jet drive propulsion, the new boat cruises along
at about 35 knots in all kinds of seas. It is equipped with a 1750 gpm pump
and has 3 monitors, 2 remotely controlled from the cabin. It also carried 35 gals
of AFFF and has full electronics.

Marine 808 is moored in Hyannis Harbor near the steamship wharf.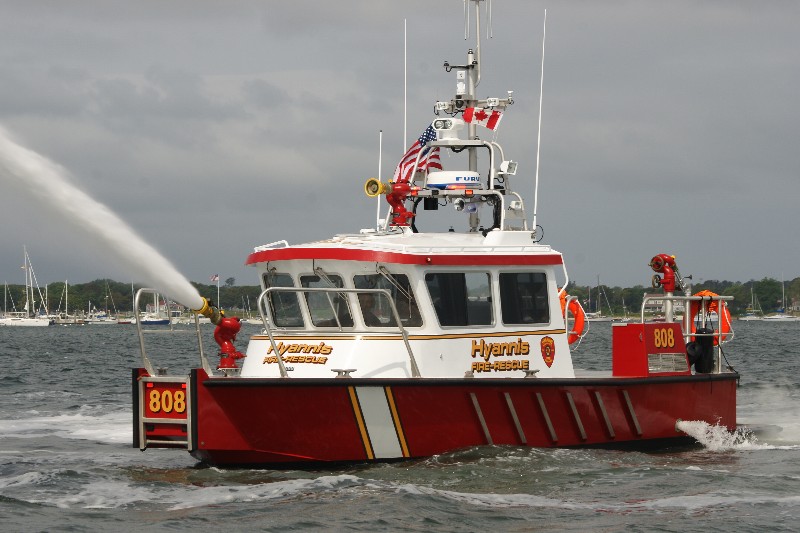 For more photos of Marine 808 in action
CLICK HERE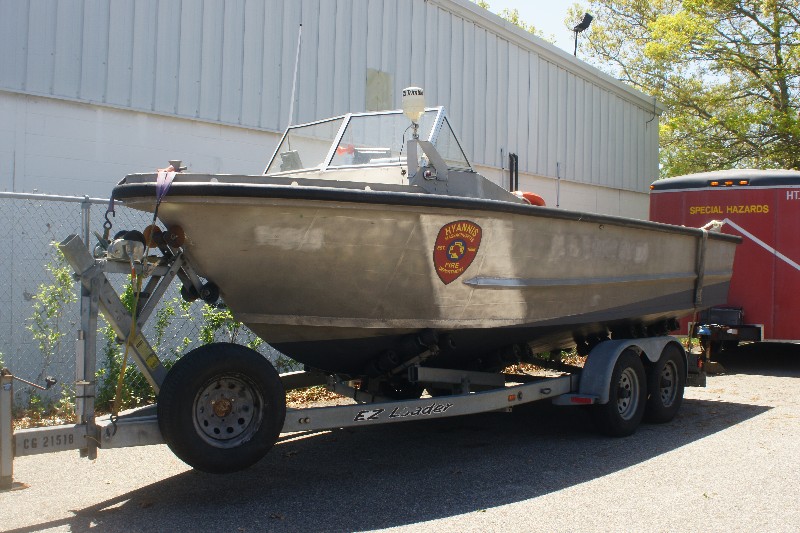 Hyannis FD "Marine 808"
1990 Sea Ark 21' Aluminum boat
former USCG
Temporary while new fireboat being built
May 2009


Equipped with diesel motor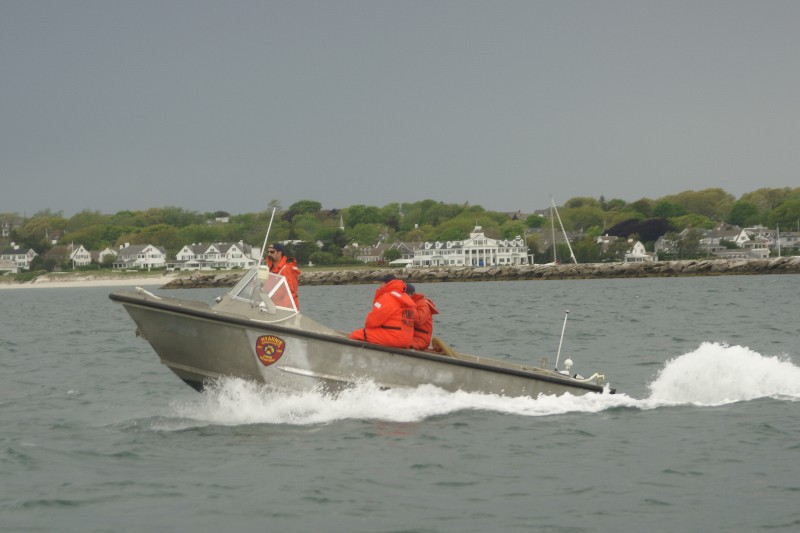 Hyannis boat off Hyannisport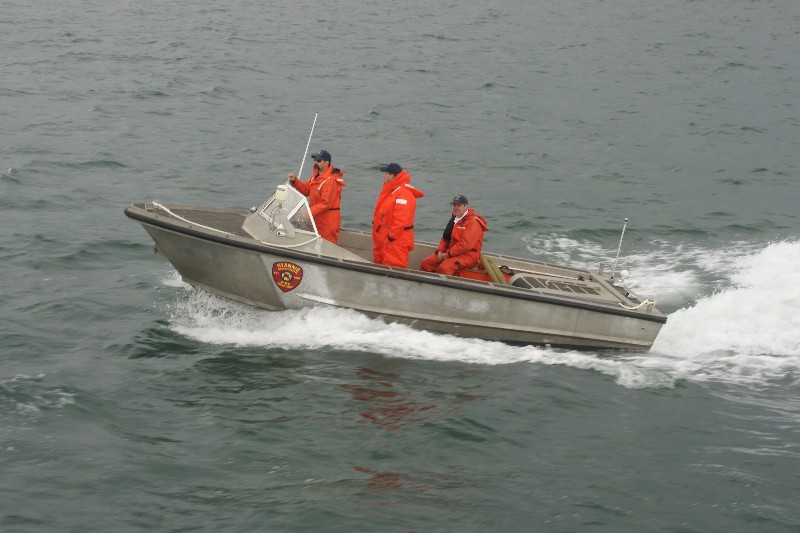 Hyannis crew

Hyannis, MA
Fireboat 808
"Reliance"
32' Former USCG Boat
750 gpm
Barnstable Police and Hyannis Fire Department
Served Hyannis from 1996 to 2007 when it was removed from service.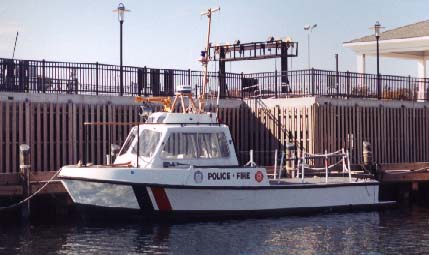 Hyannis, MA
Fireboat 808
At its Hyannis Berth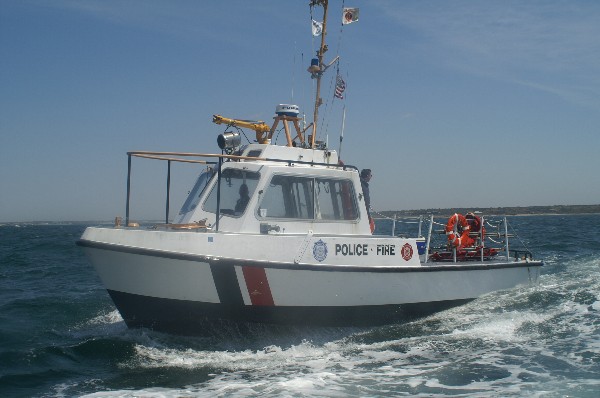 Hyannis, MA
Fireboat 808
Off Hyannisport, Figawi Race May 2005

Hyannis, MA
Fireboat 808
May 2005

Hyannis, MA
Fireboat 808
Operates its deckgun, off Hyannis harbor 2005

The Hyannis Fireboat "Reliance" was called to duty on
December 10, 2003.

The Fireboat responded to a 5 alarm fire at the Crosby Yacht Yard in Osterville.
4 Large storage sheds and over 125 boats were involved.

The Hyannis boat took over an hour to reach the scene. It pumped thousands of gallons
of salt water onto the smoldering ruins.
Hyannis Fireboat 808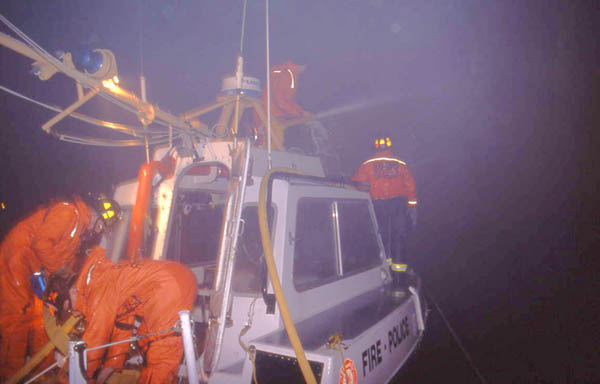 Hyannis Fireboat at the Crosby Yacht Fire.
MASHPEE
Mashpee purchased this 18' Edge Water in 2005.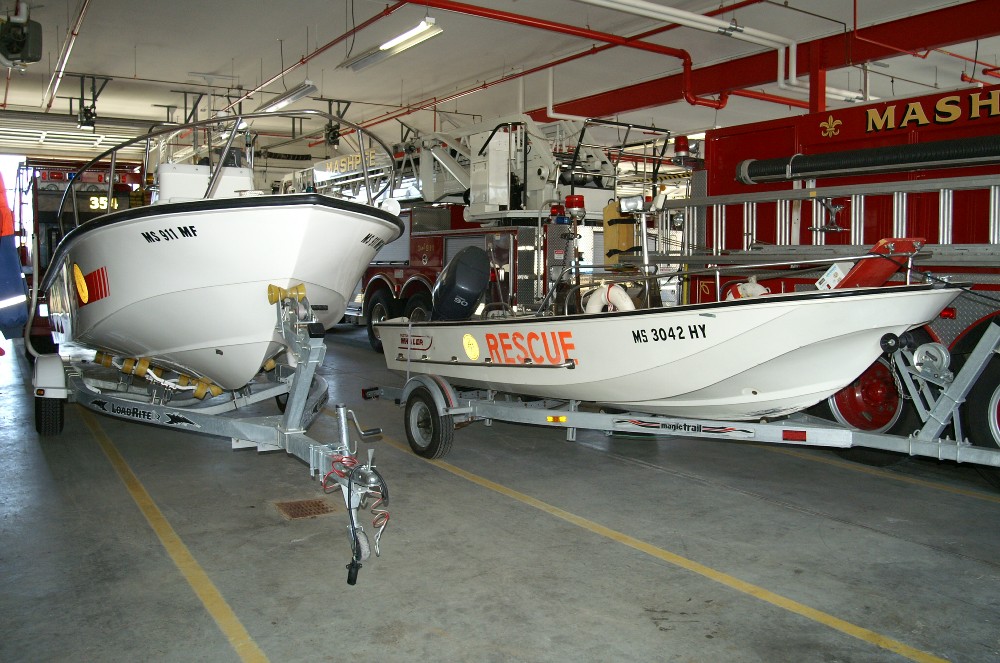 Mashpee operated the 16' Whaler as well.



OAK BLUFFS
OAK BLUFFS, MARTHA'S VINEYARD, MA
OAK BLUFFS MARINE 567
This vessel was built in Kingston, Ontario, Canada
by MetalCraft Marine and delivered in November 2004.
Constructed of aluminum, it has a LOA of 39'6" and a beam of approx 13'.
The boat is powered by twin diesels and is jet propelled achieving a
speed of approximately 35 knots. It has a 550 gpm fire pump and
has a bow mounted deckgun that can be stowed when not in use.
There is a full lower cabin and a spacious control cabin.
The large cockpit has easy access from either side and the
stern folds down providing access for divers to the platform.
This vessel is operated by the Oak Bluffs Fire and Police Depts
under the O.B. Emergency Management and is docked in Oak Bluffs
harbor providing protection for hundreds of boats and thousands of
travelers on high speed ferries, steamship vessels, and cruise ships
in season. It cost approximately $360,000 to construct.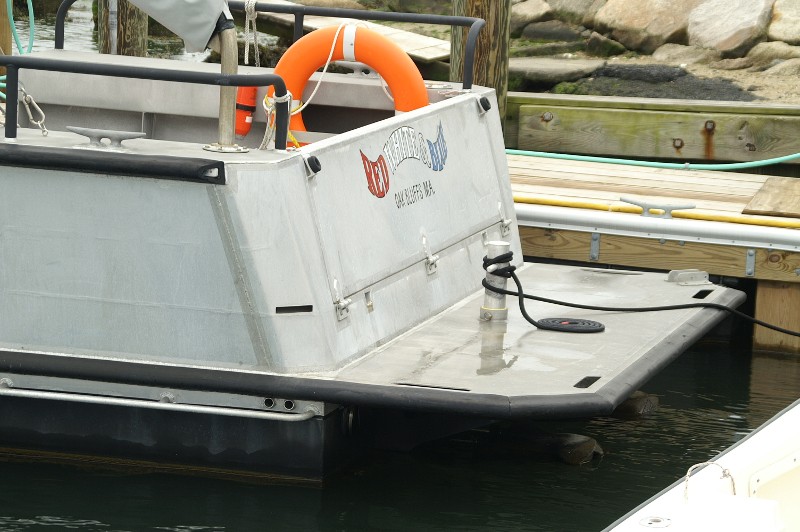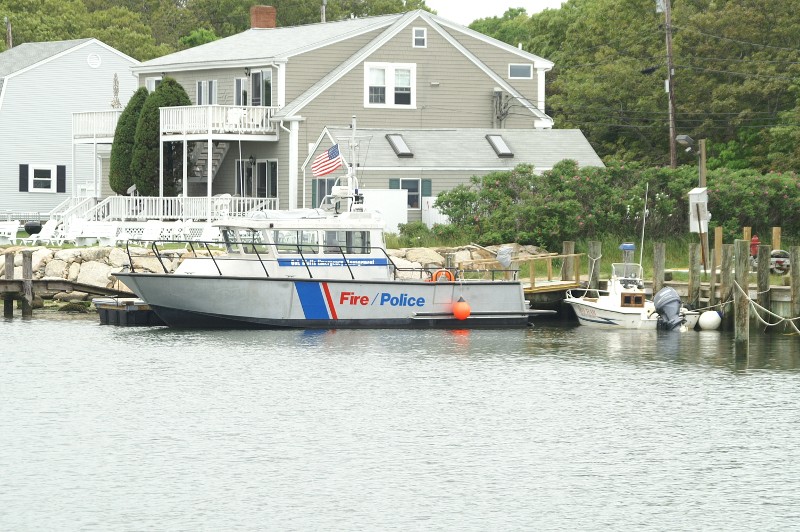 ORLEANS
Orleans Fire Department Marine 162B is a 19' Mako rescue boat.

Orleans took delivery of this 22' surplus USCG inflatable in 2007.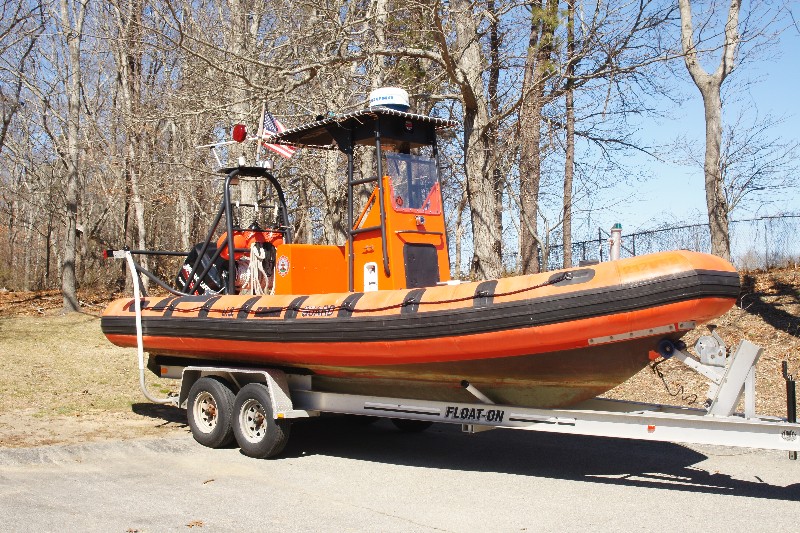 Orleans Marine 172A in March 2009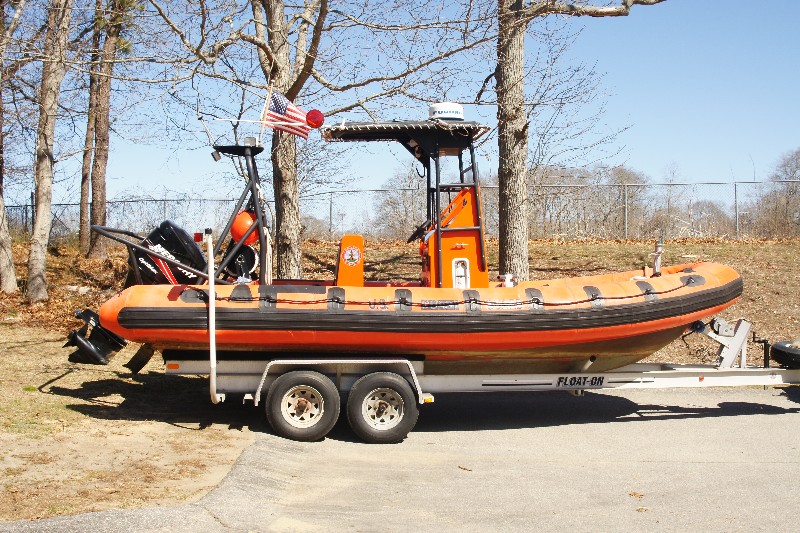 PLYMOUTH
Plymouth Fire Department
Marine 1 2011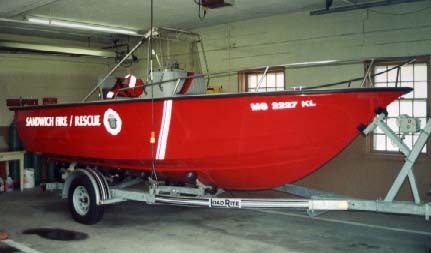 SANDWICH
The Sandwich FD added this 20' Oceanskiff in 1996.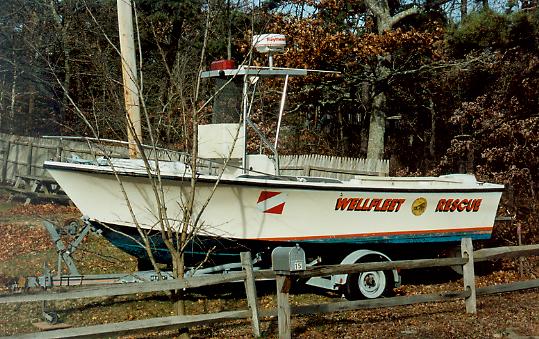 WELLFLEET
Wellfleet operated this boat for several years.
YARMOTUH
Yarmouth FD has this 18' rigid hull inflatable that they put
in service in 2000.
<![if !vml]>
<![endif]>
Page 1 Page 2
Hyannis Fire Boat


FIREBOATS

FROM

Baltimore 1
Baltimore 2
Baltimore 3
Baltimore 4
Boston
Boston 2
Cape Cod 1
Cape Cod 2
Chicago
Cleveland
Connecticut
Daytona Beach
Halifax, NS & P.E.I.
Hyannis, MA
Hawaii
Jacksonville, Florida
Los Angeles City
Long Beach
Massport Boston
Massport Boston 2
Nashville, TN
Newark
New Bedford, MA
New York City 1
New York City 2
New York City 3
New York City 4
New York City 5
New York City 6
New York City 7
Philadelphia
Portland
Portsmouth, NH
Providence, Rhode Island
San Francisco
Seattle
Washington DC
Wilmington
More Fireboats
| Baltimore 1 | Baltimore 2 | Baltimore 3 | Baltimore 4 | Boston | Boston 2 | Cape Cod 1 | Cape Cod 2 | Chicago |Cleveland | Connecticut |
| Daytona Beach | Halifax | Hyannis, MA | Hawaii | Jacksonville, Florida | Los Angeles City | Long Beach | Massport Boston | Massport Boston 2 |
| Nashville | Newark | New Bedford, MA | New York City 1 | New York City 2 | New York City 3 | New York City 4 | New York City 5 |
| New York City 6 | New York City 7 | Philadelphia | Portland | Providence, Rhode Island | San Francisco | Seattle |
| Washington DC | Wilmington | More Fireboats |

Copyright
Britton W Crosby
CapeCodFD.com
2004-2011