CapeCodFD.com
Special Feature

<![if !vml]>
<![endif]>


Photos by Britton W Crosby

[ CapeCodFD.com ] [ HOME ] [ SPECIAL FEATURES ] [ FIRE BOATS MAIN PAGE ]

<![if !vml]>
<![endif]>


New Page Added March 21, 2015 Updated April 11, 2023
FLORIDA BOATS
| Boca Raton | Bonita Springs | Boynton Beach | Brevard County | Broward County |
| Cape Coral 1 | Cape Coral 2 | Captiva Island | Charlotte County | Clearwater | Clewiston |
| Daytona Beach | Delray Beach | Destin | Dunedin | Englewood | Estero | Everglades City |
| Fort Lauderdale | Fort Myers | Hillsborough County | Iona-McGregor | Isle of Capri, Greater Naples |
| Jacksonville-1 Old FB-1 | Jacksonville-2 M38 | Jacksonville-3 M40 | Jacksonville-4 M23 & M39 |
| Key West | Longboat Key | Marco Island | Matlacha-Pine Island | Madeira Beach |
| Miami Beach FB4 | Miami-City- Old FB1 | Miami-City-New FB15 & FB25 |
| Miami-Dade Old FB1 (73) | Miami-Dade Old FB2 (21) | Miami-Dade FB21 | Miami-Dade FB73 |
| Niceville | North Collier County | North River - Palmetto | Palm Beach County | Palm Harbor |
| Panama City | Pascagoula | Pensacola | Port Canaveral FB1 | Port Canaveral FB2 | Punta Gorda |
| Safety Harbor | San Carlos Park | Sanford | Sanibel island | Sarasota County |
| St Augustine | St Johns County | St Petersburg | Seminole |
| Tampa | Tarpon Springs | Treasure island | Venice | Volusia County |
| West Manatee County - Holmes Beach |
PORT CANAVERAL FIREBOAT 1
| Fireboat 1 | Fireboat 2 |

Guest photo Ben Dottridge Mar 2014
Port Canaveral, FL
"Fireboat 1"
The Port Canaveral Fireboat was built by MetalCraft in 2011
It is a FireStorm 36 with a LOA of 38'2" and Beam of 13'
It is equipped to pump 2,375 gpm
through 4 monitors and 2 4" LDH discharges
The boat is docked along Scallop Drive in the Port of Canaveral
NEW BOAT
Port Canaveral Fire Department has added a second boat to its fleet.
The new Defiant fireboat, delivered in February 2021, was built by Metal Shark.
The vessel is 75' LOA, with a 23' beam, and about 33" draft. It is a jet drive boat with (4) powerful motors.
The boat has (4) 2000 gpm monitors and a roof mounted 5000 gpm gun, as well as several 5" discharges
that could supply land operations.
Total pumping capacity rated around 10,500 gpm. It carries about 750 gallons of foam
and is equipped with a 500 lb Purple K dry chemical system with a bow mounted nozzle.
The boat is CBRN capable, and equipped with the latest in technologies.
Both boats will serve the port which has several cruise ship terminals.

February 2021


Feb 2020 Photos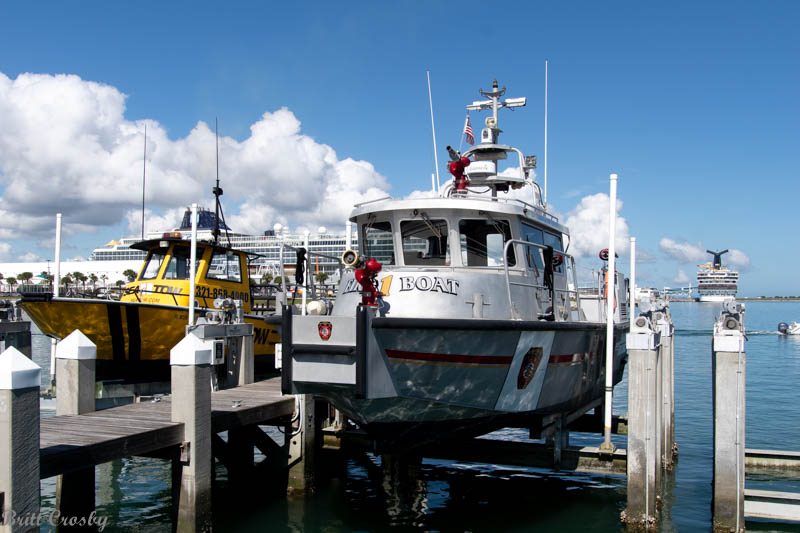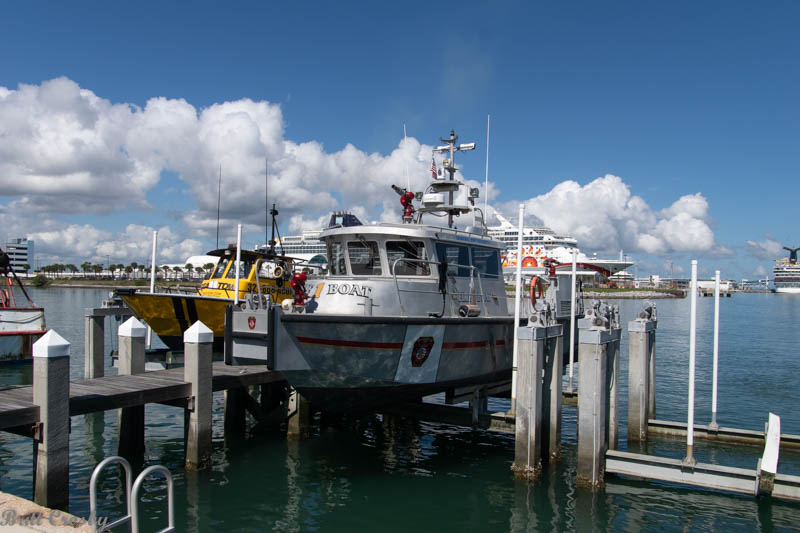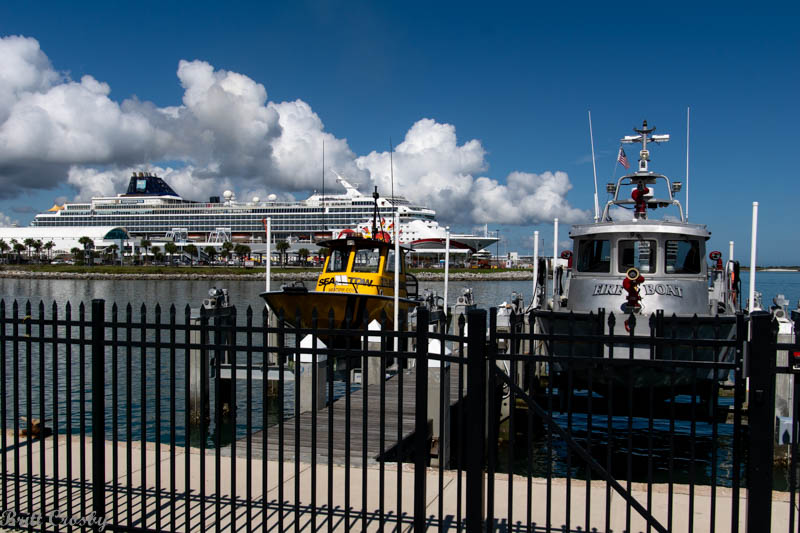 Photos of the Canaveral Fireboat in February 2015
PORT CANAVERAL FIRE BOAT
2011 MetalCraft Firestorm 36
1750 gpm
(Guest Photo Ben Dottridge - Mar 2014)
Ben Dottridge photos of a boat fire in the Indian River
Cocoa, Florida on March 20, 2015.
Port Canaveral Fireboat responded.
PORT CANAVERAL FIREBOAT 1
| Fireboat 1 | Fireboat 2 |
<![if !vml]>
<![endif]>
FLORIDA BOATS
| Boca Raton | Bonita Springs | Boynton Beach | Brevard County | Broward County |
| Cape Coral 1 | Cape Coral 2 | Captiva Island | Charlotte County | Clearwater | Clewiston |
| Daytona Beach | Delray Beach | Destin | Dunedin | Englewood | Estero | Everglades City |
| Fort Lauderdale | Fort Myers | Hillsborough County | Iona-McGregor | Isle of Capri, Greater Naples |
| Jacksonville-1 Old FB-1 | Jacksonville-2 M38 | Jacksonville-3 M40 | Jacksonville-4 M23 & M39 |
| Key West | Longboat Key | Marco Island | Matlacha-Pine Island | Madeira Beach |
| Miami Beach FB4 | Miami-City- Old FB1 | Miami-City-New FB15 & FB25 |
| Miami-Dade Old FB1 (73) | Miami-Dade Old FB2 (21) | Miami-Dade FB21 | Miami-Dade FB73 |
| Niceville | North Collier County | North River - Palmetto | Palm Beach County | Palm Harbor |
| Panama City | Pascagoula | Pensacola | Port Canaveral FB1 | Port Canaveral FB2 | Punta Gorda |
| Safety Harbor | San Carlos Park | Sanford | Sanibel island | Sarasota County |
| St Augustine | St Johns County | St Petersburg | Seminole |
| Tampa | Tarpon Springs | Treasure island | Venice | Volusia County |
| West Manatee County - Holmes Beach |
RETURN TO

FIREBOATS

FROM


Copyright
Britt Crosby
CapeCodFD.com