CapeCodFD.com
Special Feature

<![if !vml]>
<![endif]>


Photos by Britton W Crosby

[ CapeCodFD.com ] [ HOME ] [ SPECIAL FEATURES ] [ FIRE BOATS MAIN PAGE ]

<![if !vml]>
<![endif]>


New Page Added March 7, 2021 Updated April 11, 2023
FLORIDA BOATS
| Boca Raton | Bonita Springs | Boynton Beach | Brevard County | Broward County |
| Cape Coral 1 | Cape Coral 2 | Captiva Island | Charlotte County | Clearwater | Clewiston |
| Daytona Beach | Delray Beach | Destin | Dunedin | Englewood | Estero | Everglades City |
| Fort Lauderdale | Fort Myers | Hillsborough County | Iona-McGregor | Isle of Capri, Greater Naples |
| Jacksonville-1 Old FB-1 | Jacksonville-2 M38 | Jacksonville-3 M40 | Jacksonville-4 M23 & M39 |
| Key West | Longboat Key | Marco Island | Matlacha-Pine Island | Madeira Beach |
| Miami Beach FB4 | Miami-City- Old FB1 | Miami-City-New FB15 & FB25 |
| Miami-Dade Old FB1 (73) | Miami-Dade Old FB2 (21) | Miami-Dade FB21 | Miami-Dade FB73 |
| Niceville | North Collier County | North River - Palmetto | Palm Beach County | Palm Harbor |
| Panama City | Pascagoula | Pensacola | Port Canaveral FB1 | Port Canaveral FB2 | Punta Gorda |
| Safety Harbor | San Carlos Park | Sanford | Sanibel island | Sarasota County |
| St Augustine | St Johns County | St Petersburg | Seminole |
| Tampa | Tarpon Springs | Treasure island | Venice | Volusia County |
| West Manatee County - Holmes Beach |

MIAMI-DADE COUNTY - FIREBOAT 21
MIAMI-DADE COUNTY FIREBOATS
| New FIREBOAT 21 | New FIREBOAT 73 |
| Older Fireboat 2 (21) | Older Fireboat 1 (73) |
CITY OF MIAMI FIREBOATS
| New Miami City Fireboats 15 & 25 |
| Old Miami City Fireboat 1 |
MIAMI BEACH FIREBOAT
| Miami Beach Fireboat 4 |
Miami-Dade County Fireboat
"Fireboat 21"
~ Haulover Park ~
2021 Metal Shark Defiant 50 CBRNE Fire Boat
Mono-Hull Pilothouse Welded Aluminum vessel
55' LOA - 17' 5" Beam
8,500 gpm using (2) Darley 3,000 pumps each with dedicated sea chests
and a combined system to supply all discharges.
Powered by twin 1,200 hp diesels and Jet Drives
Capable of 44 knots
Carries 110 gallons of AFFF
Roof mounted monitor and (2) aft monitors, as well as numerous discharges
All the latest in electronics, navigation, GPS, sonar, FLIR, and communications.
(3) patient treatment positions.
This new boat is docked at Haulover Park near Station 21, 10,500 Collins Ave.
Staffed by (4) personnel, capable of up to 16 seated personnel.
It replaced the 2009 MetalCraft FireStorm 36
4,800 gpm Fireboat 21 that originally was Fireboat 2.
Photos March 2021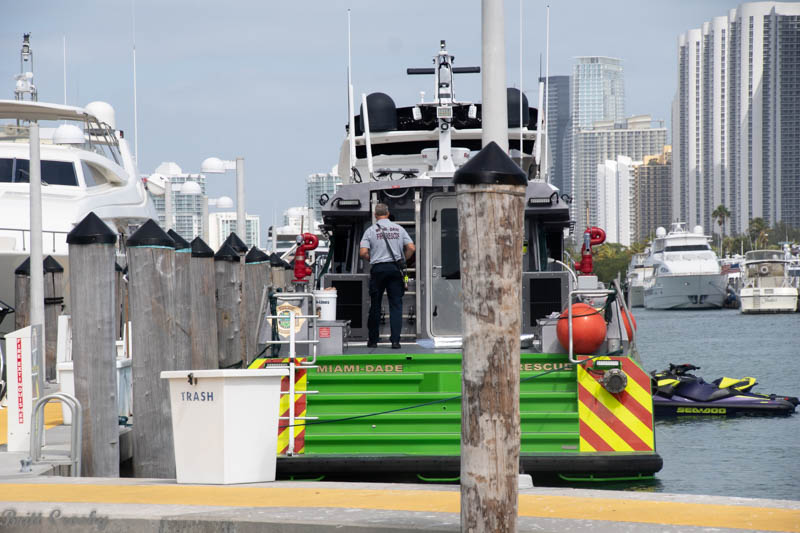 --------------
Fireboat 21
March 2021
Fireboat 73 & 21 face to face
The new Fireboat 21 next to the old 2009 MetalCraft FireStorm 50 Fireboat 73
March 2021
MIAMI-DADE COUNTY - FIREBOAT 21
MIAMI-DADE COUNTY FIREBOATS
| Old Fireboat 1 (73) | Old Fireboat 2 (21) |
| New Fireboat 73 | New Fireboat 21 |
CITY OF MIAMI FIREBOATS
| Old Miami Fireboat 1 | New Miami Fireboat 15 |
MIAMI BEACH FIREBOAT
| Miami Beach Fireboat 4 |
<![if !vml]>
<![endif]>
FLORIDA BOATS
| Boca Raton | Bonita Springs | Boynton Beach | Brevard County | Broward County |
| Cape Coral 1 | Cape Coral 2 | Captiva Island | Charlotte County | Clearwater | Clewiston |
| Daytona Beach | Delray Beach | Destin | Dunedin | Englewood | Estero | Everglades City |
| Fort Lauderdale | Fort Myers | Hillsborough County | Iona-McGregor | Isle of Capri, Greater Naples |
| Jacksonville-1 Old FB-1 | Jacksonville-2 M38 | Jacksonville-3 M40 | Jacksonville-4 M23 & M39 |
| Key West | Longboat Key | Marco Island | Matlacha-Pine Island | Madeira Beach |
| Miami Beach FB4 | Miami-City- Old FB1 | Miami-City-New FB15 & FB25 |
| Miami-Dade Old FB1 (73) | Miami-Dade Old FB2 (21) | Miami-Dade FB21 | Miami-Dade FB73 |
| Niceville | North Collier County | North River - Palmetto | Palm Beach County | Palm Harbor |
| Panama City | Pascagoula | Pensacola | Port Canaveral FB1 | Port Canaveral FB2 | Punta Gorda |
| Safety Harbor | San Carlos Park | Sanford | Sanibel island | Sarasota County |
| St Augustine | St Johns County | St Petersburg | Seminole |
| Tampa | Tarpon Springs | Treasure island | Venice | Volusia County |
| West Manatee County - Holmes Beach |
RETURN TO

FIREBOATS

FROM


Copyright
Britt Crosby
CapeCodFD.com