CapeCodFD.com
Special Feature

<![if !vml]>
<![endif]>


Photos by Britton W Crosby

[ CapeCodFD.com ] [ HOME ] [ SPECIAL FEATURES ] [ FIRE BOATS MAIN PAGE ]

<![if !vml]>
<![endif]>


New Page Added March 24, 2016 Updated March 9, 2020
FLORIDA BOATS
| Boca Raton | Bonita Springs | Boynton Beach | Brevard County | Broward County |
| Cape Coral | Captiva Island | Charlotte County | Clearwater | Clewiston |
| Daytona Beach | Delray Beach | Dunedin | Englewood | Estero | Everglades City |
| Fort Lauderdale | Fort Myers | Hillsborough County | Iona-McGregor | Isle of Capri, Greater Naples |
| Jacksonville-1 Old FB-1 | Jacksonville-2 M38 | Jacksonville-3 M40 | Jacksonville-4 M23 & M39 |
| Key West | Longboat Key | Marco Island | Matlacha-Pine Island | Madeira Beach |
| Miami Beach | Miami-City-1 | Miami-City-2 | Miami-Dade 1 | Miami-Dade 2 |
| Niceville | North Collier County |
| Palm Beach County | Palm Harbor | Panama City | Pensacola | Port Canaveral | Punta Gorda |
| Safety Harbor | San Carlos Park | Sanford | Sanibel island | Sarasota County |
| St Augustine | St Johns County | St Petersburg | Seminole |
| Tampa | Tarpon Springs | Treasure island | Venice | Volusia County |
| West Manatee County - Holmes Beach |
MIAMI-DADE COUNTY FIRE BOAT 2 (FIREBOAT 21)
and several smaller boats.


Miami-Dade County Fireboat
"Fireboat 2"
2009 MetalCraft FireStorm 36
39' 2" LOA - 13' Beam - Draft 22"
39 Knots
Excess of 4,800 GPM from two pumps
Approx 70 gallons of AFFF, 4 deckguns

This boat, and other Miami-Dade boats are located on the
west end of Dodge Island under the NE 6th Street / Port Blvd bridges
at the Port of Miami facilities including the cruise ship dock and
container ship facilities. The Miami-Dade boats are within sight
of the City of Miami Fireboat, but Miami-Dade has a much larger
response area along 84 miles of coastline and an estimated area of
approx 700 square miles including all of Biscayne Bay and an area off shore.
The Miami-Dade Fire Rescue staffs its Fireboat 1 with 4 personnel
who are fully trained to do firefighting, ALS EMS, Search & Rescue,
Dive Rescue, and Haz Mat mitigation.
Fireboat 2 is currently stationed with Fireboat 1 but may
be relocated further north in the near future once sufficient
personnel are trained and assigned.

UPDATE DEC 2017
It appears that this boat, originally Fireboat 2, has in fact been relocated
north to a marina at Haulover Park, near Miami-Dade Fire Station 21
at 10500 Collins Ave. It now displays as Fireboat 21.
There may also have been a change with Fireboat 1. It appears to have
been reassigned as Fireboat 73 and may have been relocated farther south.

Photos Dec 2017
Miami-Dade County Fireboat 2 underway.
(March 2016 photos)
Miami-Dade Fireboat 2 with City of Miami Fireboat 1.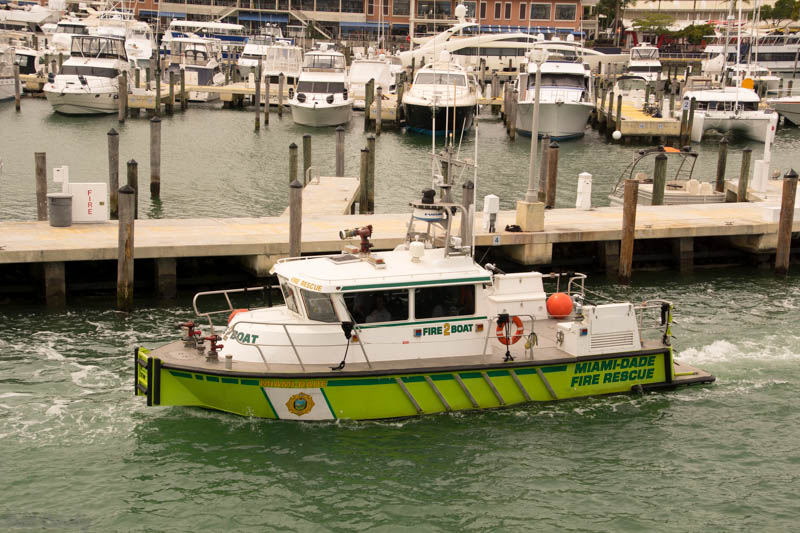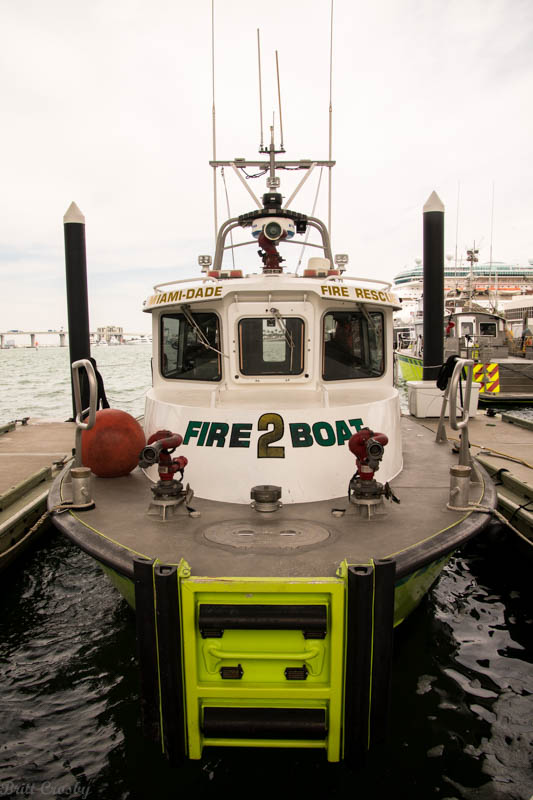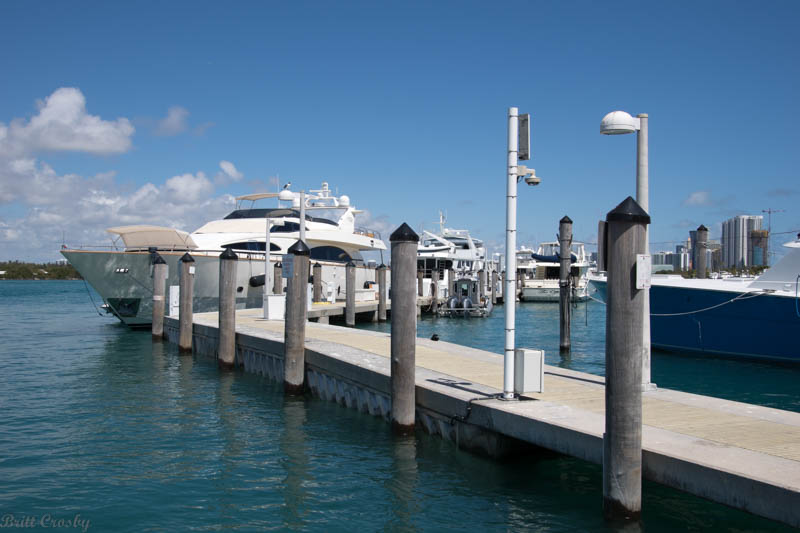 The smaller SafeBoat serving at Fireboat 21 assignment.
April 2018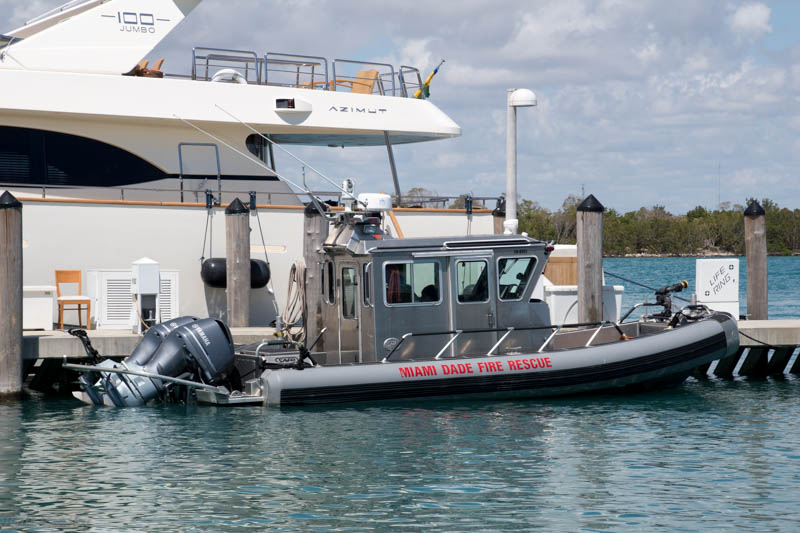 ---------------
Miami-Dade Police Boat located at the Fireboat Station under the NE 6th Street bridges.
The Third Miami-Dade County Fireboat is this 30' Safeboat with twin 300 HP.
It is equipped with a small fire pump and bow mounted deckgun.
Another small boat used by Miami-Dade Fire Rescue
A couple small rigid hull inflatable boats are kept on trailers.
MIAMI-DADE FIREBOATS
FIREBOAT 1 FIREBOAT 2 FIREBOAT 3
ALSO SEE
CITY OF MIAMI FIREBOAT 1
<![if !vml]>
<![endif]>
FLORIDA BOATS
| Boca Raton | Bonita Springs | Boynton Beach | Brevard County | Broward County |
| Cape Coral | Captiva Island | Charlotte County | Clearwater | Clewiston |
| Daytona Beach | Delray Beach | Dunedin | Englewood | Estero | Everglades City |
| Fort Lauderdale | Fort Myers | Hillsborough County | Iona-McGregor | Isle of Capri, Greater Naples |
| Jacksonville-1 Old FB-1 | Jacksonville-2 M38 | Jacksonville-3 M40 | Jacksonville-4 M23 & M39 |
| Key West | Longboat Key | Marco Island | Matlacha-Pine Island | Madeira Beach |
| Miami Beach | Miami-City-1 | Miami-City-2 | Miami-Dade 1 | Miami-Dade 2 |
| Niceville | North Collier County |
| Palm Beach County | Palm Harbor | Panama City | Pensacola | Port Canaveral | Punta Gorda |
| Safety Harbor | San Carlos Park | Sanford | Sanibel island | Sarasota County |
| St Augustine | St Johns County | St Petersburg | Seminole |
| Tampa | Tarpon Springs | Treasure island | Venice | Volusia County |
| West Manatee County - Holmes Beach |
RETURN TO

FIREBOATS

FROM


Copyright
Britt Crosby
CapeCodFD.com