CapeCodFD.com
Special Feature

<![if !vml]>
<![endif]>


Photos by Britton W Crosby

[ CapeCodFD.com ] [ HOME ] [ SPECIAL FEATURES ] [ FIRE BOATS MAIN PAGE ]

<![if !vml]>
<![endif]>


New Page Added March 24, 2016 Updated March 9, 2020
FLORIDA BOATS
| Boca Raton | Bonita Springs | Boynton Beach | Brevard County | Broward County |
| Cape Coral | Captiva Island | Charlotte County | Clearwater | Clewiston |
| Daytona Beach | Delray Beach | Dunedin | Englewood | Estero | Everglades City |
| Fort Lauderdale | Fort Myers | Hillsborough County | Iona-McGregor | Isle of Capri, Greater Naples |
| Jacksonville-1 Old FB-1 | Jacksonville-2 M38 | Jacksonville-3 M40 | Jacksonville-4 M23 & M39 |
| Key West | Longboat Key | Marco Island | Matlacha-Pine Island | Madeira Beach |
| Miami Beach | Miami-City-1 | Miami-City-2 | Miami-Dade 1 | Miami-Dade 2 |
| Niceville | North Collier County |
| Palm Beach County | Palm Harbor | Panama City | Pensacola | Port Canaveral | Punta Gorda |
| Safety Harbor | San Carlos Park | Sanford | Sanibel island | Sarasota County |
| St Augustine | St Johns County | St Petersburg | Seminole |
| Tampa | Tarpon Springs | Treasure island | Venice | Volusia County |
| West Manatee County - Holmes Beach |
MIAMI-DADE COUNTY FIRE BOAT 1 (FIREBOAT 73)
Miami-Dade County Fireboat
"Fireboat 1"
(Fireboat 73)
The Miami-Dade County Fire Rescue, Florida
took delivery of this MetalCraft FireStorm 50 fireboat in 2007
for Fireboat 1.
(Now called Fireboat 73. In 2018)

The Fireboat is 50' 5" LOA, 15' 10" beam, and 25" draft.
The boat has two 3,000 gpm fire pumps with a capacity of
over 7,000 gpm through 4 deckguns and several discharges.
The boat carries approx 150 gallons of AFFF.
Max speed approx 44 knots fully loaded.
This boat, and other Miami-Dade boats are located on the
west end of Dodge Island under the NE 6th Street / Port Blvd bridges
at the Port of Miami facilities including the cruise ship dock and
container ship facilities. The Miami-Dade boats are within sight
of the City of Miami Fireboat, but Miami-Dade has a much larger
response area estimated at approx 700 square miles including all
of Biscayne Bay and an area off shore.
The Miami-Dade Fire Rescue staffs Fireboat 1 with 4 personnel
who are fully trained to do firefighting, ALS EMS, Search & Rescue,
Dive Rescue, and Haz Mat mitigation.
The second boat is currently stationed with Fireboat 1 but may
be relocated further north in the near future once sufficient
personnel are trained and assigned.
SEE VIDEO OF MDFR FIREBOAT 1 LEAVING DOCK.
RELATED WEBSITES
MIAMI-DADE FIRE RESCUE
Fireboat 73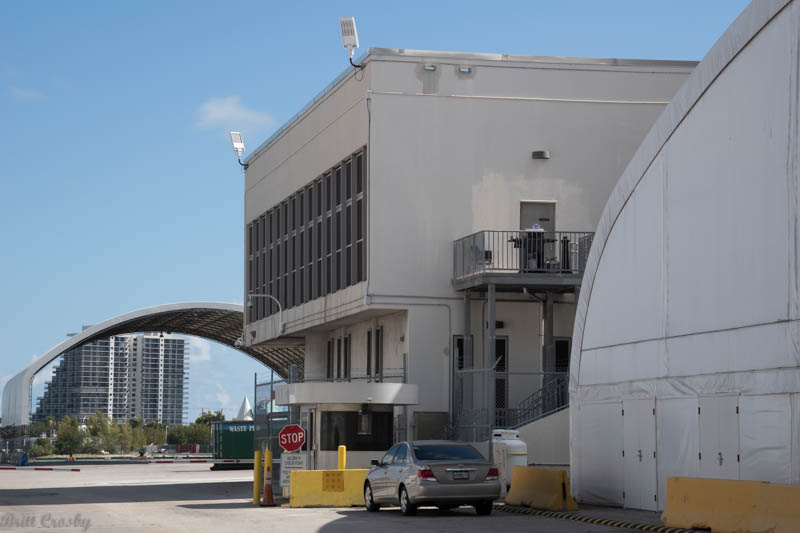 Miami-Dade Fireboat 1 has been reassigned as Fireboat 73.
Fire Station 73 is located on the western end of Dodge Island where the fireboat is located.
Photos April 2018
The 2007 MetalCraft FireStorm 50 Miami-Dade Fireboat
was reassigned as Fireboat 73.
Photos April 2018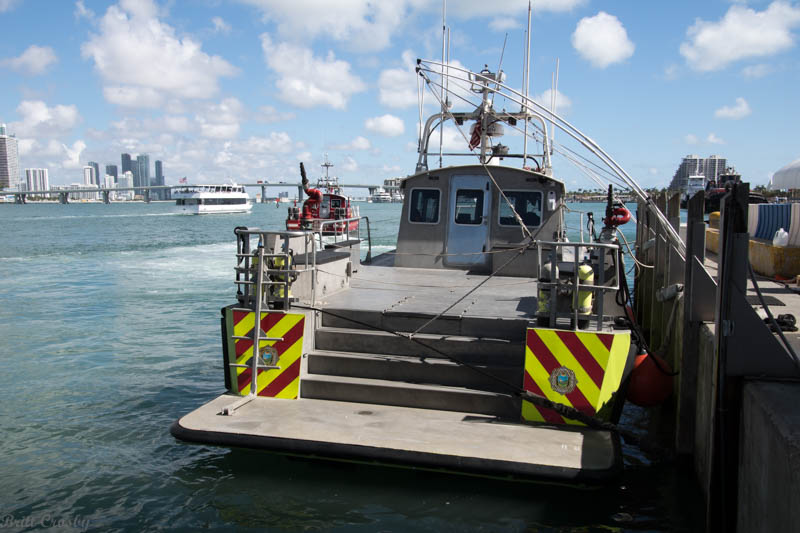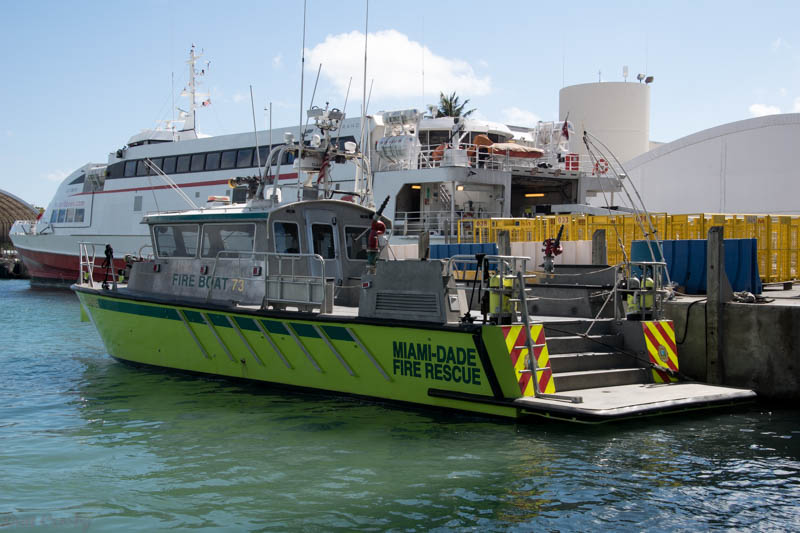 ----------------
Fireboat 1 under way March 2016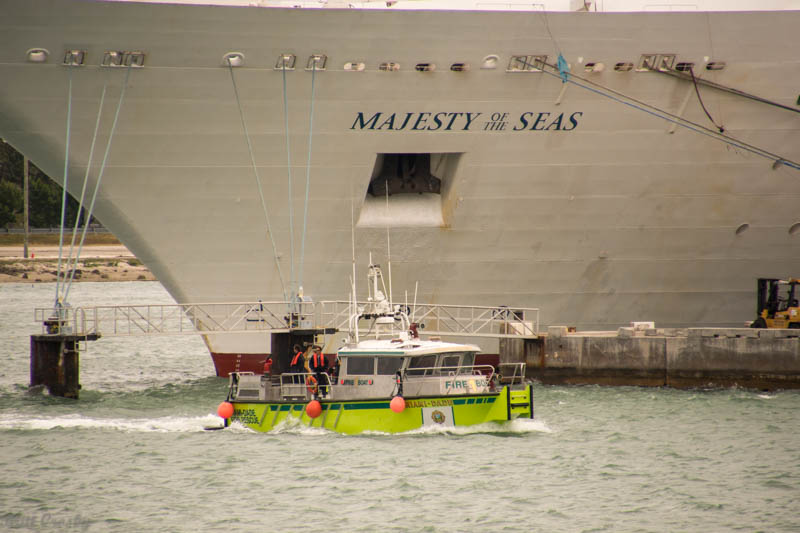 ---------------
MIAMI-DADE FIREBOATS
FIREBOAT 1 FIREBOAT 2 FIREBOAT 3
ALSO SEE
CITY OF MIAMI FIREBOAT 1
<![if !vml]>
<![endif]>
FLORIDA BOATS
| Boca Raton | Bonita Springs | Boynton Beach | Brevard County | Broward County |
| Cape Coral | Captiva Island | Charlotte County | Clearwater | Clewiston |
| Daytona Beach | Delray Beach | Dunedin | Englewood | Estero | Everglades City |
| Fort Lauderdale | Fort Myers | Hillsborough County | Iona-McGregor | Isle of Capri, Greater Naples |
| Jacksonville-1 Old FB-1 | Jacksonville-2 M38 | Jacksonville-3 M40 | Jacksonville-4 M23 & M39 |
| Key West | Longboat Key | Marco Island | Matlacha-Pine Island | Madeira Beach |
| Miami Beach | Miami-City-1 | Miami-City-2 | Miami-Dade 1 | Miami-Dade 2 |
| Niceville | North Collier County |
| Palm Beach County | Palm Harbor | Panama City | Pensacola | Port Canaveral | Punta Gorda |
| Safety Harbor | San Carlos Park | Sanford | Sanibel island | Sarasota County |
| St Augustine | St Johns County | St Petersburg | Seminole |
| Tampa | Tarpon Springs | Treasure island | Venice | Volusia County |
| West Manatee County - Holmes Beach |
RETURN TO

FIREBOATS

FROM


Copyright
Britt Crosby
CapeCodFD.com