CapeCodFD.com
Special Feature

<![if !vml]>

<![endif]>


Photos by Britton W Crosby

[ CapeCodFD.com ] [ HOME ] [ SPECIAL FEATURES ] [ FIRE BOATS MAIN PAGE ]
<![if !vml]>
<![endif]>


New Page Added November 15, 2016
CALIFORNIA BOATS
Alameda Eureka-Humboldt Bay LONG BEACH Long Beach 15 Long Beach 20
Long Beach Lifeguards LOS ANGELES CITY Los Angeles City 1 Los Angeles City 2 Los Angeles City 3
Los Angeles City 4 Los Angeles City 5 Los Angeles County Los Angeles County Lifeguards
Monterey Oakland Orange County 1 Orange County 2 Orange County 3 Redwood City
Richmond San Diego Harbor 1 San Diego Harbor 2 San Diego Lifeguards
San Francisco 1 San Francisco 2 San Francisco 3 Sausalito-Southern Marin Tiburon
SAN FRANCISCO FIREBOAT 2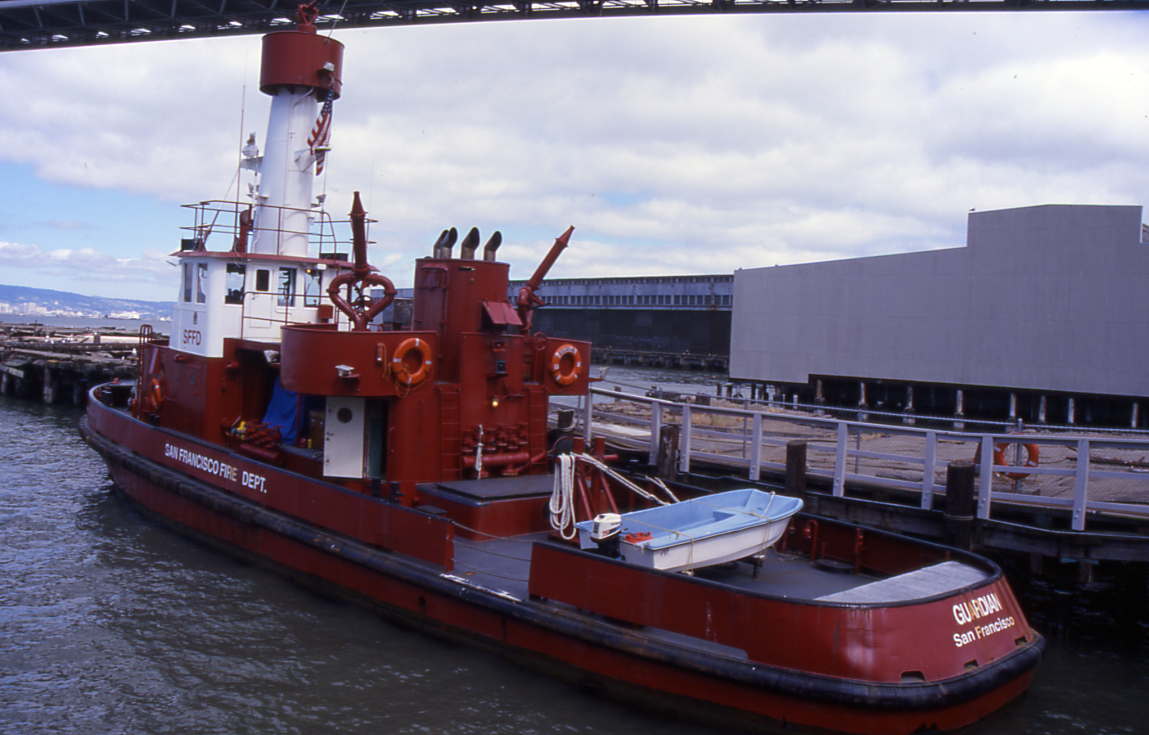 San Francisco Fire Department
"Guardian"
"Fireboat 2"
1951 Fireboat
Built by Yarrows, Ltd, Esquimalt, British Columbia, Canada
Originally owned and operated by the Vancouver, BC Fire Department
from 1951 until it became surplus in 1990.
88' LOA - 21' 6" beam - 7' draft
26,000 GPM
Following the 1989 San Francisco Earthquakes, during which the
SFD Fireboat 1 "Phoenix" pumped millions of gallons of water
to battle the conflagration, some anonymous donors purchased
the surplus Vancouver boat and donated to the City of San Francisco.
Fireboat 2 was named the "Guardian" once reaching San Francisco.
It is docked with the other fireboats at Station 35.
Photo Summer 2000

<![if !vml]>
<![endif]>

CALIFORNIA BOATS
Alameda Eureka-Humboldt Bay LONG BEACH Long Beach 15 Long Beach 20
Long Beach Lifeguards LOS ANGELES CITY Los Angeles City 1 Los Angeles City 2 Los Angeles City 3
Los Angeles City 4 Los Angeles City 5 Los Angeles County Los Angeles County Lifeguards
Monterey Oakland Orange County 1 Orange County 2 Orange County 3 Redwood City
Richmond San Diego Harbor 1 San Diego Harbor 2 San Diego Lifeguards
San Francisco 1 San Francisco 2 San Francisco 3 Sausalito-Southern Marin Tiburon
RETURN TO

FIREBOATS

FROM


Copyright
Britt Crosby
CapeCodFD.com