Another of the classic Cape Cod Macks was Brewster Fire Department's
1974 Mack R Pumper. It was built during the "yellow period" by Pierce.
1250 gpm and 500 gallons.
Mack Models and Years Produced

Early Years.............................1900-1914
Model "A" Series...................1914-1938
Model "AB" Series................1914-1936
Model "AC" Series................1916-1938
"Early" Model "B" Series....1927-1941
Model "E" Series...................1936-1950
Model "L" Series...................1940-1954
Model "A" Series...................1950-1953
Model "B" Series...................1954-1966
Model "C" Series...................1956-1967
Model "MB" Series................1963-1978
Model "MC" Series................1978-1987
Model "MR" Series................1978-1987
Model "R" Series....................1966-1990
Model "CF" Series..................1967-1990
Mid-Liner MS Series..............1979-


Brewster Fire Department's Engine 4 (Engine 239) is a 1974 Mack
R series 1250/500 Pumper.

Engine 239 was used as the prototype for a 1986 Solido 1/60 scale toy fire engine.
Brewster Engine 239
Operating at a fire in Eastham
Brewster Engine 239
April 2010 - In Retirement Mode
Duxbury Ladder 1
1973 Mack CF / Thibault 85' Aerial Ladder.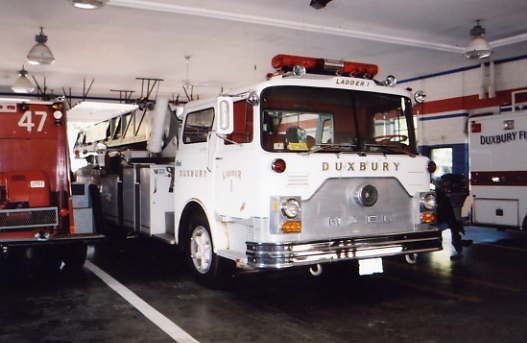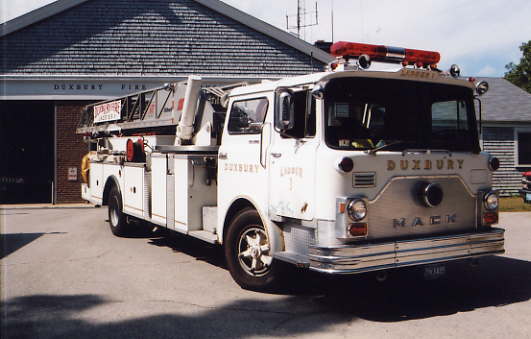 Duxbury, Mass operated several Mack CFs including pumpers and an aerial ladder.
Duxbury Engine 2
1978 Mack CF
Duxbury Engine 2 after refurb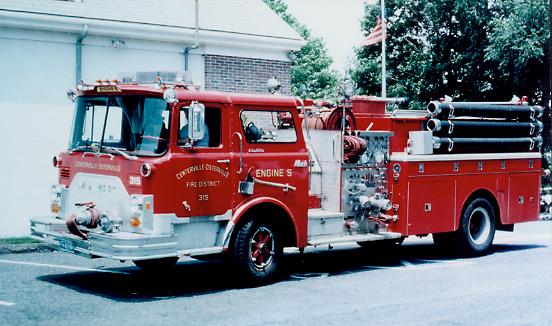 Centerville-Osterville-Marstons Mills Fire Department Engine 5 (Engine 315)
was COMM FD's first Mack.
The 1975 Mack CF600 had a 1250gpm pump and 1000 gallon booster tank.
It was also the department's first automatic transmission fire engine.
COMM Engine 315 in quarters with the 1976 Maxim Ladder 314.
Osterville Fire Station.
1975 Mack operating at stump dump fire.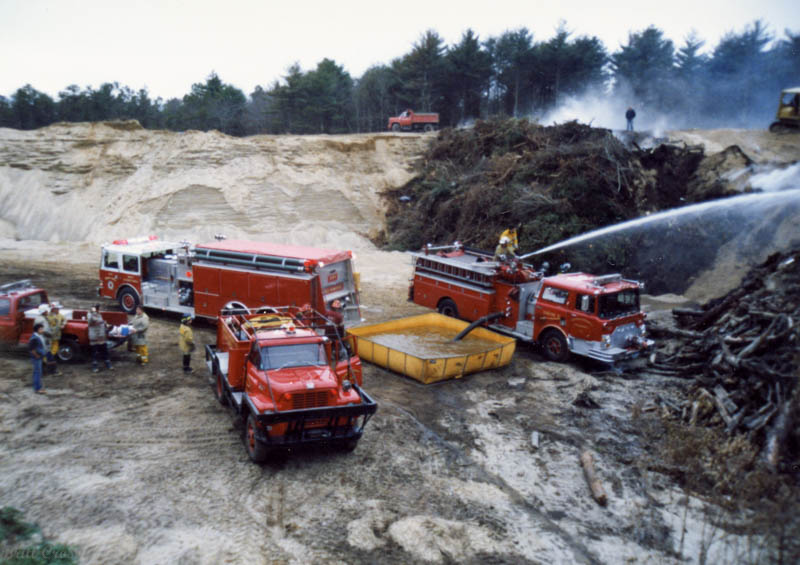 COMM Engine 315 - 1975 Mack and Ladder 314 - 1976 Maxim ladder.
operating at 3rd alarm house fire Long Beach Road, Centerville in 1986.
In 1987, when replaced by a 1987 Pierce Arrow, the 1975 Mack was reassigned as Engine 302
and sent to Marstons Mills. It would soon be rehabbed with a fully enclosed cab fabricated.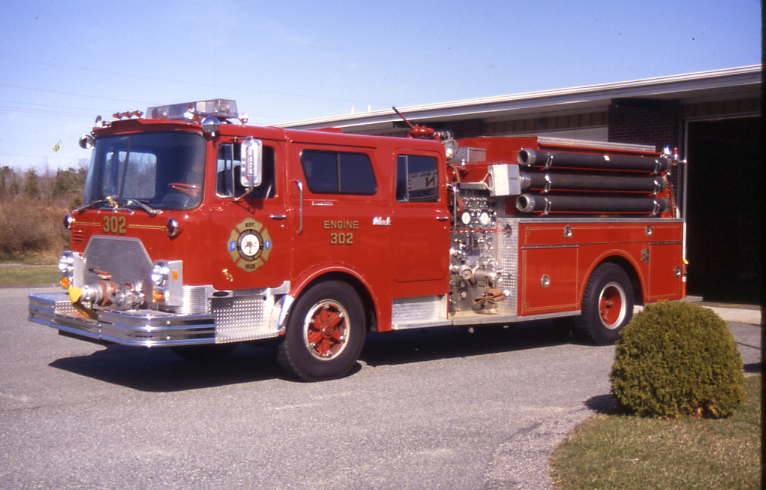 In 1987, COMM FD Engine 315 was refurbished and became Engine 302.
The fully enclosed cab and new body were done by EJ Murphy.
COMM FD Engine 302 - 1975 Mack

COMM FD Engine 302 with the department's new black over red color scheme.
2004


Hose bed of Engine 302
225' 1-3/4", 225' 1-3/4", 150' 2-1/2", 600' 2-1/2", 1200' 4" LDH
with Humat Hydrant valve and hydrant bag. Also carries
30' of hard suction and has (2) 150' 1-3/4" crosslays.
Engine 302 (1975 Mack) with Engine 304 (1994 Pierce)
Engine 302 covering Hyannis HQ during a fire.
May 2005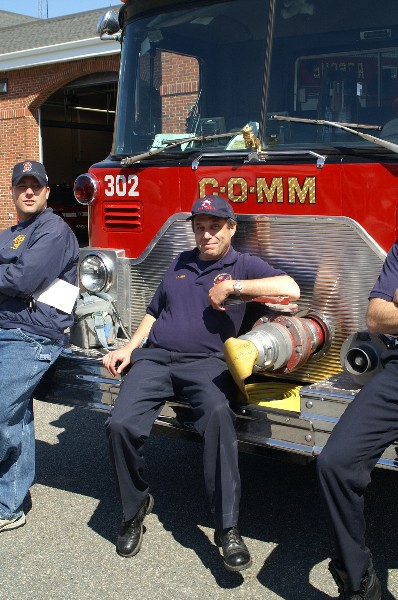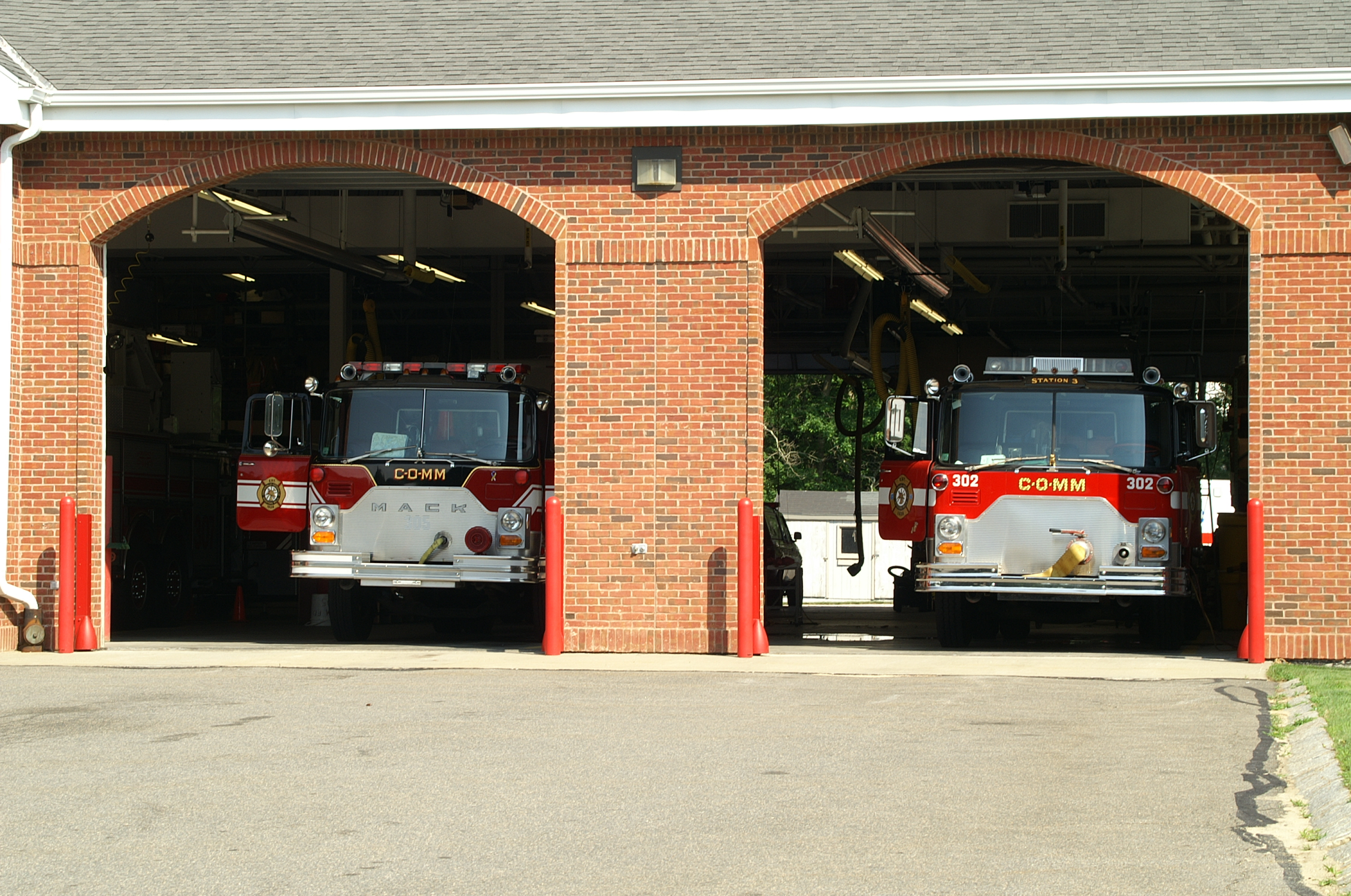 Engine 302 (1975 Mack) with Engine 305 (1983 Mack).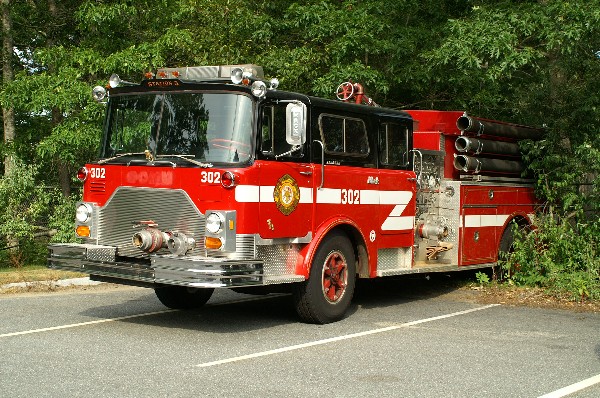 August 2005 - Engine 302 Officially retired.
Centerville-Osterville bought its second Mack CF in 1983.
Engine 3 (305) was assigned to the little, old Centerville Fire Station.
It carried the department's Jaws of Life.
COMM FD 1983 Mack CF600 Engine 3 (Engine 305).
1250gpm/1000gallon pumper with high side compartments. It carries the jaws tool.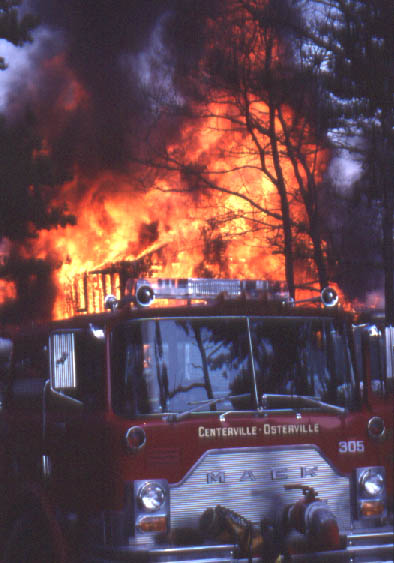 COMM Engine 305 at a burn drill.
Engine 305 frequently responded into Hyannis on mutual aid.
COMM Fire Engine 305, the 1983 Mack CF600, got a complete refurbishing
in 2002 by EJ Murphy. A new paint job, diamond plate, and booster tank
are expected to extend its service life.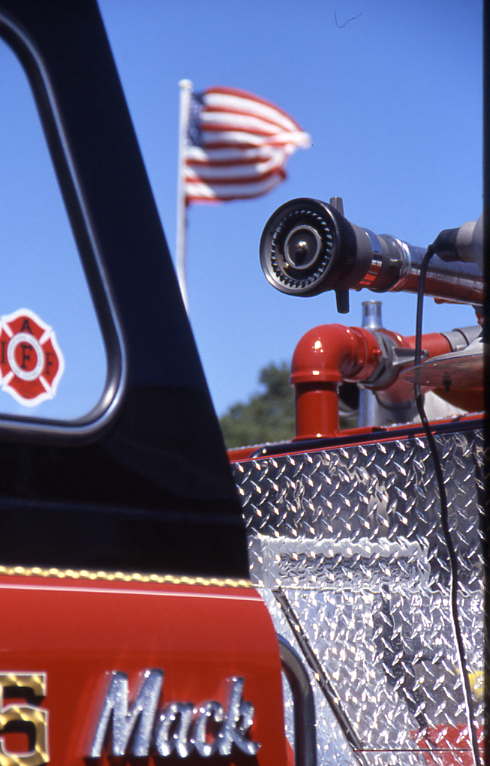 COMM FD Engine 305 - 1983 Mack CF operated at full capacity at the Crosby Yacht Fire
on December 10, 2003.
Brewster FD added another Mack to its fleet in 1980 with Engine 234,
a MC series 1500 gpm/500 gallon Pumper built by Pierce and painted yellow.
Brewster's Engine 234 was refurbished in 1995 and repainted the new
white over red department colors.
Brewster Engine 234 pump testing in 2006.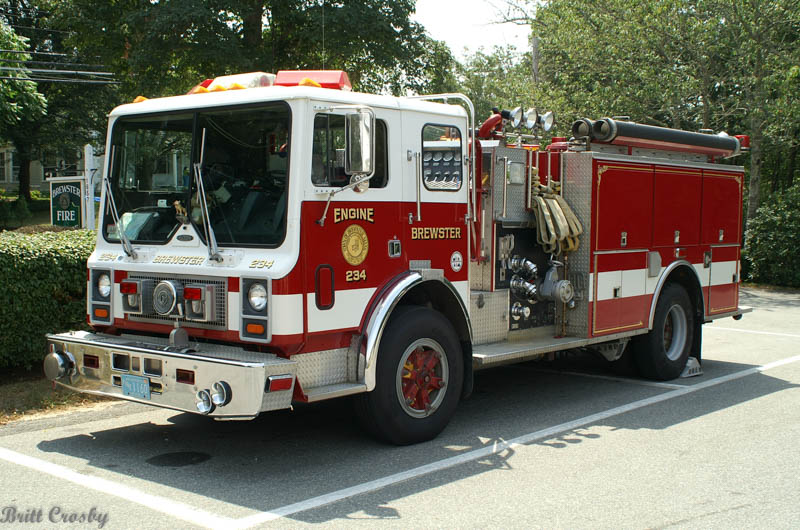 Brewster's 1974 Mack R E239 and 1980 Mack MC E234
both retired in 2009 when replaced by a pair of HME / Ferrara pumpers.
Photo April 2010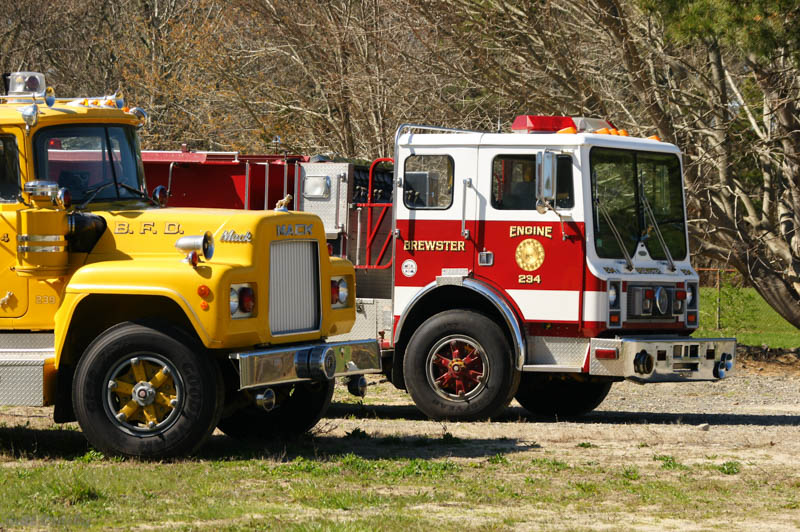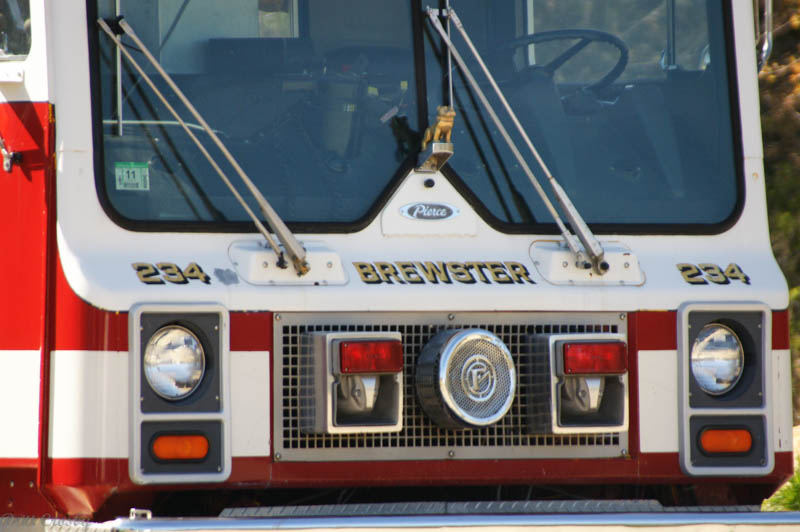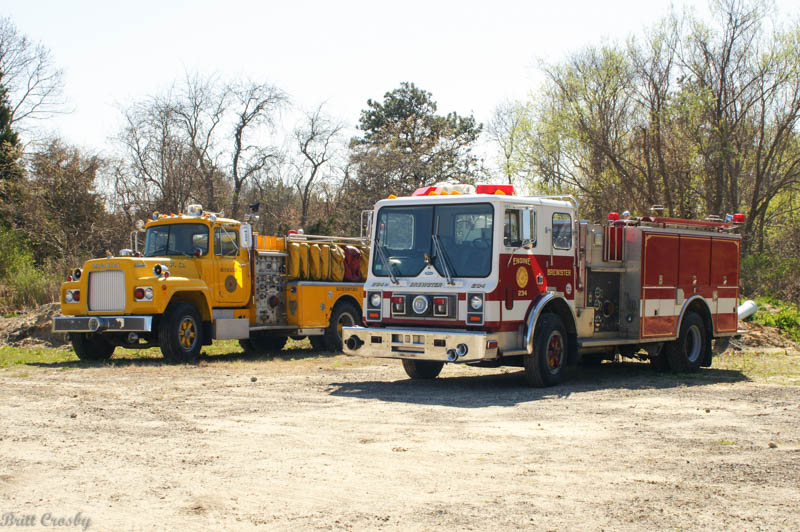 End of the road for these two Brewster Macks.
April 2010