CapeCodFD.com
Special Feature

<![if !vml]>

<![endif]>


Photos by Britton W Crosby

[ CapeCodFD.com ] [ HOME ] [ SPECIAL FEATURES ] [ FIRE BOATS MAIN PAGE ]

<![if !vml]>

<![endif]>


Original Feature Posted April 26, 2004 - Re-launched January 28, 2012
Updated March 21, 2023
MARYLAND BOATS
Annapolis Anne Arundel Avenue Dist 7 Baltimore Benedict Bowleys Quarters
Charlestown Chesapeake City Cobb Island Deale Havre DeGrace Kent Island
Marbury Dist 10 Nanjemoy Newburg North Beach North Point-Edgemere Ocean City Oxford
Prince George County Prince Georges Volunteers Potomac Heights Ridge Dist 4 Riviera Beach
Romancoke Salisbury Shady Side Solomons St. Michaels Towson MD Fire Museum Tilghman Island

BALTIMORE CITY, MD
Marine Division Old Boats Fireboat 1 Fireboat 2
Fire / Rescue Boat 1 Fire / Rescue Boat 2
THE OLD BOATS
BALTIMORE CITY FIRE BOATS
The City of Baltimore has a large and busy port.
Over the years there have been many large fires along the waterfront.
Baltimore City has had many fire boats over the years.
When I first photographed the boats in the 1980's and 1990's
they were painted orange & white, as was most of the fire apparatus
at that time.
Apparatus and the boats were painted red and white in the 2000's.
Today the city maintains a reduced, but modern Marine Division.
RELATED LINKS
BALTIMORE CITY FIRE DEPARTMENT
BALTIMORE CITY FIRE STATIONS
BALTIMORE FIREFIGHTERS LOCAL 734
BALTIMORE CITY FIRE FACTORY E33-T5-M16

BALTIMORE CITY MARINE DIVISION
OLD FIRE BOAT "AUGUST EMRICH" 1960-1994
OLD FIRE BOAT "MAYOR J. HAROLD GRADY" 1960-2008
OLD FIRE BOAT "MAYOR THOMAS D'ALASANDRO JR." 1956-
HikeMetal Fire Boats
SeaArk Fire Boats



"August Emrich"
Baltimore Fireboat
Built 1960 - Retired 1994
85' 4 1/2" LOA, 6000 gpm Capacity
Built at Jakobson Shipyard Inc., Oyster bay, L.I., NY
Originally served as Engine 48 in Oct 1960.
Served as Reserve Fire Boat 2 from 1972 until decommissioned in Oct 1994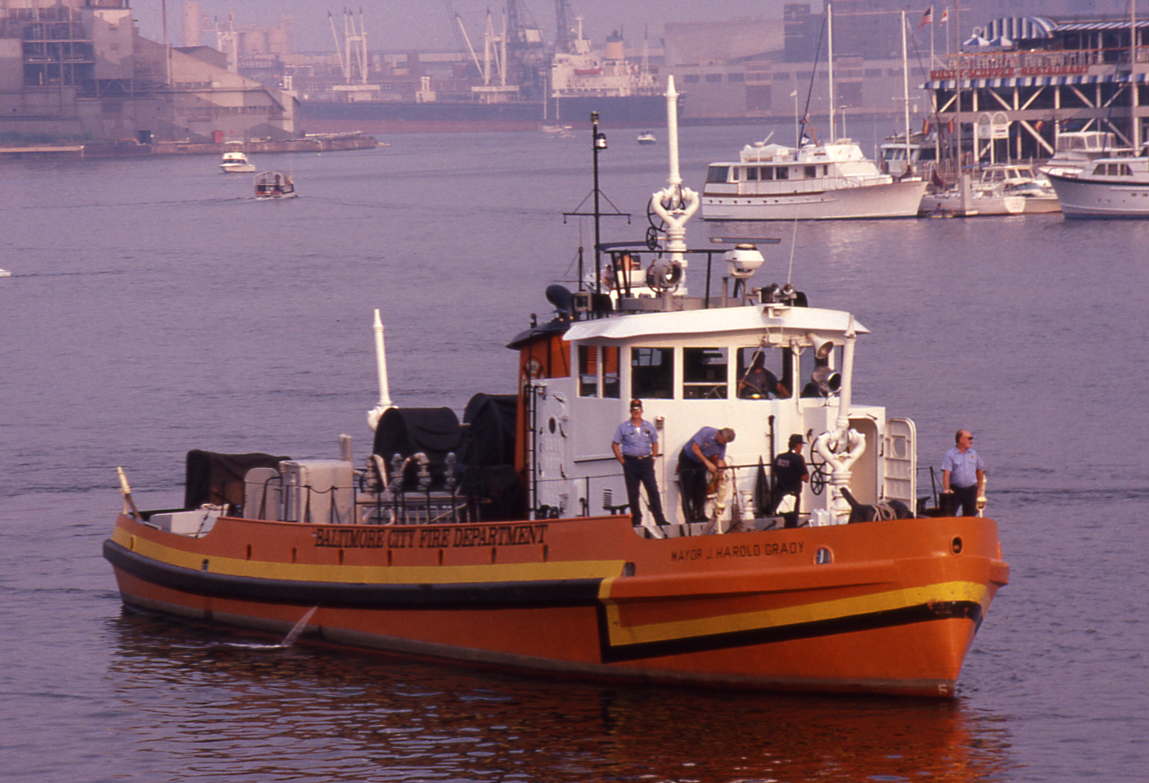 "Mayor J. Harold Grady"
Baltimore Fireboat 2
Built 1960 - Last served in reserve status until sold in 2008
85' LOA, 6000 gpm Capacity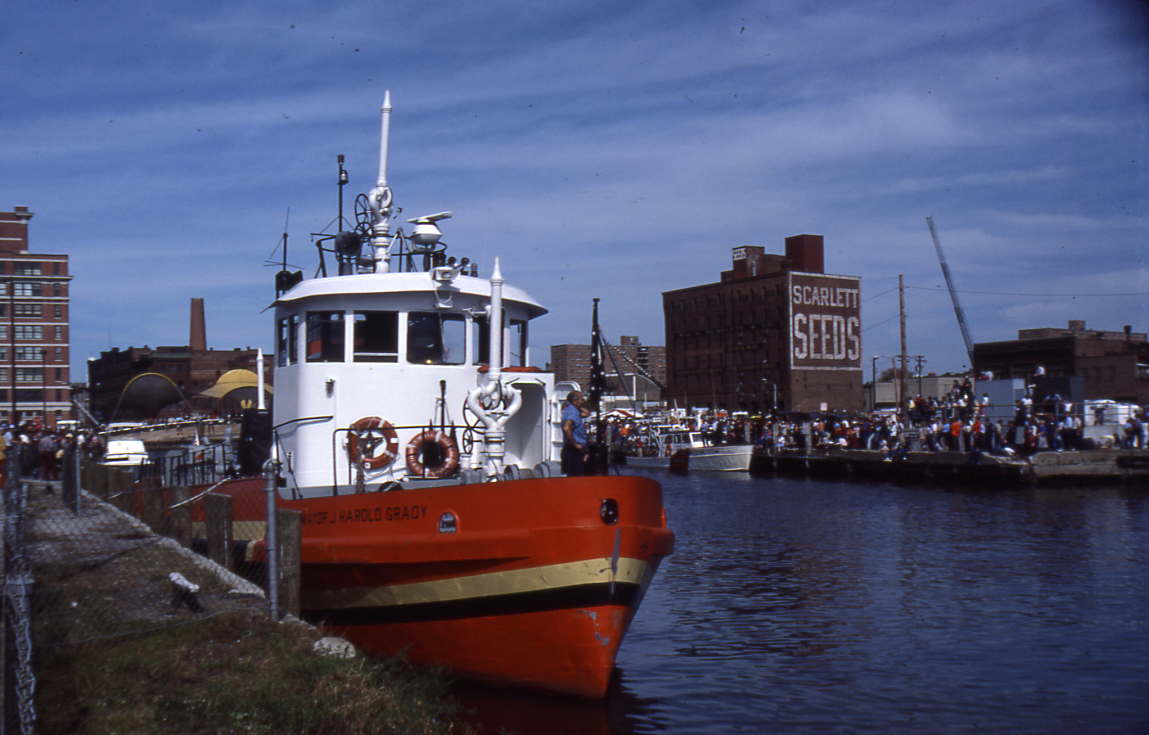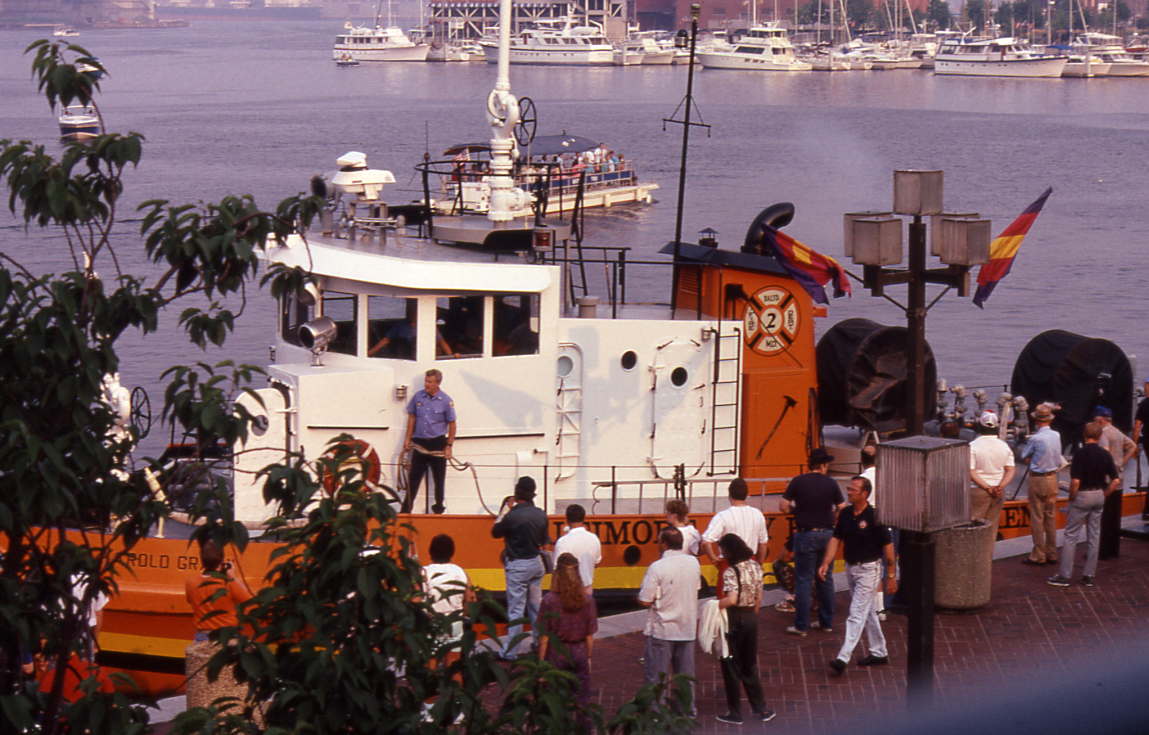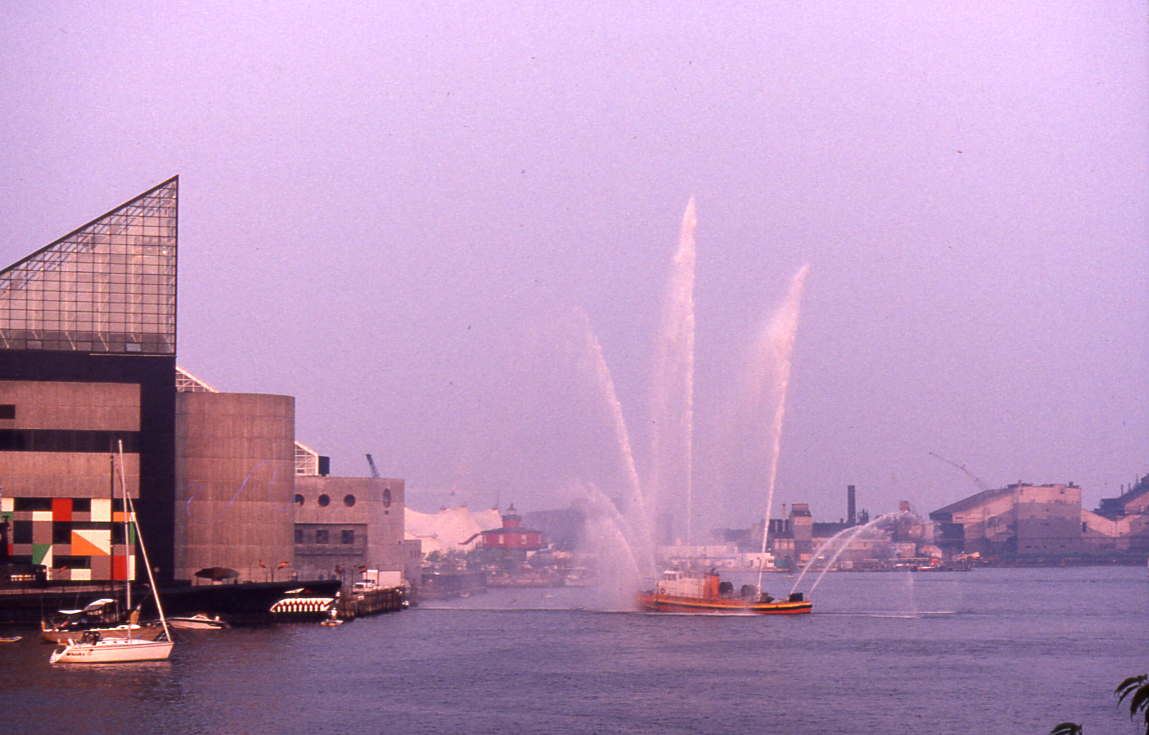 July 1990



"Mayor Thomas D'Alesandro Jr."
Baltimore Fireboat 2
Built 1956
104' 8" LOA, 21'8" beam, 7'8" draft
12,000 gpm Capacity
Reassigned as Fireboat 1 in 1991
At one time was the only large active fireboat in the
Baltimore and Chesapeake Bay area.

"Fire / Rescue Whaler"
Baltimore Fireboat
Fiberglass Boston Whaler purchased in 1991
1000 gpm
Decommissioned in 2003
<![if !vml]>
<![endif]>

Marine Division Old Boats Fireboat 1 Fireboat 2
Fire / Rescue Boat 1 Fire / Rescue Boat 2

MARYLAND BOATS
Annapolis Anne Arundel Avenue Dist 7 Baltimore Benedict Bowleys Quarters
Charlestown Chesapeake City Cobb Island Deale Havre DeGrace Kent Island
Marbury Dist 10 Nanjemoy Newburg North Beach North Point-Edgemere Ocean City Oxford
Prince George County Prince Georges Volunteers Potomac Heights Ridge Dist 4 Riviera Beach
Romancoke Salisbury Shady Side Solomons St. Michaels Towson MD Fire Museum Tilghman Island

RETURN TO

FIREBOATS

FROM


Copyright
Britt Crosby
CapeCodFD.com