CapeCodFD.com
Special Feature

<![if !vml]>

<![endif]>


Photos by Britton W Crosby

[ CapeCodFD.com ] [ HOME ] [ SPECIAL FEATURES ] [ FIRE BOATS MAIN PAGE ]
<![if !vml]>
<![endif]>


New Page Added April 2, 2017 Updated January 19, 2021
MARYLAND BOATS
Annapolis Anne Arundel Avenue Dist 7 Baltimore Benedict Bowleys Quarters
Charlestown Chesapeake City Cobb Island Deale Havre DeGrace Kent Island
Marbury Dist 10 Nanjemoy Newburg North Beach North Point-Edgemere Ocean City Oxford
Prince George County Prince Georges Volunteers Potomac Heights Ridge Dist 4 Riviera Beach
Romancoke Salisbury Shady Side Solomons St. Michaels Tilghman Island

BOWLEYS QUARTERS FIRE BOATS
(Baltimore County)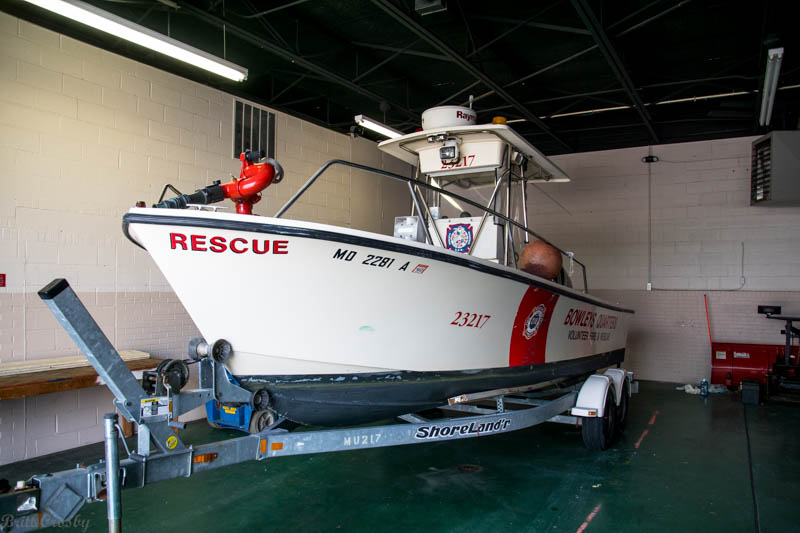 Bowleys Quarters Fire Department
"Marine 217"
The community of Bowleys Quarters is located in Baltimore County.
The volunteer fire department operates several watercraft.
Vessel 217 is about 22' LOA and is equipped to pump 500 gpm.
It is on a trailer off season, but kept in the water in season.

NOTE:
The Bowleys Quarters Marine Emergency Team 21 replaced this boat in 2019. The new boat was built by Silver Ships and delivered in 2019. It is an Ambar 800 Rigid Hull Inflatable Boat powered by twin Evinrude 250 hp outboards. The hull is 27' (32' LOA), 8' beam. It can pump about 700 gpm. The boat is kept at the Beacon Light Marina. Marine 217 is also named the Mrs. Linda II.
Jan 2021
Marine Emergency Team 21
The Bowleys Quarters Fire Department Marine Emergency Team 21 provides
service to much of the water within the Baltimore County jurisdiction.
It covers about 90 square miles with some 175 miles of shoreline.
Marine 217 - 2019 Silver Ships - Docked at Beacon Light Marina
Marine 216 - Small aluminum boat on trailer at station
Marine 219 - 2005 Thomas Marine - Docked at Bowleys Marina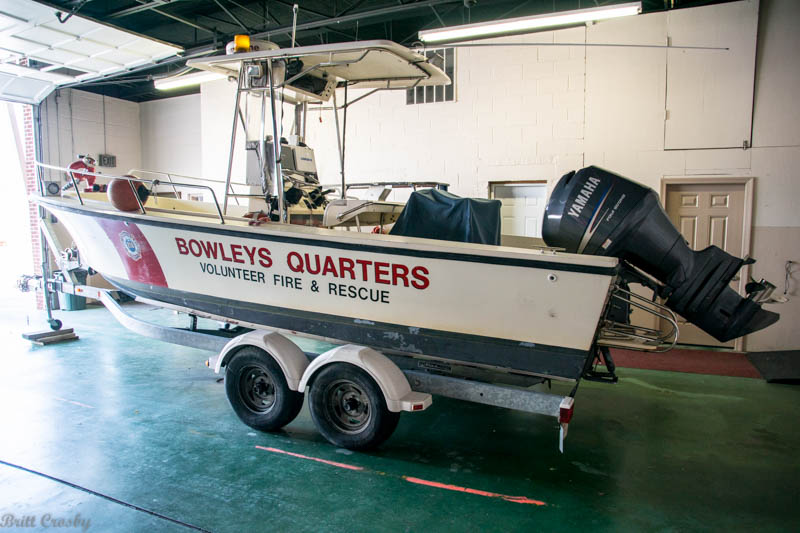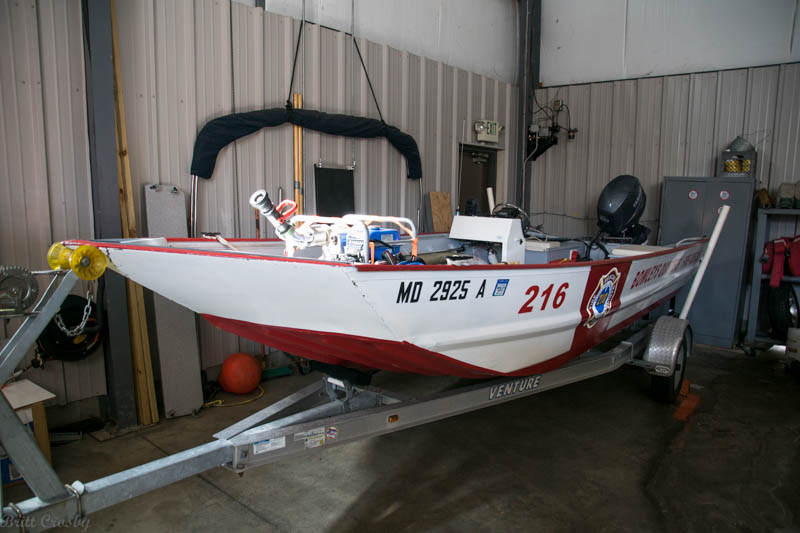 Marine 216
The small flood boat is also capable of supplying a fire stream from its pump.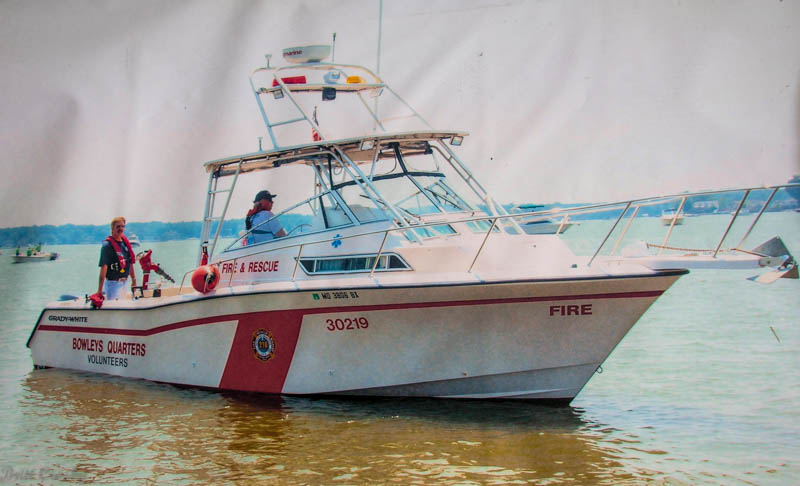 Marine 219
The larger of Bowleys Quarters boats is
1997 Grady White 32' LOA.
It is equipped with 500 gpm pump.
NOTE:
The 1997 Grady White Marine 219 had a dual engine failure in 2020. It was taken out of service. The Marine Emergency Team 21 was then able to acquire the 2005 Thomas Marine fireboat which previously served the Patchogue, Long Island, NY Fire Department. It will be designated Marine 219 and docked at the Bowleys Marina.
Jan 2021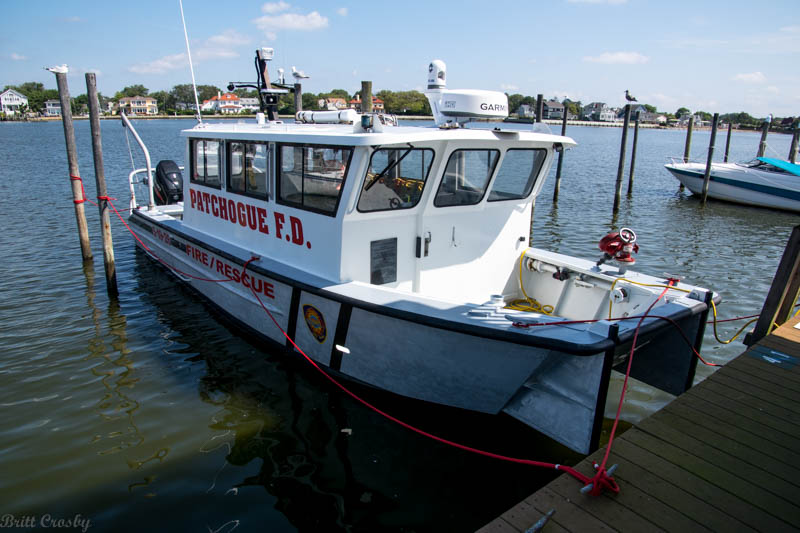 <![if !vml]>

<![endif]>

MARYLAND BOATS
Annapolis Anne Arundel Avenue Dist 7 Baltimore Benedict Bowleys Quarters
Charlestown Chesapeake City Cobb Island Deale Havre DeGrace Kent Island
Marbury Dist 10 Nanjemoy Newburg North Beach North Point-Edgemere Ocean City Oxford
Prince George County Prince Georges Volunteers Potomac Heights Ridge Dist 4 Riviera Beach
Romancoke Salisbury Shady Side Solomons St. Michaels Tilghman Island

RETURN TO

FIREBOATS

FROM


Copyright
Britt Crosby
CapeCodFD.com