Mack Fire Apparatus

CapeCodFD.com
- Special Feature -
By Britton W Crosby
March 2001 - Updated March 2005
[HOME] [FEATURES]
[Mack Page 1] [Mack Page 2] [Mack Page 3] [Mack Page 4] [Mack page 5]
[Mack page 6] [Mack page 7] [Mack page8] [Mack page9]


A Tribute to the Bulldog of all Fire Trucks
Page 3 - Cape Cod Macks 1970's - Present
26 Mack photos on this page
---
Newer Cape Cod Macks
A number of Mack apparatus was purchased during the 1970's and 1980's
and some still serves on the Cape today.
Photo Above: Centerville-Osterville Fire Department's Engine 5 (E-315)
was a 1975 Mack CF600 with a 1250gpm pump and 1000 gallon tank.
Today it still serves, with a different look, as Engine 302.
---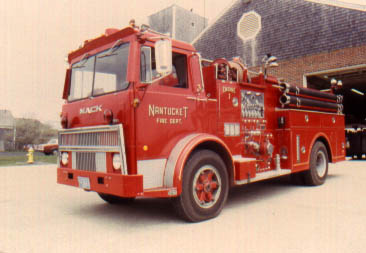 Nantucket operated this 1970's Mack MB Pumper as Engine 1.
Brewster Fire Department's Engine 4 (Engine 239) is a 1974 Mack
R series 1250/500 Pumper.

Engine 239 was used as the prototype for a 1986 Solido 1/60 scale toy fire engine.
Brewster Engine 239
Brewster FD added another Mack to its fleet in 1980 with Engine 234,
a MC series 1500gpm/500gallon Pumper built by Pierce and painted yellow.
Brewster's Engine 234 was refurbished in 1995 and repainted the new
white over red department colors.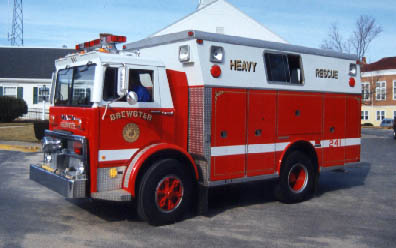 Brewster purchased this used 1980 Mack MB / Saulsbury Heavy Rescue in 1996.
It is designated Heavy Rescue 241. Fully equipped with extrication equipment,
a cascade system, a 250gpm pump and 300 gallon tank, and more.

Harwich Fire Department Ladder 1 - (66)
1970 Mack CF / Thibault 85' Aerial
Harwich Fire Department purchased this Mack CF / Thibault 85' Aerial Ladder
Ladder-66 in 1970.

Harwich Ladder 1 operates at Orleans Fire.

Harwich Ladder Pipe in operation
at Orleans fire
Harwich Ladder 66 with a red stripe as it looked up until being replaced
in 1992.

The Harwich Fire Department bought a 1976 Mack CF600 Pumper in 1975.
Engine 4 (Engine 69) had a 1250 gpm pump and 500 gallon tank.
Engine 3, Harwich's 1953 American LaFrance is also shown.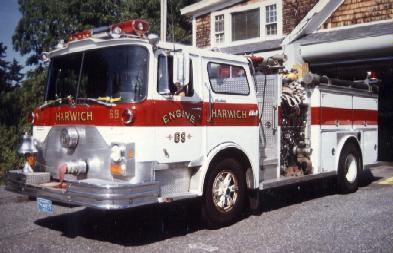 Harwich Engine 69, the 1976Mack CF600 with red stripe.
This apparatus later became Engine 65 and is now in reserve status.
Harwich Macks Ladder 66 and Engine 69 operated at a multiple alarm
fire in Chatham in teh early 1990's.
Centerville-Osterville-Marstons Mills Fire Department Engine 5 (Engine 315)
was COMM FD's first Mack. The 1975 Mack CF600 had a 1250gpm pump and
1000 gallon booster tank. It was also the department's first automatic transmission
fire engine.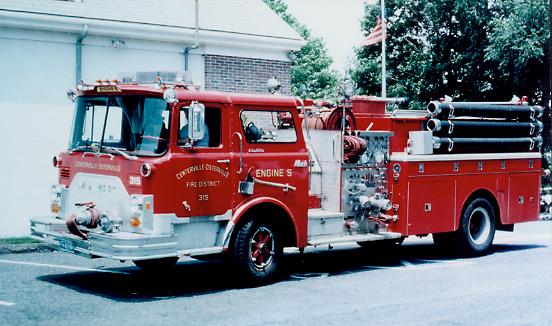 Centerville-Osterville Engine 5
1975 Mack CF600
In 1987, COMM FD Engine 315 was refurbished and became Engine 302.
The fully enclosed cab and new body were done by EJ Murphy.
Today, COMM FD Engine 302 has the department's new black over red color scheme.

COMM FD Engine 302 - 1975 Mack


Hose bed of Engine 302
225' 1-3/4", 225' 1-3/4", 150' 2-1/2", 600' 2-1/2", 1200' 4" LDH
with Humat Hydrant valve and hydrant bag. Also carries
30' of hard suction and has (2) 150' 1-3/4" crosslays.
COMM FD bought another Mack CF600 in 1983. Engine 3 (Engine 305) is a
1250gpm/1000gallon pumper with high side compartments. It carries the jaws tool.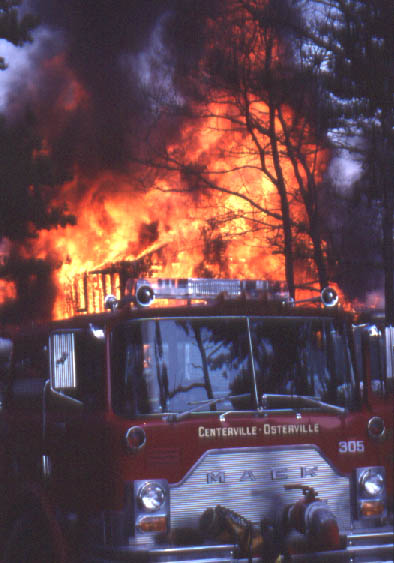 COMM Engine 305 at a burn drill.
COMM Fire Engine 305, the 1983 Mack CF600, got a complete refurbishing
in 2002 by EJ Murphy. A new paint job, diamond plate, and booster tank
are expected to extend its service life.

COMM FD Engine 305 - 1983 Mack CF operated at full capacity at the Crosby Yacht Fire
on December 10, 2003.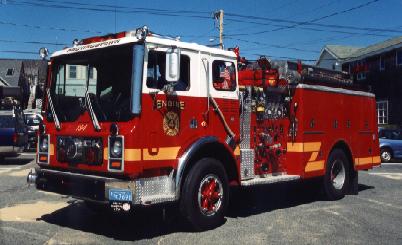 Provincetown purchased this 1980 Mack MC Pumper in 1997.
It has a 1250 gpm pump and 500 gallon tank.
It is designated Engine 4 (Engine 194).
Plymouth Fire Department's Tanker 1 is a 1989 Mack RM / Saulsbury 500gpm / 2500 gallon tanker.
[Prev Macks] [TOP] [Next Macks]
Mack