CapeCodFD.com
Special Feature

<![if !vml]>
<![endif]>


Photos by Britton W Crosby

[ CapeCodFD.com ] [ HOME ] [ SPECIAL FEATURES ] [ FIRE BOATS MAIN PAGE ]

<![if !vml]>
<![endif]>


New Page Added August 18, 2013 Updated March 21, 2023
CONNECTICUT BOATS
Branford Brookfield Bridgeport Danbury Deep River East Hartford
Essex Fairfield Goshen-Waterford Greenwich Groton Long Point Guilford
Middletown Milford Mystic New Fairfield-Squantz New Haven Norwalk Norwich
Old Lyme Old Saybrook Portland Sherman Stamford Stratford
West Haven
BRIDGEPORT FIRE BOATS
BRIDGEPORT, CT
Marine Units
Bridgeport's marine units are docked near the ferry pier not far from I-95
and the Ballpark and Harbor Yard, home of the Atlantic League "Bluefish"
Police and Harbormaster boats share the dock.

BRIDGEPORT, CT
Fireboat 33
Bridgeport's took delivery of a new Safe Boats Defender in 2013.
It is approximately 33 feet long and has a capability of approximately 1000 gpm.
Powered by triple Yamaha 300 HP outboards.

Bridgeport Engine Three staffs the Fireboat
Photos Oct 2015
Bridgeport Fireboat
Sept 2022 photos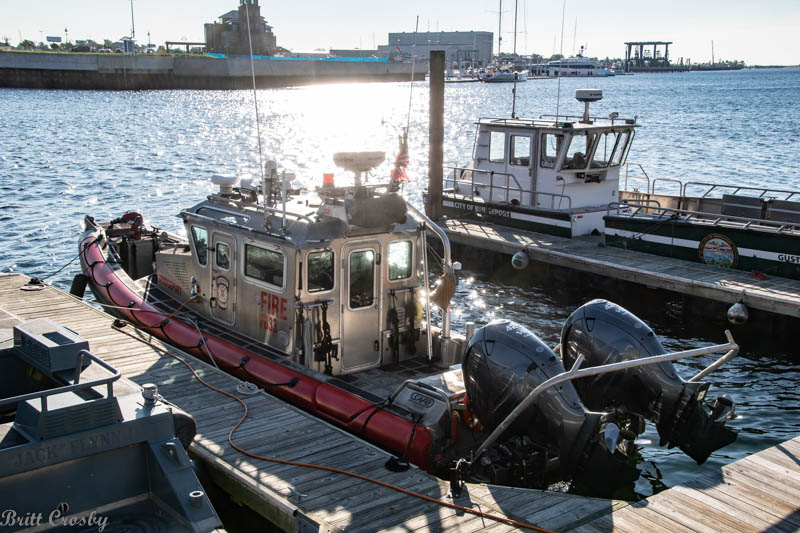 PREVIOUS BOAT
BRIDGEPORT, CT
Marine Unit
Bridgeport's first fire boat was delivered in 2008.
The 28 foot MetalCraft Firebrand boat has a 10 foot beam.
It is equipped with twin Mercury 250 HP outboards
and can pump 1250 gpm.
Photos August 2013
NOTE
This boat was given to the FAIRFIELD, CT FIRE DEPARTMENT c.2014
<![if !vml]>
<![endif]>

CONNECTICUT BOATS
Branford Brookfield Bridgeport Danbury Deep River East Hartford
Essex Fairfield Goshen-Waterford Greenwich Groton Long Point Guilford
Middletown Milford Mystic New Fairfield-Squantz New Haven Norwalk Norwich
Old Lyme Old Saybrook Portland Sherman Stamford Stratford
West Haven
RETURN TO

FIREBOATS

FROM


Copyright
Britt Crosby
CapeCodFD.com