CapeCodFD.com
Special Feature

<![if !vml]>
<![endif]>


Photos by Britton W Crosby

[ CapeCodFD.com ] [ HOME ] [ SPECIAL FEATURES ] [ FIRE BOATS MAIN PAGE ]

<![if !vml]>

<![endif]>


Original Feature Posted April 26, 2004 - Re-launched January 28, 2012
Updated March 21, 2023
CONNECTICUT BOATS
Branford Brookfield Bridgeport Danbury Deep River East Hartford
Essex Fairfield Goshen-Waterford Greenwich Groton Long Point Guilford
Middletown Milford Mystic New Fairfield-Squantz New Haven Norwalk Norwich
Old Lyme Old Saybrook Portland Sherman Stamford Stratford
West Haven
CONNECTICUT
Connecticut
There a many fire and rescue boats along the south coast of Connecticut on Long Island Sound.
Additionally, there are a number of boats on various rivers deep inland.

BRANFORD FIRE BOATS
BRANFORD, CT
MARINE 2
Branford's Marine 2 was built by Munson
It has an aluminum landing craft hull with a bow door.
Equipped with twin Mercury outboards and a fire pump.
Docked at Bruce & Johnson's West Marina
Photo Oct 2015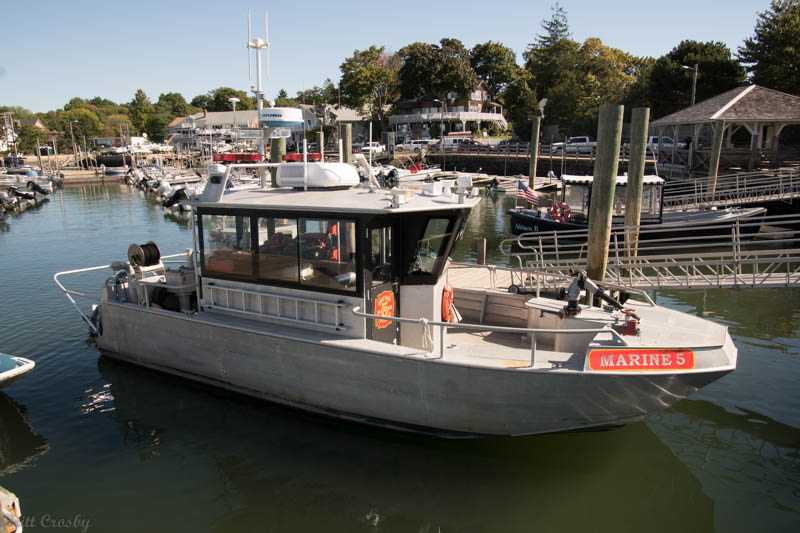 BRANFORD, CT
Marine 5
Branford, CT Marine 5 was built by Derecktor Shipyards in Bridgeport, CT
The 2007 32' aluminum boat has a catamaran hull.
1000 gpm pump
Twin Mercury 275 hp

BRIDGEPORT FIRE BOATS
BRIDGEPORT, CT
Fireboat 33
Bridgeport, CT took delivery of this 33' Safe Boats Defender fireboat in 2013.
It is powered by (3) Yamaha 300 HP outboards.
The boat can pump 1000 gpm and is equipped with all the essential
electronics and navigations systems.
BRIDGEPORT, CT
Former Fireboat
Bridgeport, CT operated this 2008 MetalCraft Firebrand 28 Fire Boat
until about 2014 when it was sold to the Fairfield CT Fire Department.
FAIRFIELD, CT FIRE DEPARTMENT
The boat was the first fireboat in Bridgeport's history.
28' LOA - 10' beam
Twin Mercury 250 HP outboards
1250 gpm pump

BROOKFIELD FIRE BOAT
BROOKFIELD, CT
Marine 25
Brookfield, CT is located in Southwestern, CT on Candlewood Lake.
The 2019 Lake Assault 24' Landing Craft Style Marine 25 has a 500 gpm pump.
Photos May 2021

DANBURY FIRE BOAT
DANBURY, CT
Fireboat "Marine 1"

The City of Danbury, CT took delivery of a new Fireboat in 2021.
The 32 foot Silver Ships Explorer is powered by (2) Suzuki 300 HP outboards.
The boat is capable of 37 knots.
It can pump approximately 1,000 gpm.
The boat is equipped with the latest in electronics.
The boat has a dock at the Danbury Town Park on Hayestown Road.
It is assigned to the lower part of Candlewood Lake, the largest lake in Connecticut.
Photos Sept 2022

DEEP RIVER FIRE BOAT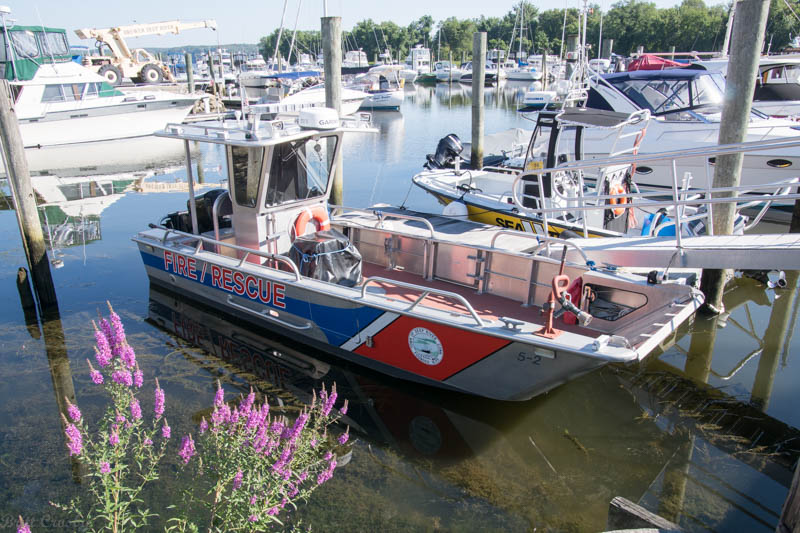 DEEP RIVER, CT
Fireboat 5-2
Deep River, CT is located on the southern portion of the Connecticut River
in New London County. The volunteer fire department operates this
2004 Munson landing craft style 24' fireboat.
It is powered by a single Mercury 250 HP outboard.
It can pump up to 250 gpm.
Photos August 2017

EAST HARTFORD FIRE BOAT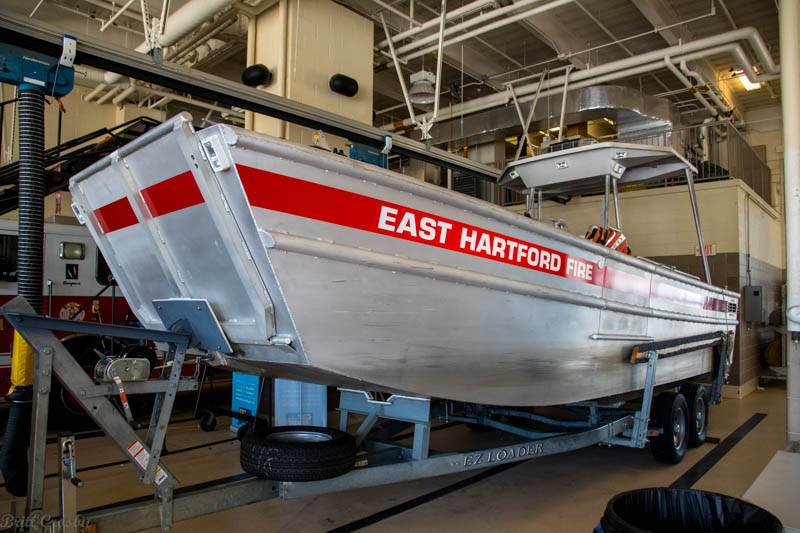 EAST HARTFORD, CT
Marine 1
The East Hartford Fire Department operates this 1009 Viking Welding
26' landing craft style fire rescue boat. An inboard motor powers a jet drive.
It can pump 350 gpm.
The boat is kept in the fire headquarters at Station 3 at 31 School Street.
Photos August 2017

ESSEX FIRE BOAT
ESSEX, CT
MARINE 6-2
Approx 24' boat with single outboard and small fire pump.
Photo Nov 2015

FAIRFIELD FIRE BOAT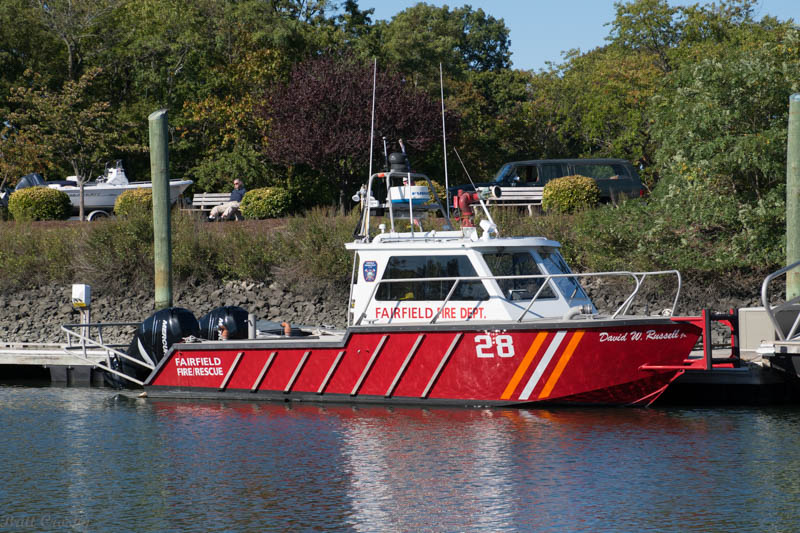 FAIRFIELD, CT
MARINE 28
2008 MetalCraft Firebrand 28
1500 gpm
Formerly Bridgeport Marine 1
Oct 2015

GOSHEN-WATERFORD FIRE BOAT
GOSHEN-WATERFORD, CT
MARINE 93
2007 Lake Assault Landing Craft Style
Twin Evinrude 150 HP
Goshen Fire District - Waterford, CT
April 2018

GREENWICH FIRE BOAT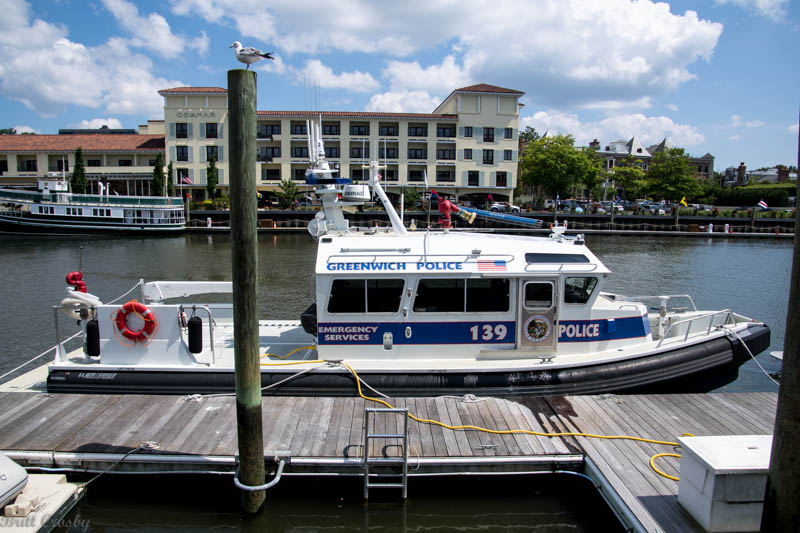 GREENWICH, CT
MARINE 139
The Greenwich Police Department's Marine Operations Section operates Marine 139
built by North River Boats in Oregon. The 39' boat was delivered in 2009.
It is equipped with 1500 gpm pump.
Photos August 2017

GROTON LONG POINT FIRE BOAT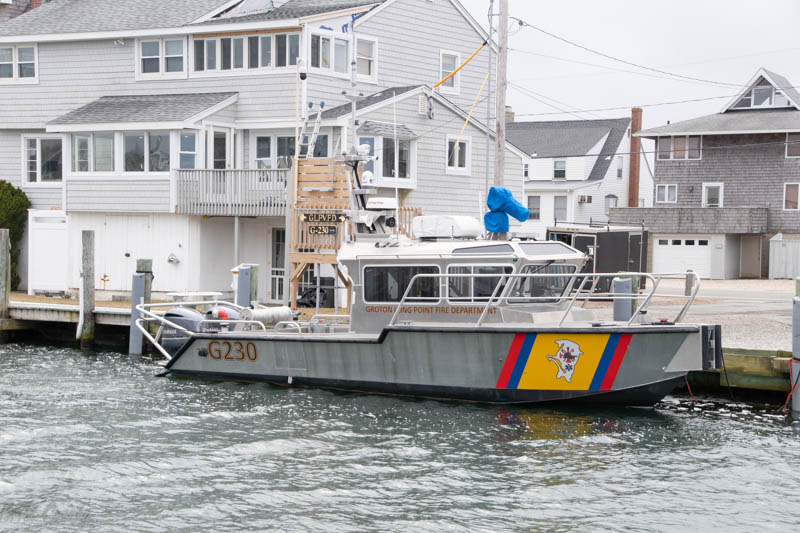 GROTON LONG POINT, CT
MARINE 230
The Groton Long Point Volunteer Fire Department operates a
2022 MetalCraft FireBrand Fireboat.
Approx 32' LOA with 600 gpm pump.
Powered by twin Yamaha 250 HP outboards.

GUILFORD FIRE BOAT
GUILFORD, CT
Marine 10
2015 MetalCraft Marine 30 Foot with twin outboards
1000 gpm.

MIDDLETOWN FIRE BOAT
MIDDLETOWN, CT
Marine 1
The Middletown fireboat is this 2003 Sea Ark with twin 135 HP Mercury outboards.
The boat can pump 1000 gpm.
Photos August 2017

MILFORD FIRE BOAT
MILFORD, CT
Marine 1
27 Foot Aluminum boat
1000 gpm

MYSTIC FIRE BOAT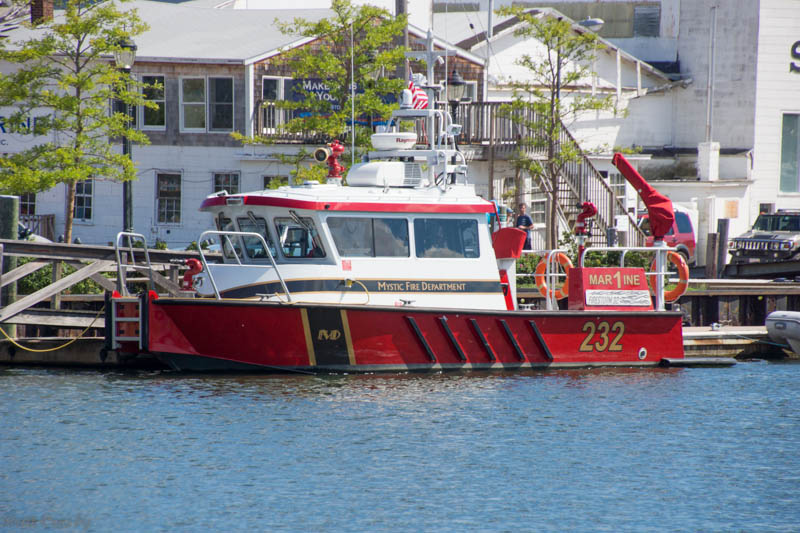 MYSTIC, CT
Marine 1 - 232
2012 MetalCraft Firestorm 32
Approx 2000 gpm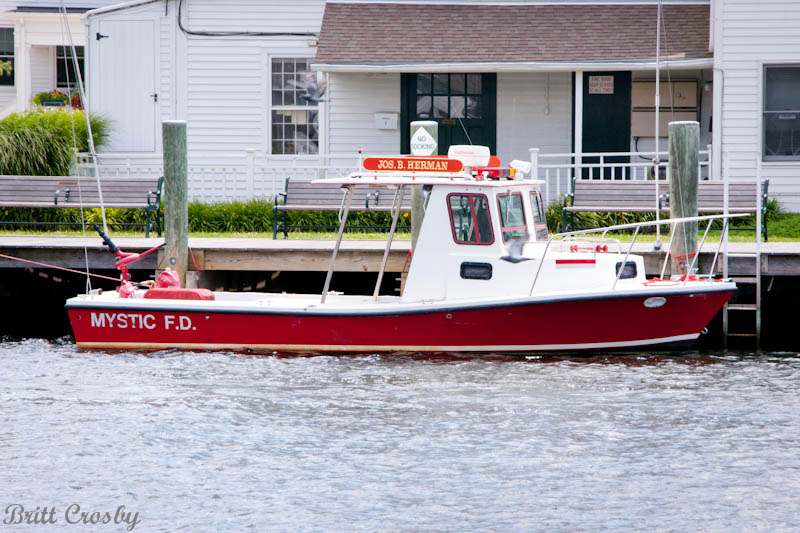 MYSTIC, CT
"Marine One"
Joseph B Herman
Approx 1972 Privateer
Purchased second hand from Guilford CT - operated by Mystic FD approx 20 years
Replaced in 2012 by new boat

NEW FAIRFIELD - SQUANTZ FIRE BOAT

NEW HAVEN FIRE BOAT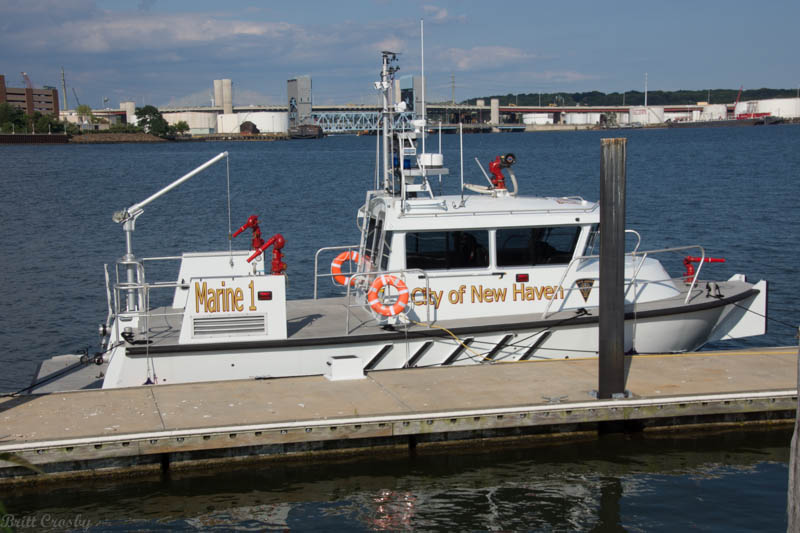 NEW HAVEN, CT
"Marine 1" - "Nathan Hale"
2013 MetalCraft Marine Firestorm 36
4,800 gpm

NORWALK FIRE BOATS
NORWALK, CT
Boat 238
"Robert Bedell"
2012 42 foot built by North River Boats, Roseburg, OR
2400 gpm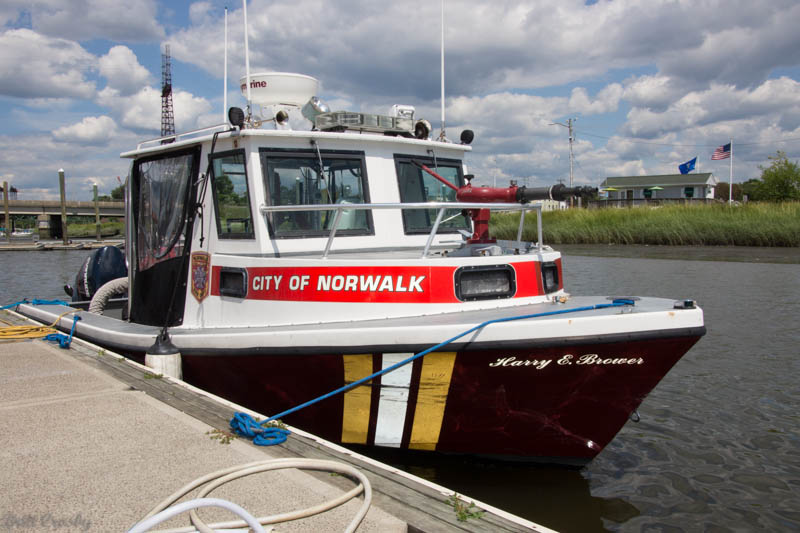 NORWALK, CT
Marine 2
"Harry E. Brower"
24 foot boat with twin outboard motors

NORWICH FIRE BOAT
NORWICH, CT
Marine 1
"Chief Scand"
2019 MetalCraft 28' Firebrand 1500 gpm

OLD LYME FIRE BOAT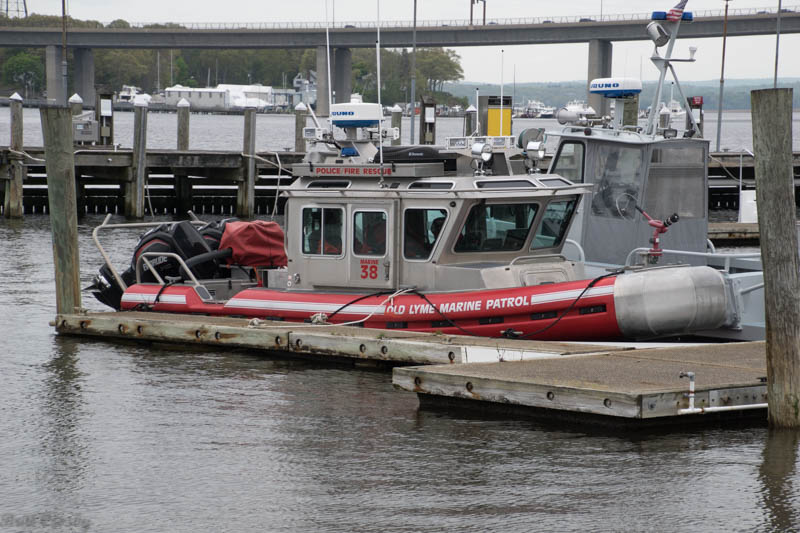 OLD LYME, CT
MARINE 38
Old Lyme, Connecticut operates a 2007 (2017) Safe Boat 25'
as the Old Lyme Marine Patrol Marine 38.
Twin 225 HP Evinrudes
Approx 500 gpm pump


OLD SAYBROOK FIRE BOAT
OLD SAYBROOK, CT
MARINE 3-2
"Gordon B. Smith"
2010 35 foot Moose Boat
Twin 300 HP Mercury outboards and a fire pump
capable of more than 1000 gpm.
Photos July 2012


PORTLAND FIRE BOAT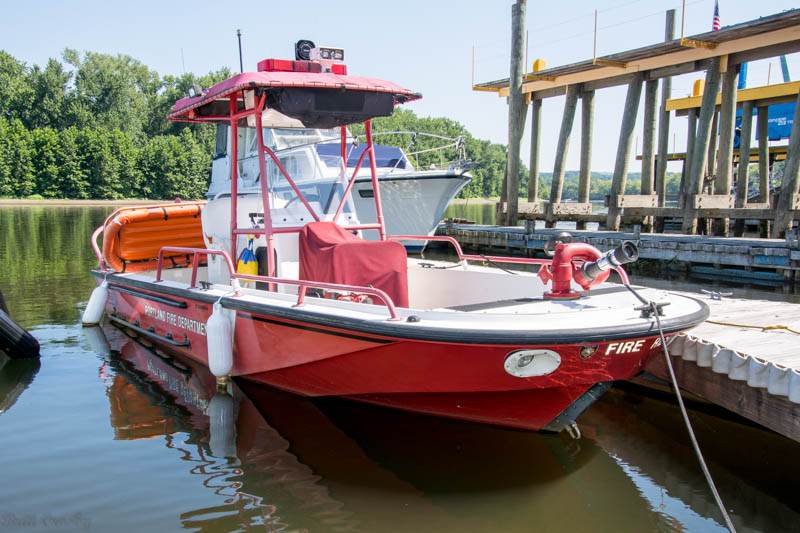 PORTLAND CT
Marine 1
2007 22' Boston Whaler Guardian with twin Mercury outboards and fire pump.
Photos August 2017

SHERMAN FIRE BOAT


SHERMAN, CT
Marine 7
2020 Stanley 22' Fireboat
Approx 500 gpm
Sept 2022




STAMFORD FIRE BOAT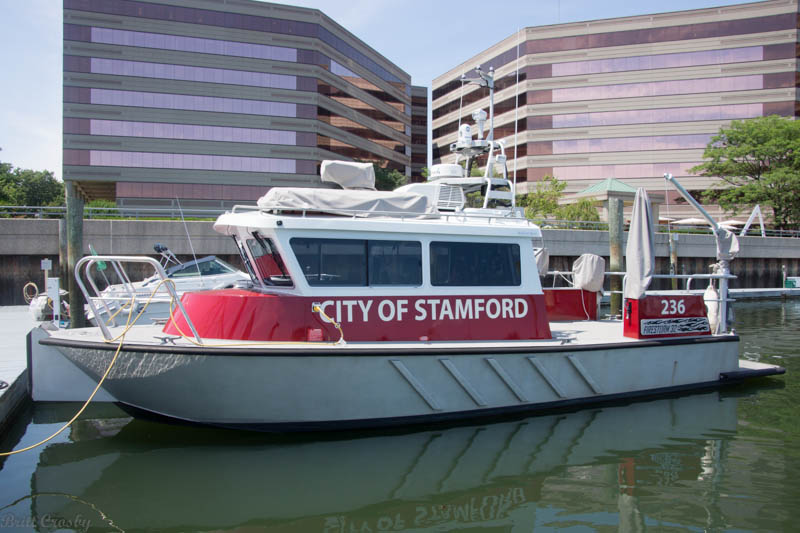 STAMFORD, CT
Marine 236
The City of Stamford Fireboat
2013 MetalCraft FireStorm32
1500 gpm

STRATFORD FIRE BOAT
STRATFORD, CT
Marine 233
"Allen D. Judson"
2015 33 foot Safeboat
(3) Mercury 300 HP outboards
1000 gpm
Oct 2015
<![if !vml]>
<![endif]>

CONNECTICUT BOATS
Branford Brookfield Bridgeport Danbury Deep River East Hartford
Essex Fairfield Goshen-Waterford Greenwich Groton Long Point Guilford
Middletown Milford Mystic New Fairfield-Squantz New Haven Norwalk Norwich
Old Lyme Old Saybrook Portland Sherman Stamford Stratford
West Haven
RETURN TO

FIREBOATS

FROM


Copyright
Britt Crosby
CapeCodFD.com