Nantucket Fire Dispatch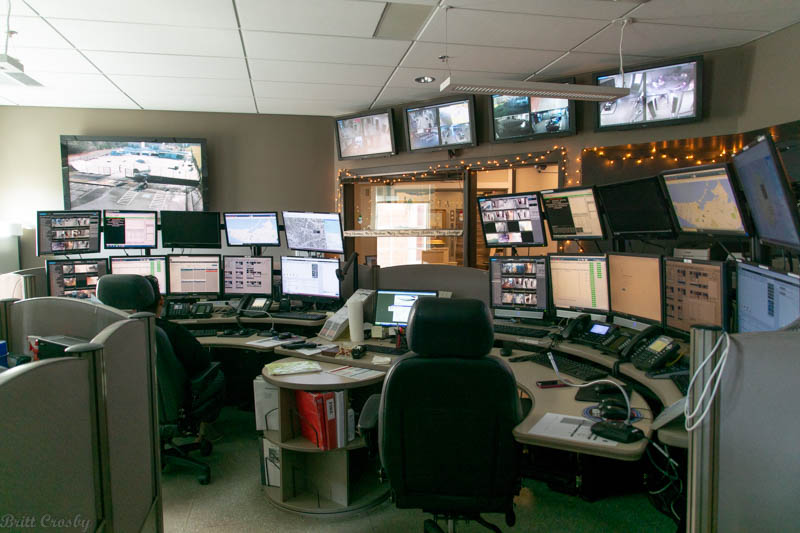 NANTUCKET PUBLIC SAFETY DISPATCH
Nantucket Fire and Police Dispatch
Dec 23, 2019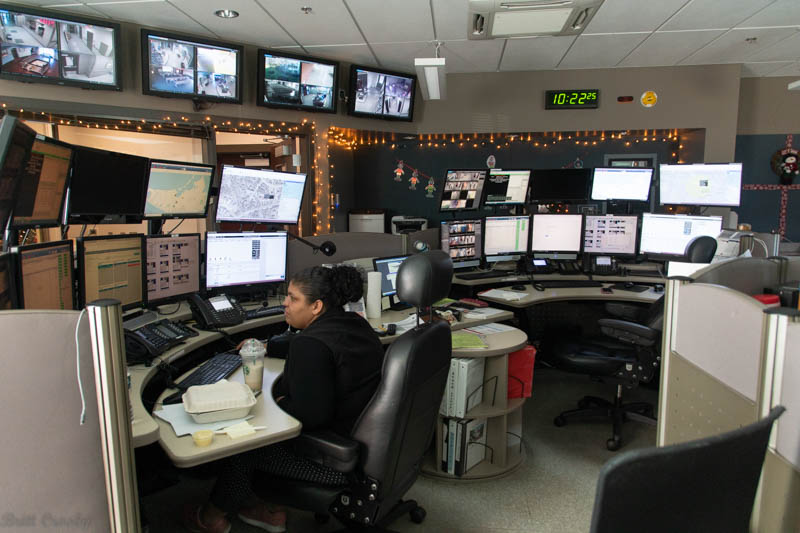 Yarmouth Dispatch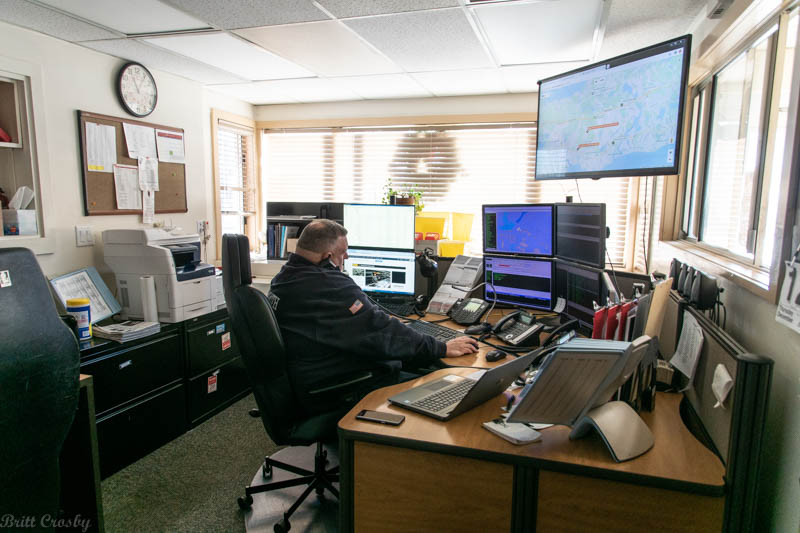 YARMOUTH FIRE ALARM
Dec 2019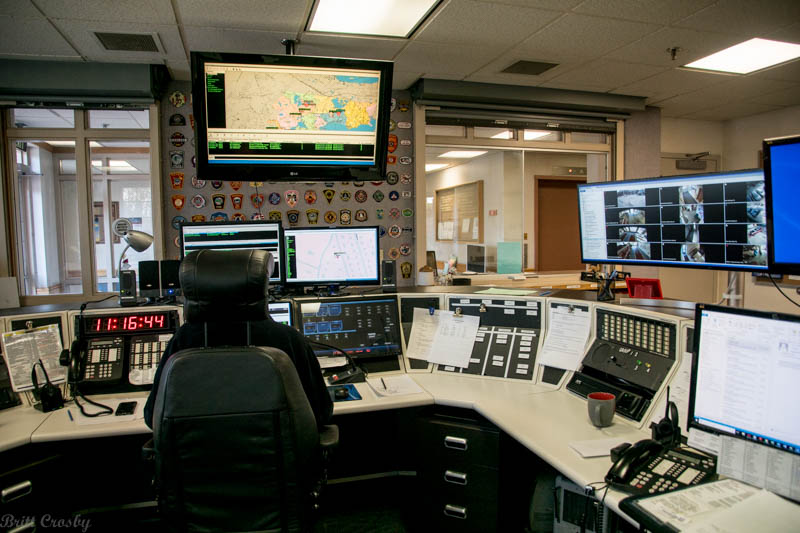 COMM CENTERVILLE FIRE DISPATCH
Nov 2019
Sandwich Dispatch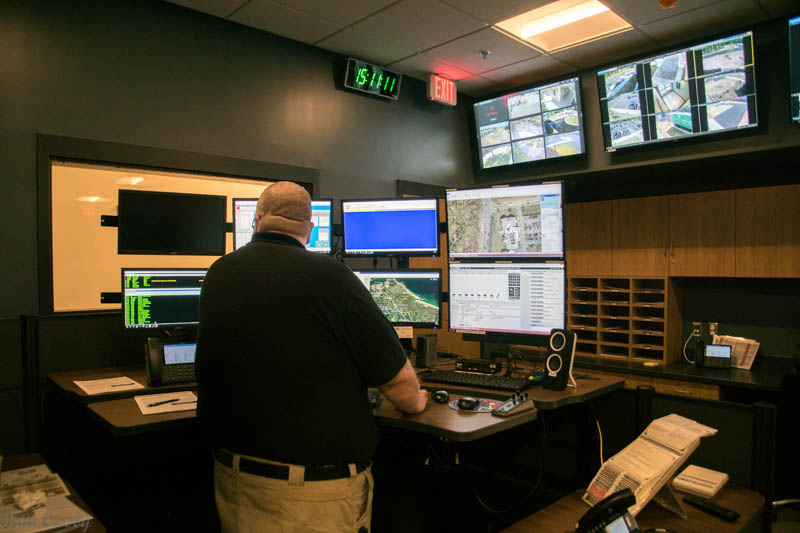 SANDWICH PUBLIC SAFETY COMMUNICATIONS
The new Sandwich Public Safety Communications Center
opened in June-July 2019 at the new Sandwich Police Station
at 255 Cotuit Road, Forestdale. The Comm Center has three
console positions, each having about 8 CAD screens
which include radio, mapping, log, and 911 screens.
The consoles can be elevated or lowered to dispatcher
preference to stand or sit.
Photos Aug 5, 2019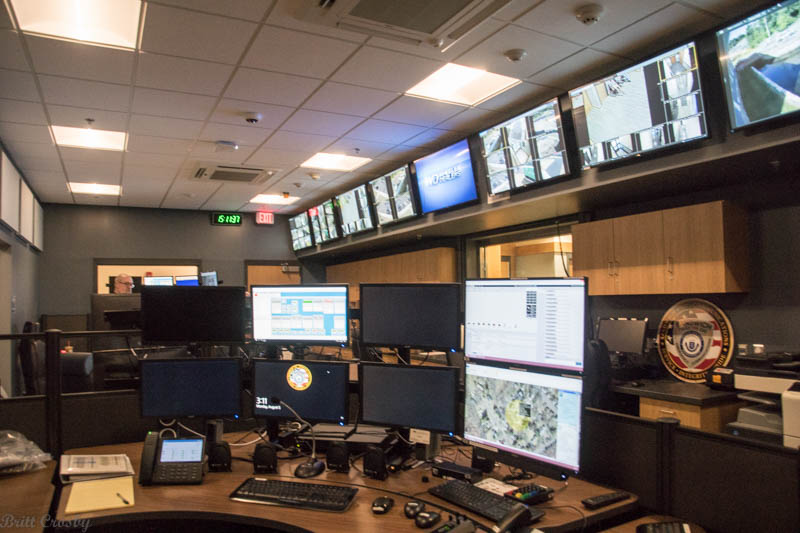 -----------------------------------------
Dukes County Communication Center
2018 Funding Issues
April 2018
Dukes County Communications 2018
April 2018
Dukes County Communications Issues - Jan 2015
Dukes Move to new Communications Center
2012

Hyannis Dispatch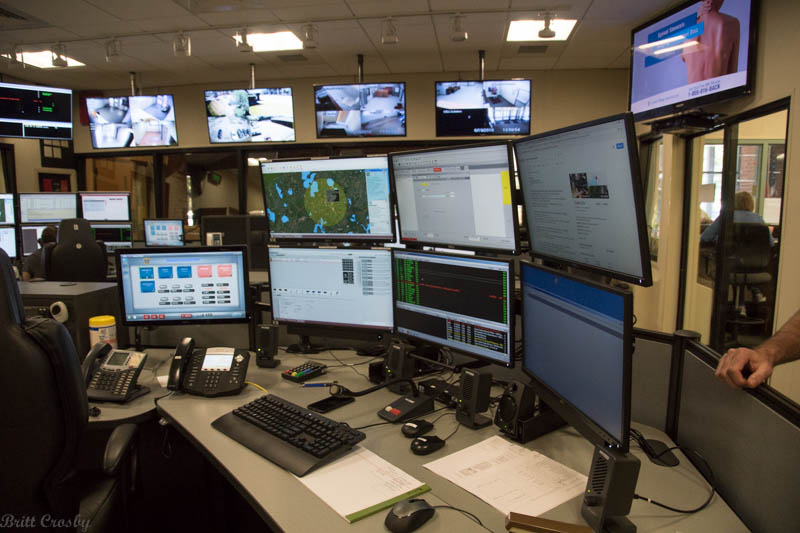 BARNSTABLE POLICE / HYANNIS FIRE DISPATCH
One of several consoles at the Barnstable Police Facility
and home to the Hyannis Fire Alarm.
June 2018 photo
Hyannis Fire Changes
DISPATCH PLANS
February 20, 2018
The Hyannis Fire Department is currently building a new fire headquarters.
The new station will have a dispatch room in it, but HYANNIS IS
PLANNING TO BE DISPATCHED BY THE NEW CIVILIAN
DISPATCHERS AT THE BARNSTABLE POLICE STATION
sometime around May 2018. Approximately 12 civilian dispatchers
were hired and are being training to do police dispatch and Hyannis
Fire Dispatch.
The transition follows other Cape Fire Departments
that have given up local in fire station dispatch for either a regional
dispatch center (Barnstable Sheriff's Office dispatches 10 fire depts)
or to town public safety dispatch centers (Sandwich & Falmouth)
that do both fire and police dispatch within the communities.
It is unclear whether any of the other fire departments within the
Town of Barnstable will continue as is or change to the Barnstable
Police option in the future. Currently Barnstable and West Barnstable
Fire Departments are dispatched by the Sheriff's Department,
while COMM and Cotuit Fire Departments are dispatched by COMM.
APPARATUS RADIO NUMBERS CHANGED
February 20, 2018
On February 19, 2018 the Hyannis Fire Department changed the way
they identify apparatus on the radio. For many years, all Cape FDs
have used the unique "county" radio designations on both the mutual
aid operations channels and on the local dispatch "fire alarm" channels.
Apparatus will continue to have "county" radio number assignments
for mutual aid purposes, but will use local IDs on fire alarm dispatch.

Car 1 = C801 = Fire Chief
Car 2 = C802 = Deputy
Car 3 = C803 = Duty Officer Car
Car 4 = C804 = EMS Officer
Car 5 = C805 = Fire Prevention Officer
Car 6 = C806 = Fire Prevention Officer
Car7 = C807 = Training Captain
Car 8 = C800 = Mechanic Vehicle
Engine 1 = FOX = Antique Ahrens Fox
Engine 2 = E822 = E-One Pumper
Engine 3 = E823 = Pierce Pumper
Engine 5 - MACK = Antique Mack
Engine 6 = E826 = Pierce Pumper
Tower 1 = LT829 = Pierce Tower Ladder
Ambulance 1 = A831 = Ambulance
Ambulance 2 = A828 = Ambulance
Ambulance 3 = A825 = Ambulance
Ambulance 4 = A827 = Ambulance
R1 = H821 = Pierce Heavy Rescue
Marine 1 = Marine 808 = Fireboat
Marine 2 = Marine 809 = Small Boat
Dive 1 = Dive810 = Dive Truck
Service 1 = new Pickup
Service 2 = C830 = Service Van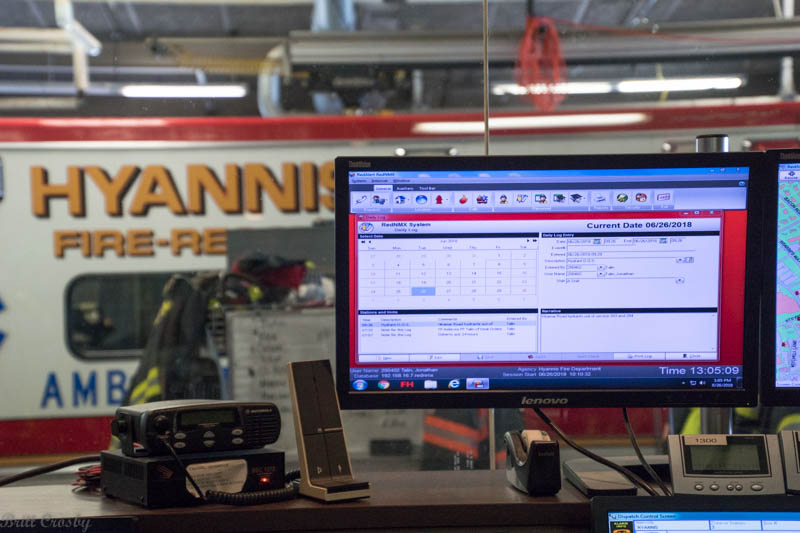 Dispatching
The transition of dispatching duties from the Hyannis Fire Station
to the new communications center at Barnstable Police took
place over a few days this week. The new "Purvis" automated
voice dispatch went in service and use of the new CAD program
also went in service.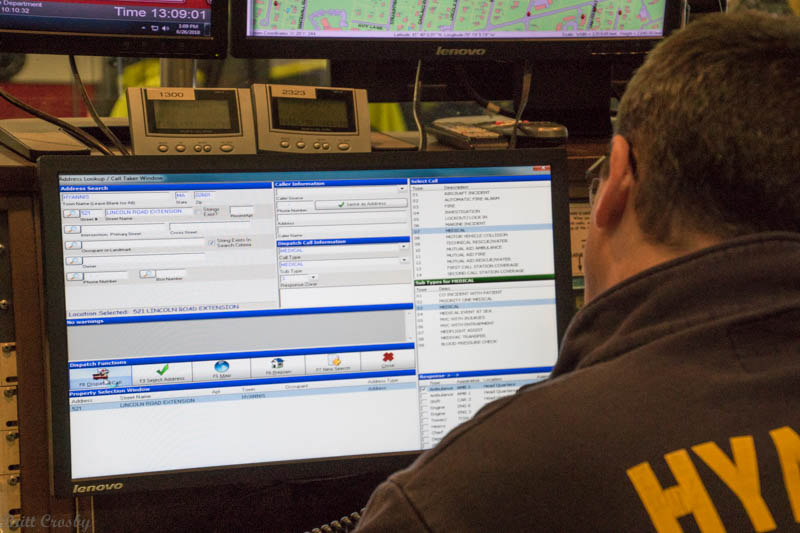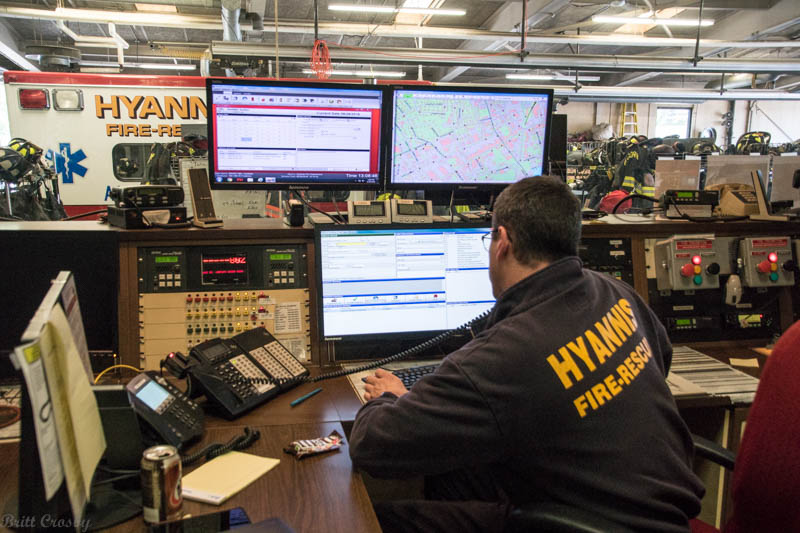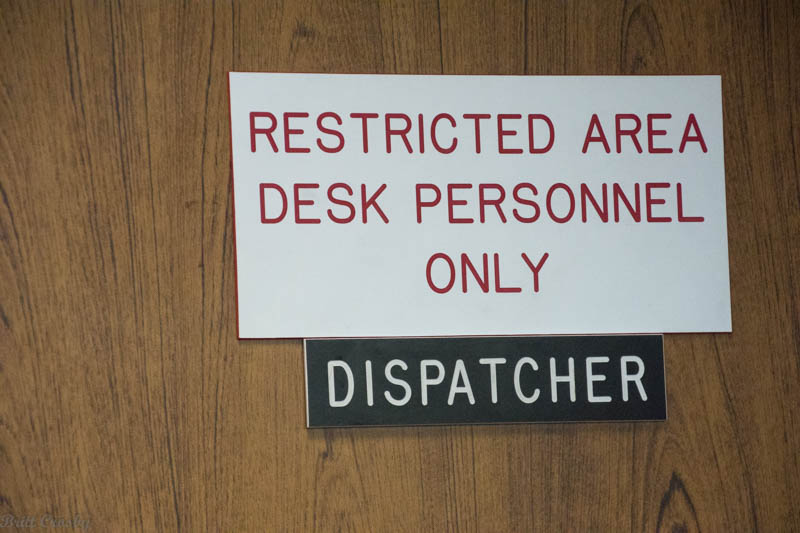 Hyannis Fire Alarm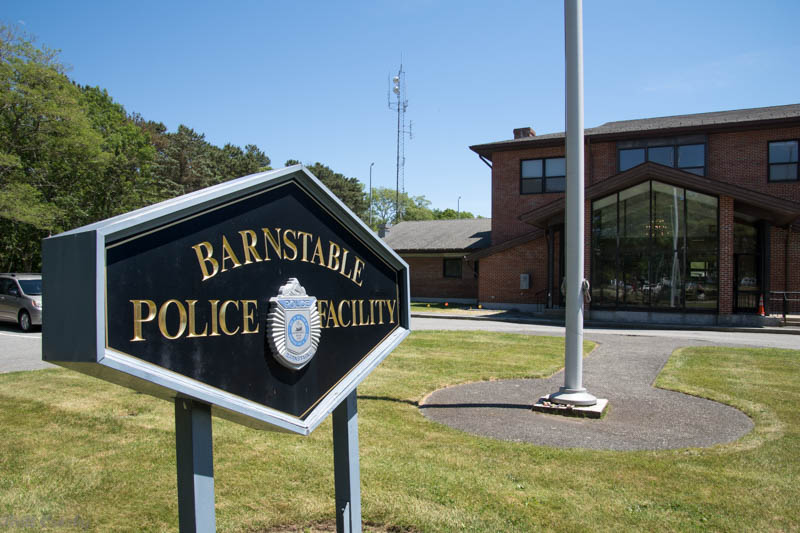 A NEW DAY
The new communications center at the Barnstable Police Station
will soon (expected week of June 25, 2018) begin dispatching for
the Hyannis Fire Department. A dozen civilian dispatchers were
hired by the BPD and have been trained to dispatch the Hyannis
Fire Department as well as Barnstable Police.
The Comm center has 4 console positions, at least one of which
will be dedicated to Hyannis FD. Each dispatch station is setup
with about 7 computer displays including 911, CAD, mapping,
and touch screen radio controls.
As dispatching begins, so too will the use of a new CAD system
and a new "voice" on the radio. The Computer Aided Dispatch
(CAD) system will use RedAlert to manage calls. As dispatchers
enter information into CAD, another program known as PURVIS
will quickly formulate and announce (dispatch) calls using a
computer generated, tone, voice and format.
The new system is in use by a number of departments across the country, including Boston, but this will be a first on Cape Cod.
So when you begin to hear the new voice on the radio
you will know where it is coming from.
OFFICIAL CUT OVER DONE ON THURS JUNE 28, 2018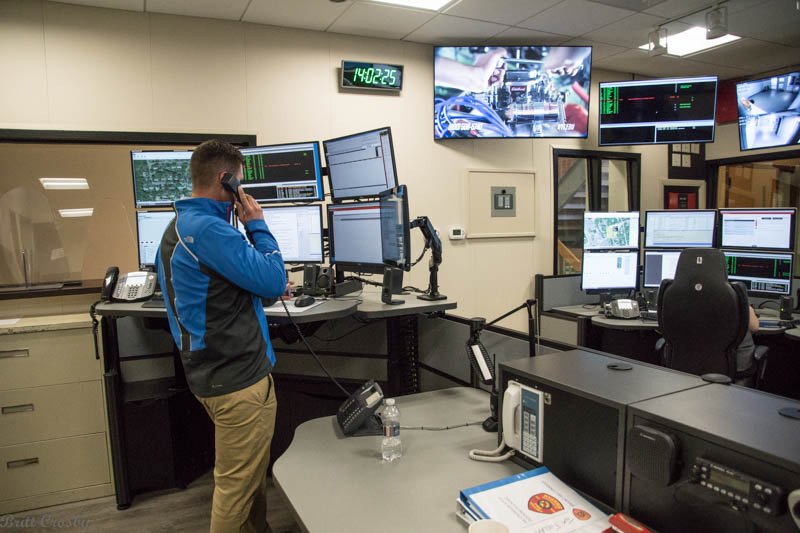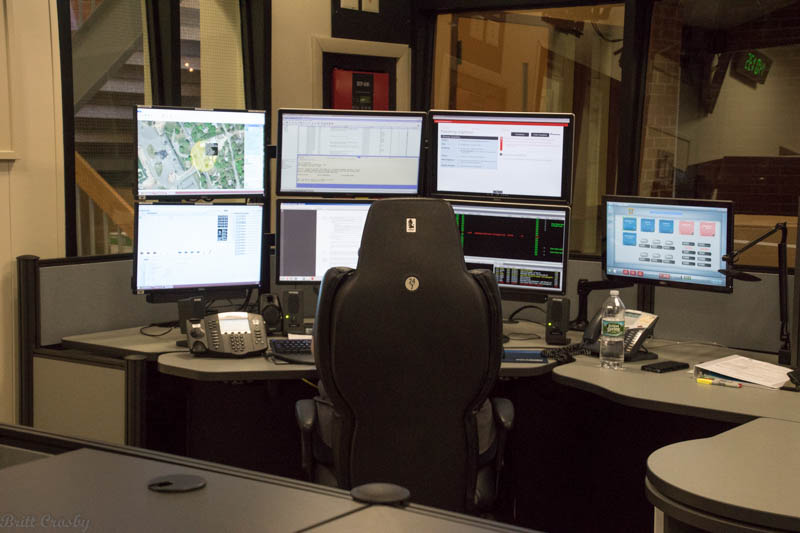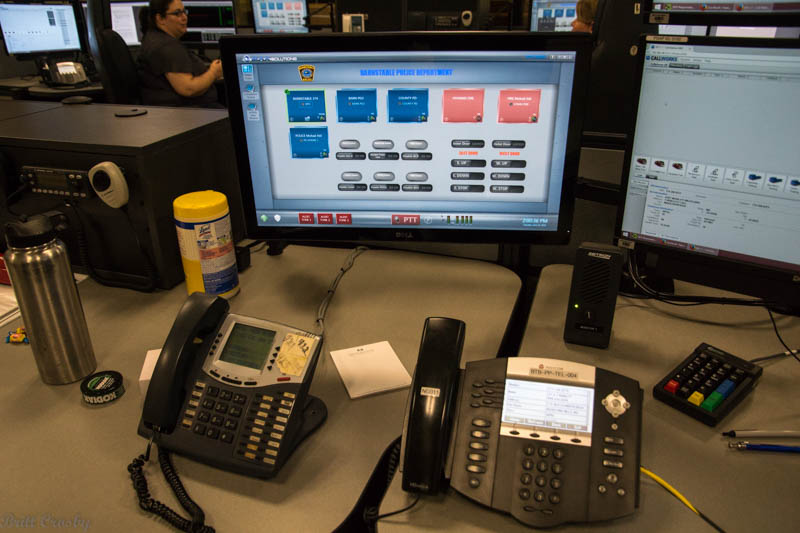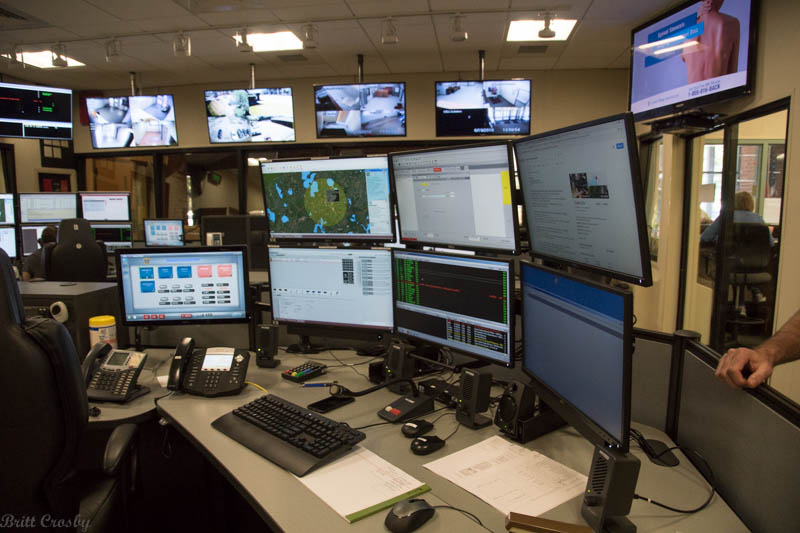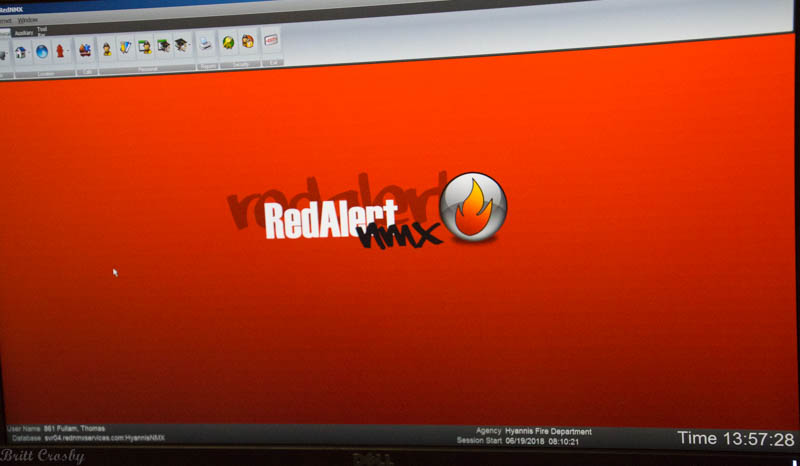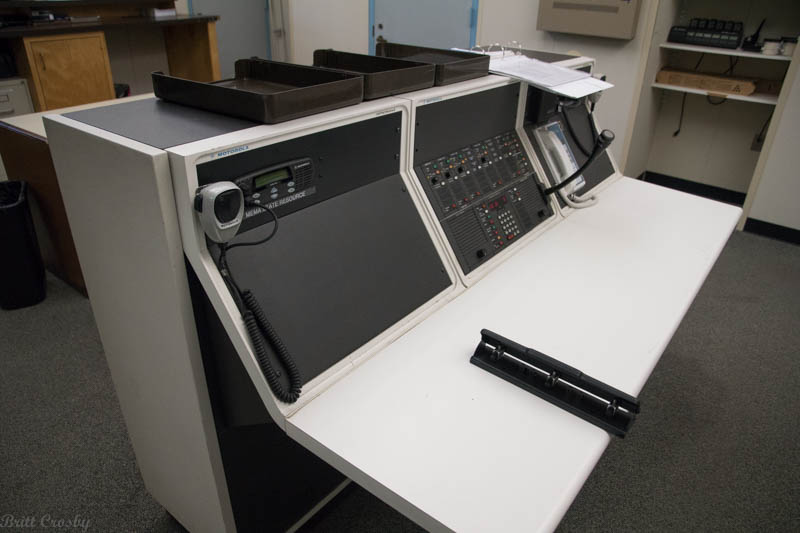 A section of the old Motorola console at the Barnstable PD.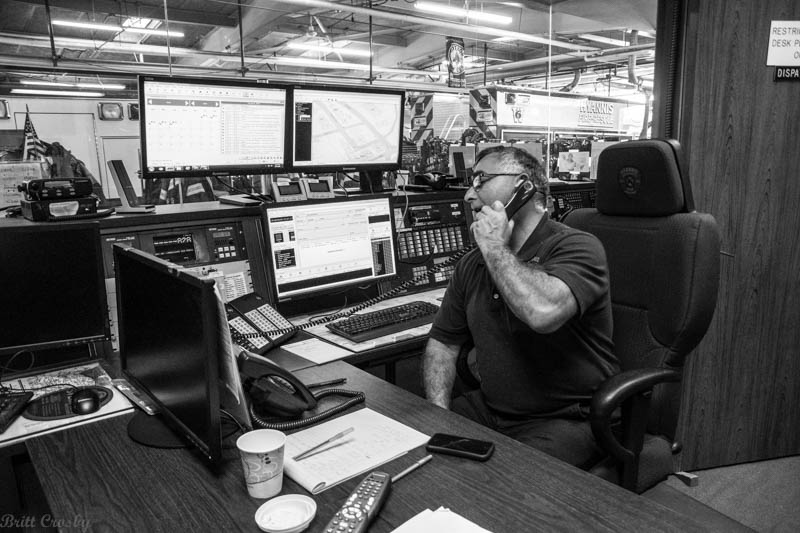 KCD 454
Firefighter/Paramedic Andy "Operator K" Kleamenakis
working the dispatch desk at the Hyannis Fire Station
recently. Firefighters have worked the desk and dispatched
in the Hyannis Fire Station as long as anyone can remember.
That is about to change.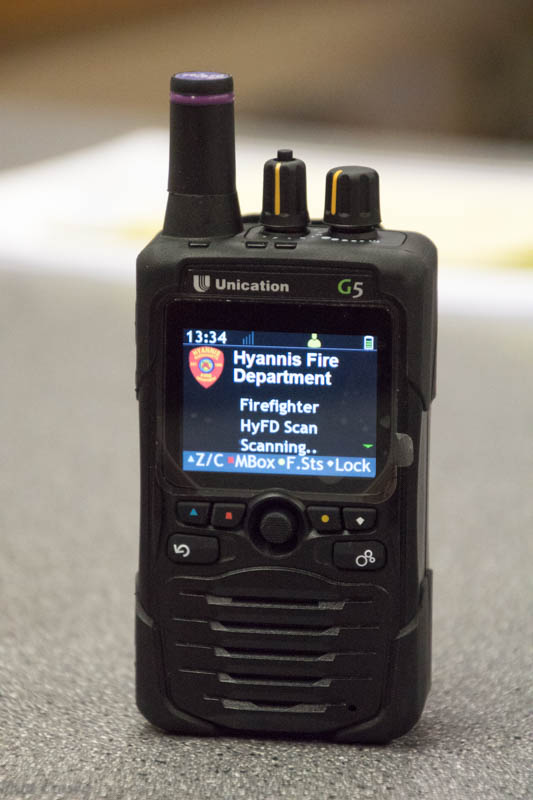 New Radios
The department recently issued all members new radios
which replace the old pagers carried by personnel for recalls.
The 8 channel radio receivers have a variety of settings allowing
personnel to be alerted by group or all call. The Unication G5
radios are small and are able to monitor a variety of frequencies
including 400 mhz UHF and 800 mhz frequencies.


Chatham Fire Dispatch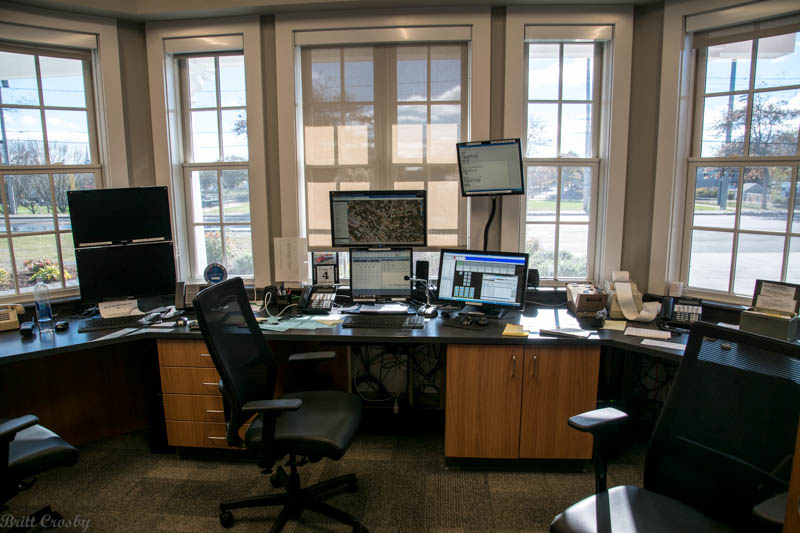 CHATHAM FIRE DISPATCH
The Chatham Fire Department dispatch console in the new fire headquarters.
Photo Nov 2016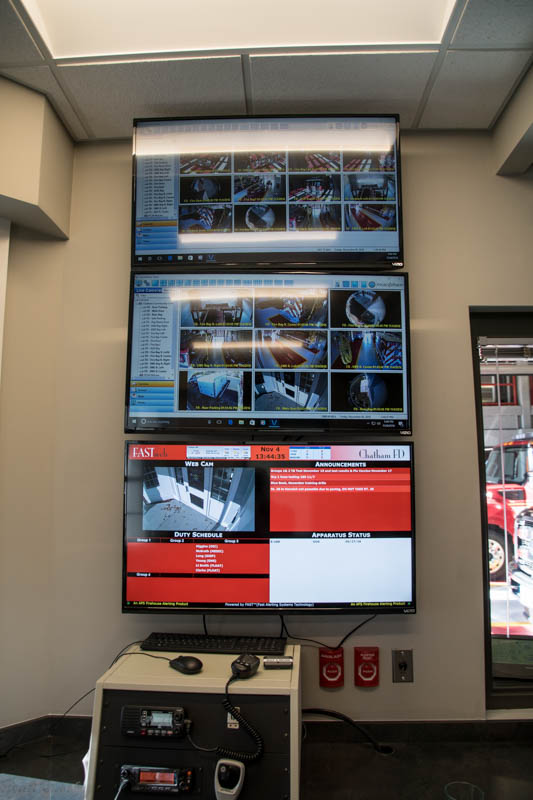 Chatham Fire Dispatch center 2016.



CHATHAM FIRE
The Chatham Fire Department communications center has literally been boxed up
but will remain operational as their new headquarters is built over the next
18 months or so. This photo taken in the new comm room at the DPW Sept 2014.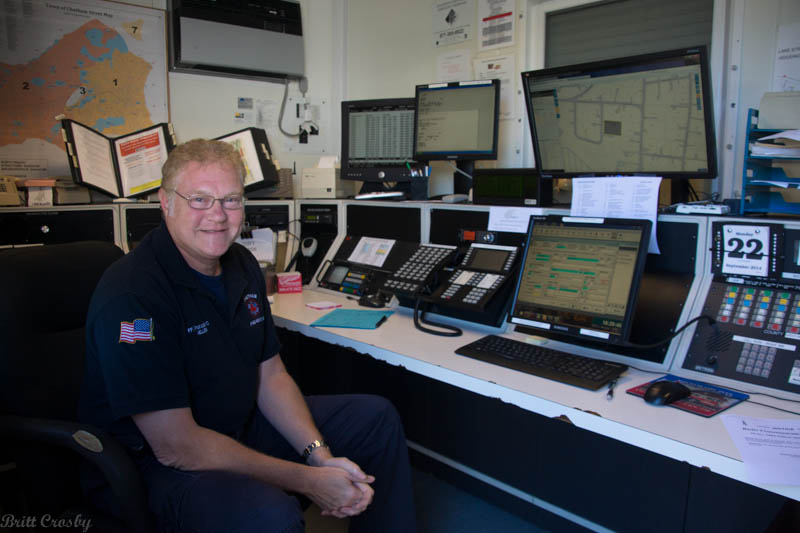 Falmouth Dispatch

FALMOUTH PUBLIC SAFETY COMMUNICATIONS
The new Falmouth Public Safety Communications Center
located in the Falmouth Police Station opened back in the
Spring of 2017. The center has 4 dispatch stations in a quad
setup. The Falmouth Police and Falmouth Fire dispatchers
are next to each other. Two other positions allow for
backup or future growth.
Photos Oct 2017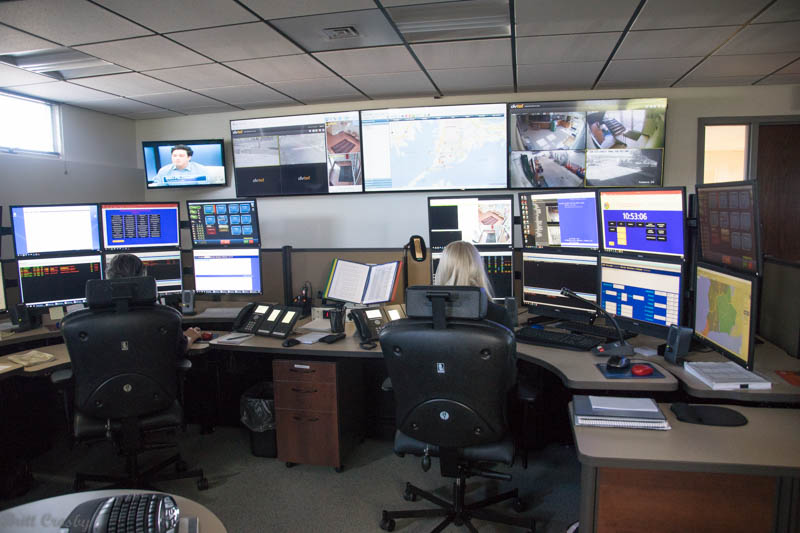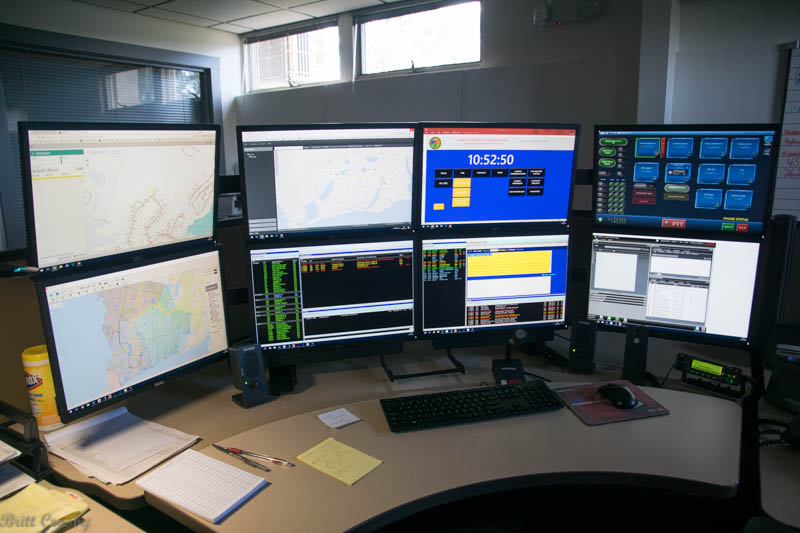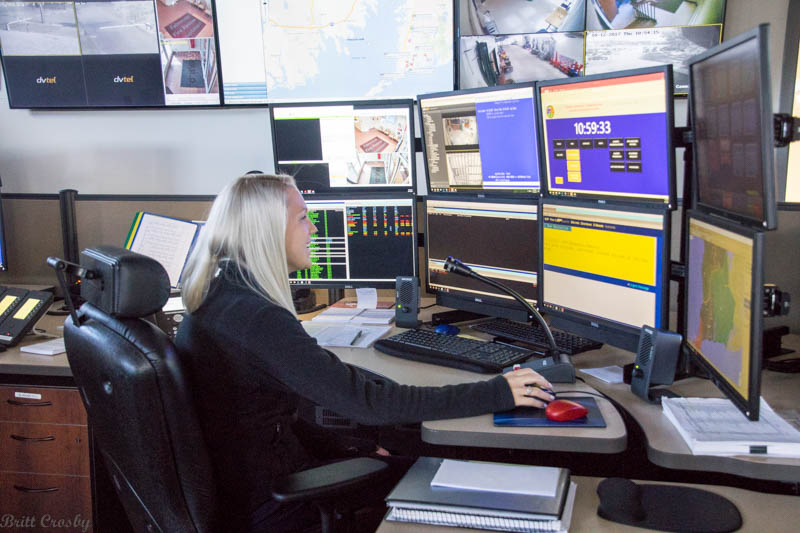 Sandwich Dispatch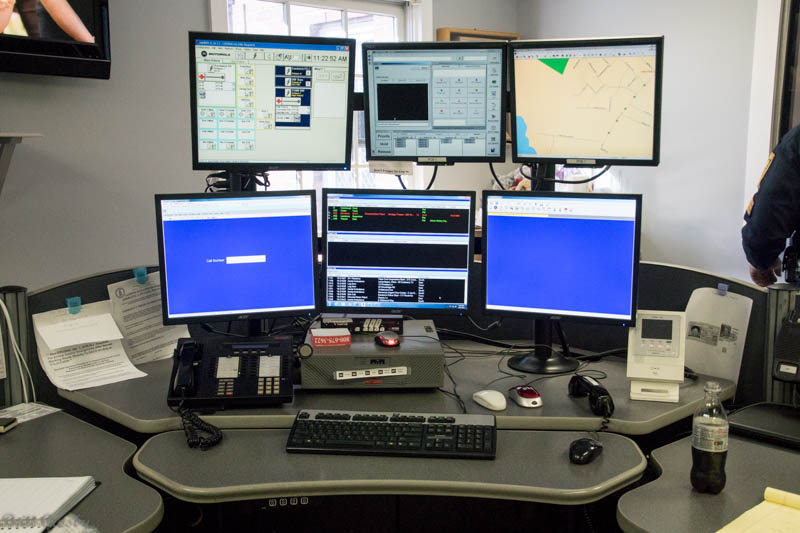 SANDWICH EMERGENCY COMMUNICATIONS
The Sandwich Police Department has been the 911 PSAP in town for years.
The police station right next door to the fire department would take calls and
transfer them next door for fire and EMS response. The center was staffed by
police officers, typically 1 per shift on a rotating assignment basis.
Early in 2016 that will be changing. Joint efforts between the fire and police
department are preparing the equipment, policies, procedures, and personnel
to open a combined communications center at the police station.
Currently the 4 civilian fire dispatchers work 24 hour shifts in the fire station
while police officers work the desk on 8 hour shifts. With the hiring of several
more civilian dispatchers, all fire, EMS, and police dispatching will be done
by 2 dispatchers sitting next to each other in communications center. All will
be cross trained to dispatch any type of incident, provide EMD, or greet the
public who come in to file complaints or have other business.
The communications center currently has 2 fully functional consoles
and one the move is made, a 3rd console will be brought over from the
fire station to allow for an extra position should it be needed at some time.

While older consoles were usually made up of steel panels and buttons,
today it is all done with a computer screen and a mouse / keyboard.
Dispatchers can see 911 data, mapping, a log, and status of various
resources directly in front of them and monitor various cameras located
around the station on another tv display.
Posted January 1, 2016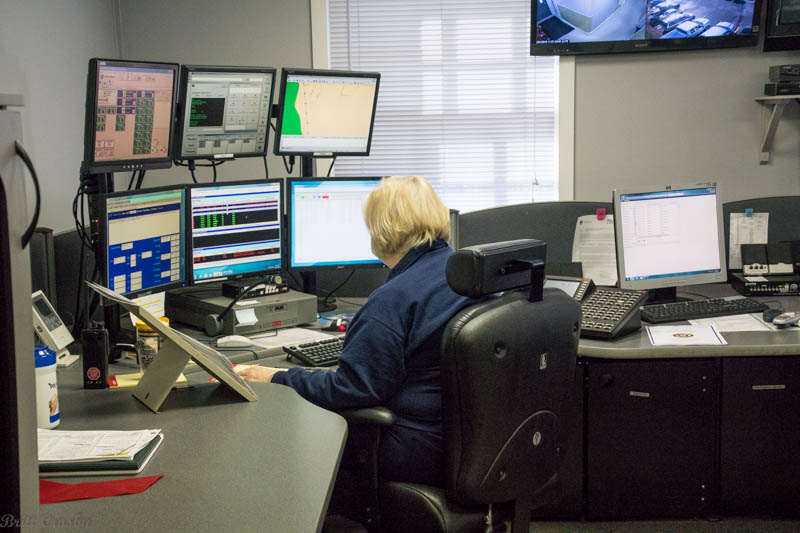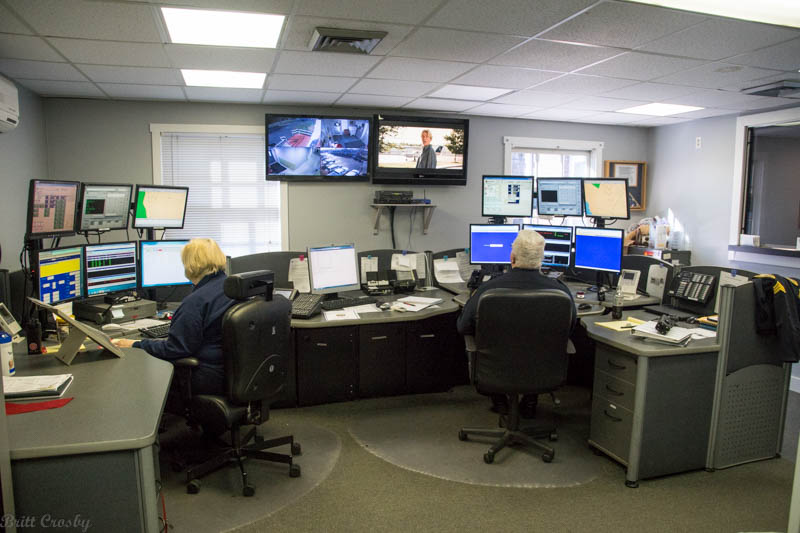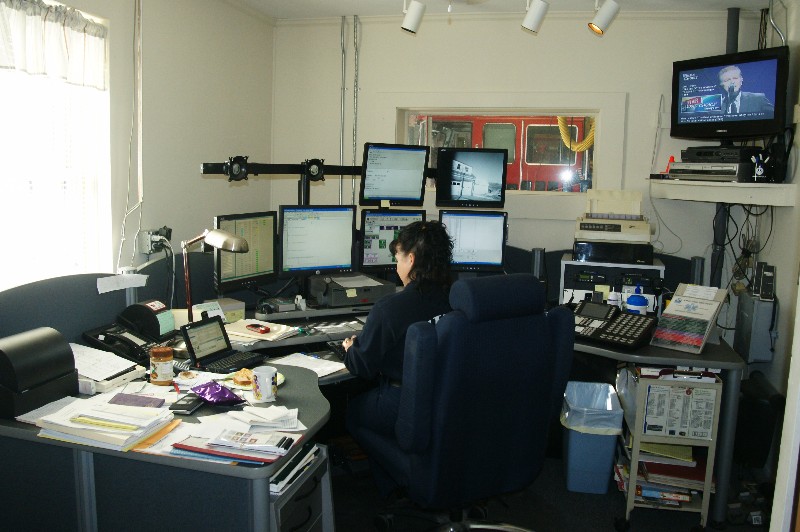 The present fire dispatch in a small room next to the fire trucks in the fire station.
The modern fire console was installed in 2010.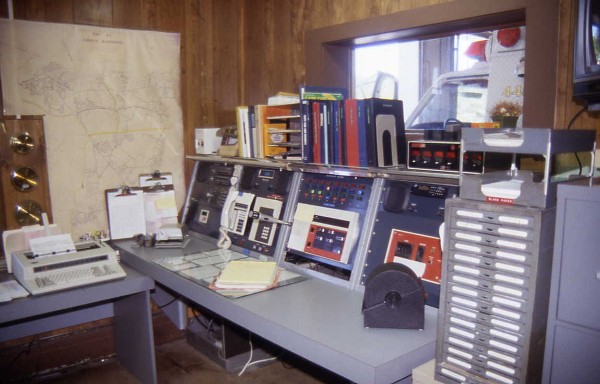 The 1970's to 2000's version of the fire dispatch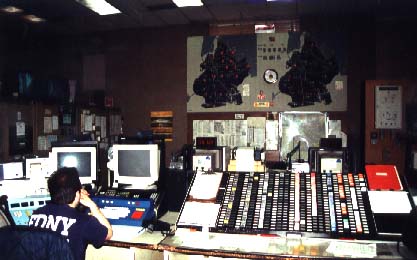 LISTEN TO A GREAT
TRIBUTE TO FDNY
BOOKLYN DISPATCHER
102 UPON HIS RETIREMENT
Dukes County Dispatch


The new Dukes County Communications Center opened in 2013.
June 2014
COMM Fire Dispatch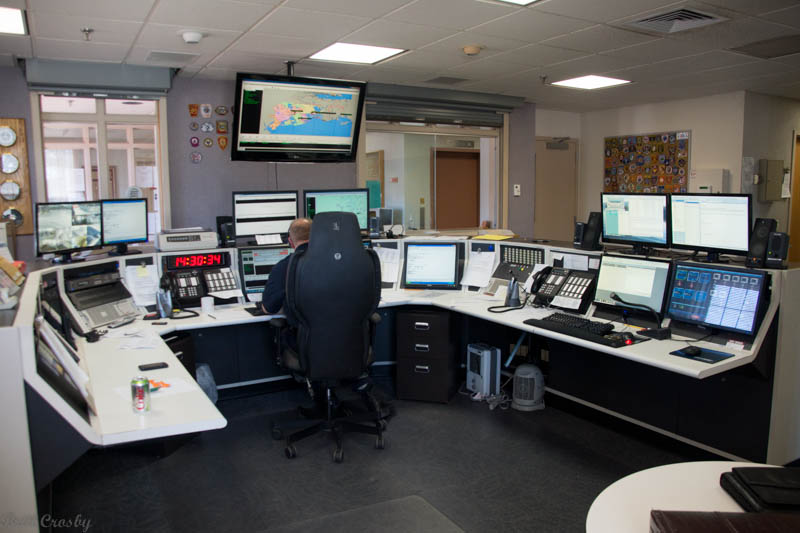 COMM Fire recently upgraded radios and console.
March 2014