CapeCodFD.com
Special Feature

<![if !vml]>
<![endif]>


Photos by Britton W Crosby

[ CapeCodFD.com ] [ HOME ] [ SPECIAL FEATURES ] [ FIRE BOATS MAIN PAGE ]

<![if !vml]>

<![endif]>


Original Feature Posted April 26, 2004 - Re-launched January 28, 2012
Updated August 23, 2023
Cape Fire / Rescue Boats
Cape Fireboats Cape Boats 1 Cape Boats 2 Cape Boats 3
Islands Boats Plymouth County Boats

CAPE AREA FIREBOATS
CAPE COD AREA
FIRE / RESCUE BOATS
Cape Cod is a bent arm shaped peninsula surrounded by the Atlantic Ocean,
Nantucket Sound, Buzzards Bay, and Cape Cod Bay in the southeastern
part of Massachusetts.
To the south of Cape Cod are the islands of
Martha's Vineyard and Nantucket.
Numerous fire / rescue departments protect the communities on the
Cape and Islands. Each of these departments have salt water bays
and fresh water ponds that they are responsible for.
There are a few actual "fireboats" in the area, but most of the departments
use boats for rescue purposes.
Boats are listed here by community / department name
beginning with Cape Cod communities, followed by the Islands,
and Plymouth County.
RELATED LINKS
Each of the departments in the area are extensively covered
throughout the CapeCodFD.com website.
HYANNIS FIREBOAT 808
HYANNIS BOAT FIRE
MENEMSHA USCG BOAT HOUSE FIRE
SANDWICH FIRE BOAT



CAPE COD DEPARTMENTS
Barnstable Fire District
Bourne Fire Department
Brewster Fire Department
(COMM) Centerville-Osterville-Marstons Mills Fire District
Chatham Fire Department
Cotuit Fire District
Dennis Fire Department
Eastham Fire Department
Falmouth Fire Department
Harwich Fire Department
Hyannis Fire District
Mashpee Fire Department
Orleans Fire Department
Provincetown Fire Department
Sandwich Fire Department
Truro Fire Department
Wellfleet Fire Department
West Barnstable Fire District
Yarmouth Fire Department

ISLANDS DEPARTMENTS
Aquinnah Fire Department
Chilmark Fire Department
Edgartown Fire Department
Oak Bluffs Fire Department
Tisbury Fire Department
West Tisbury Fire Department
Gosnold Fire Department
PLYMOUTH COUNTY DEPARTMENTS
Carver Fire Department
Duxbury Fire Department
Kingston Fire Department
Lakeville Fire Department
Marion Fire Department
Mattapoisett Fire Department
Middleborough Fire Department
Onset Fire District
Plymouth Fire Department
Rochester Fire Department
Wareham Fire District

BARNSTABLE
BARNSTABLE MARINE 219
Barnstable Fire District's 2007 (2016) Safe Boat 25' Rescue Boat
Twin Suzuki 250 HP
Equipped with a fire pump
July 2016
BARNSTABLE MARINE 219
Barnstable Fire District's 1992 Boston Whaler 27' Guardian
is equipped with a 500 gpm pump and a bow mounted deck gun
is currently the only "firefighting" equipped boat on the north side
(Cape Cod Bay) side of the Cape. It is docked in Barnstable
Harbor in season.
(Retired in 2016)


FALMOUTH
FALMOUTH MARINE 1
Falmouth Fire Department placed this boat in service in 2005.
Built by Viking Welding, the 31' aluminum boat is equipped with
twin Honda 150 HP outboards anda 350 gpm pump.
It has a bow mounted deckgun. The boat is docked in Falmouth Harbor
during the season and is capable of responding to incidents in the
Nantucket Sound / Vineyard Sound / Buzzards Bay areas.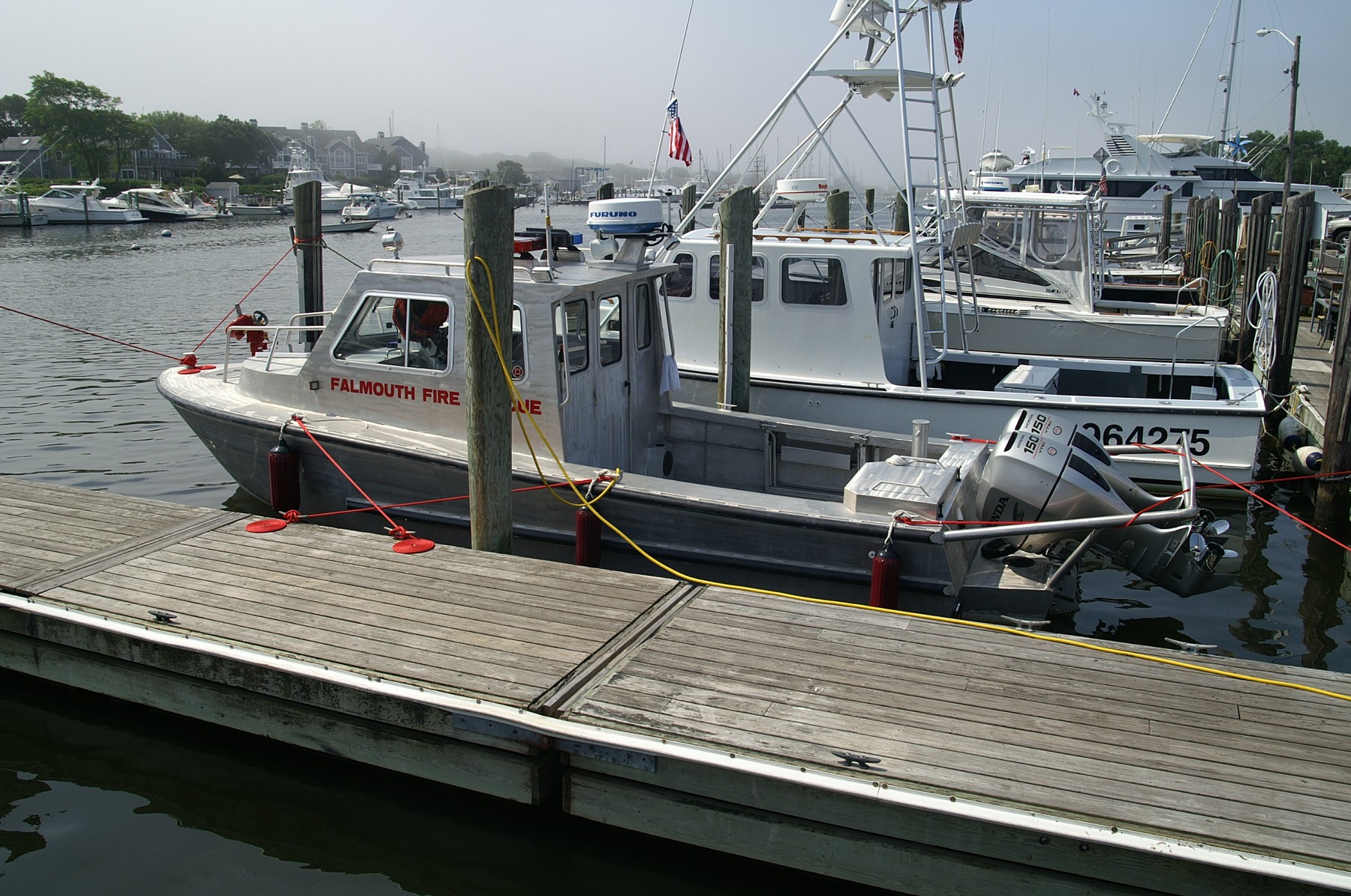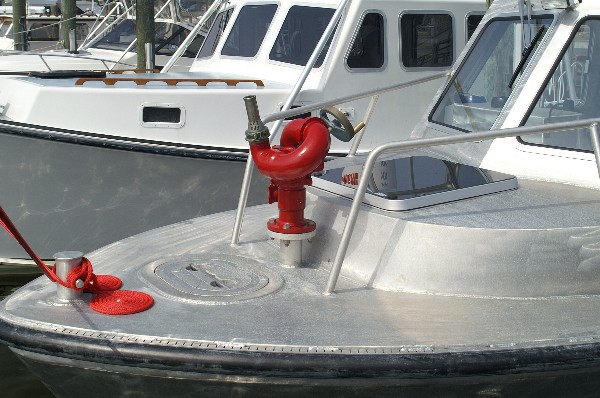 HYANNIS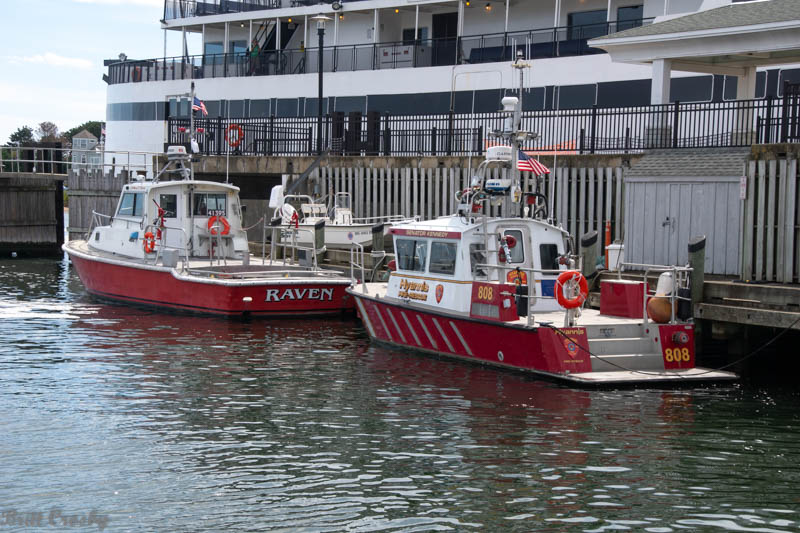 HYANNIS MARINE 1 and 2
The Hyannis Fire Department operates the 2009 MetalCraft Fire Storm 30 "Fireboat 808"
as "Marine 1". It has 1750 gpm pump and several deckguns.
In 2020, Hyannis also acquired the surplus 1977 former USCG 41' fireboat "Raven"
from the Newburyport, MA Fire Department and operates it as "Marine 2".
Marine 2 has a 250 gpm pump.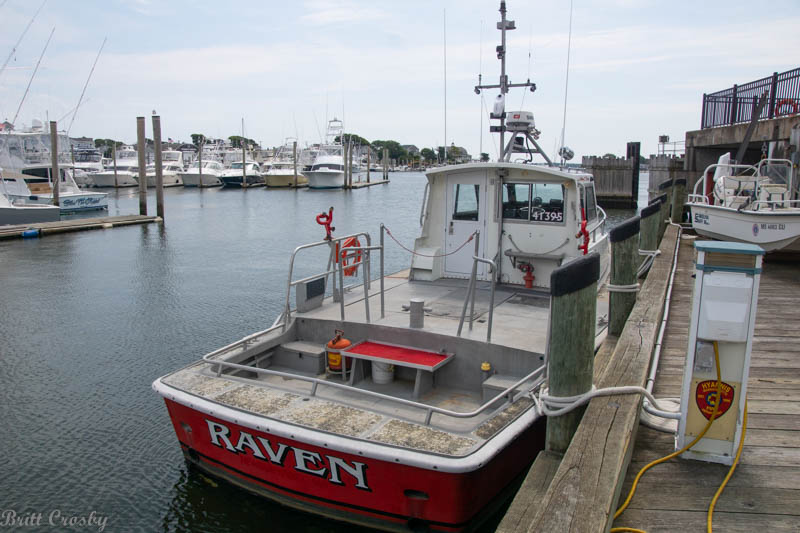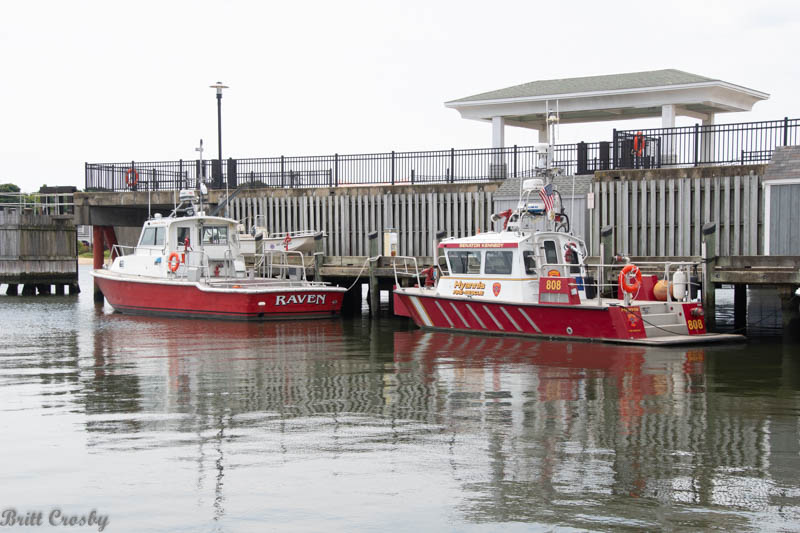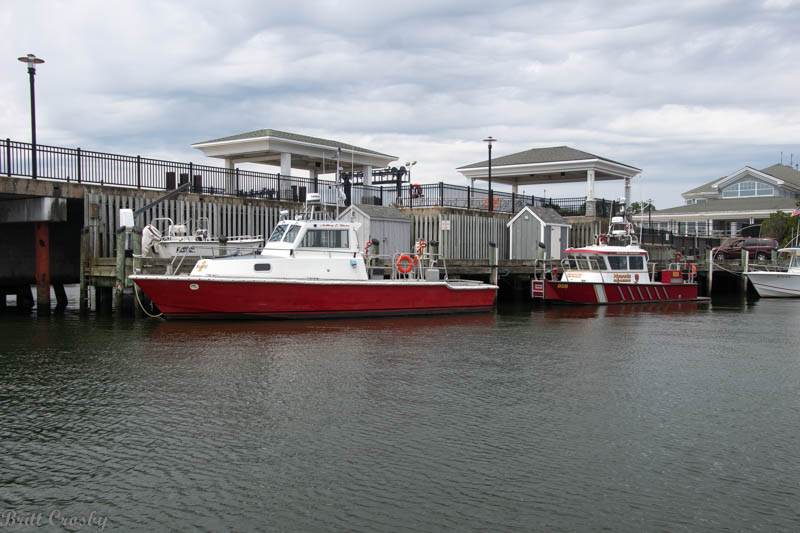 HYANNIS MARINE 808
The Hyannis Fire Department operates the most powerful fire boat in the Cape & Islands area.
The 2009 Metal Craft Fire Storm 30 can deliver 1750 gpm through its (2) remote controlled and
(1) manual deck guns. The twin diesels and jet drive allow the boat to travel at 35 knots.
The unique jet drive system allows the boat to turn and stop rapidly when needed.
The boat docks along side the Steamship dock in Hyannis harbor.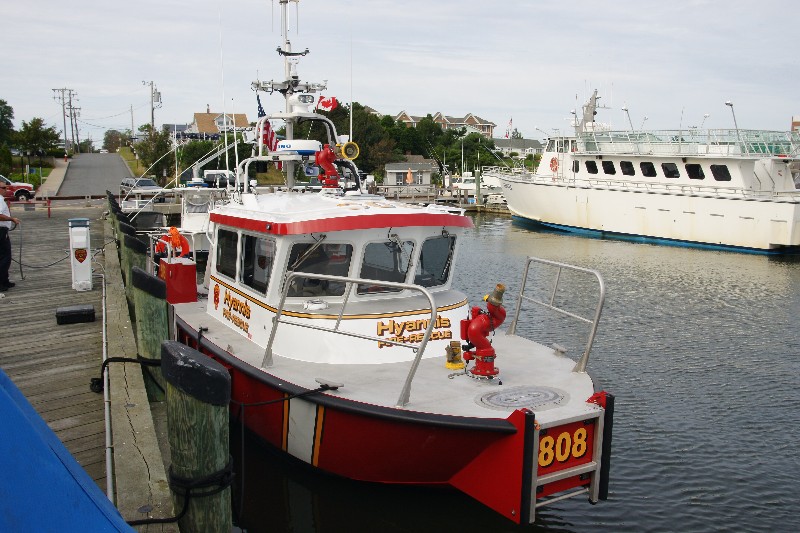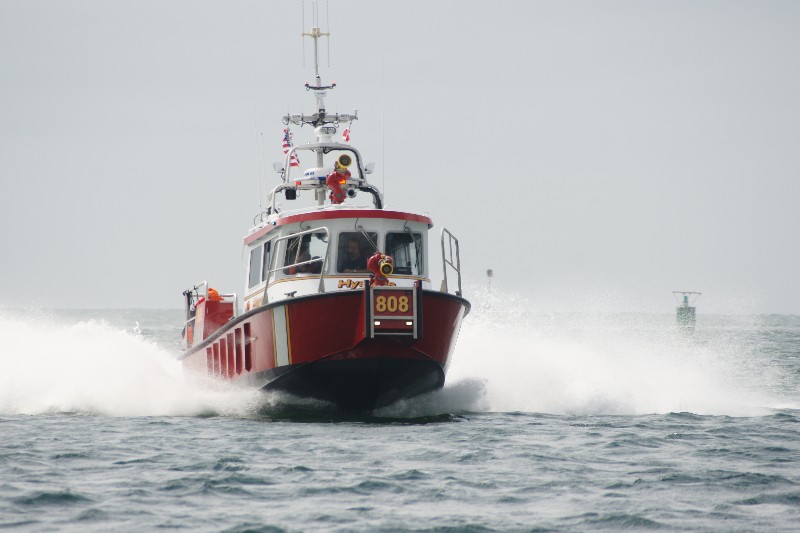 Rapid turn.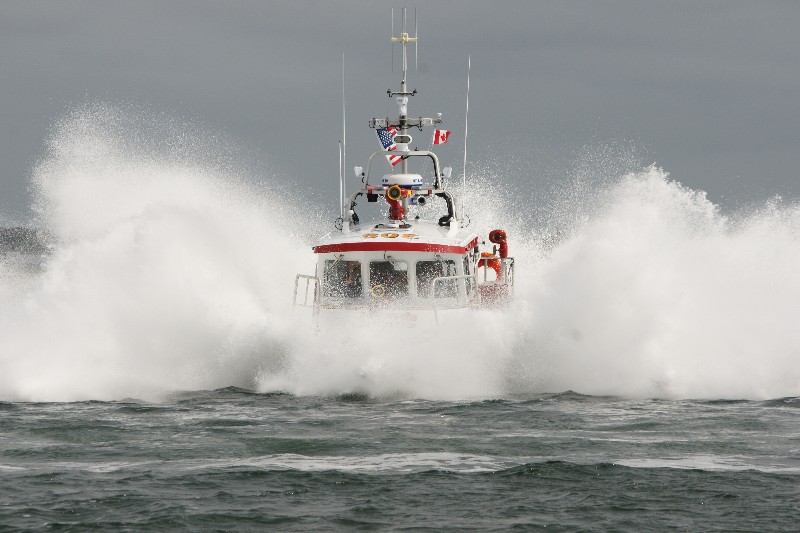 Rapid stop.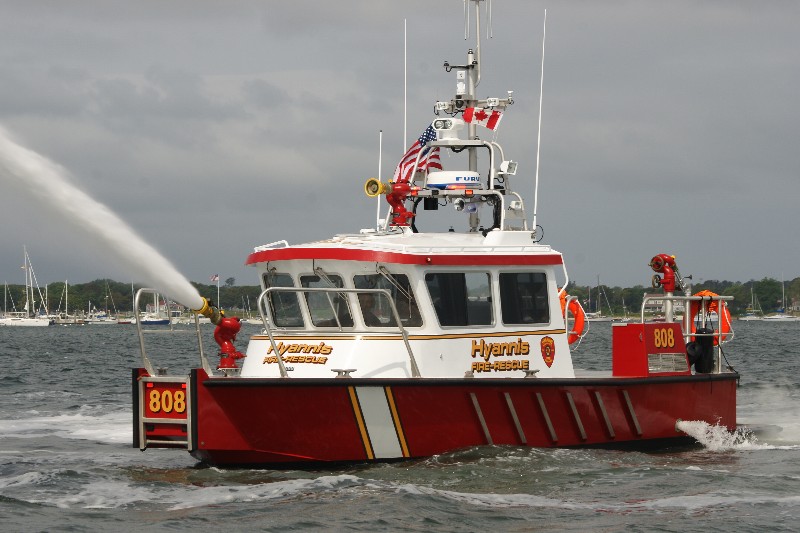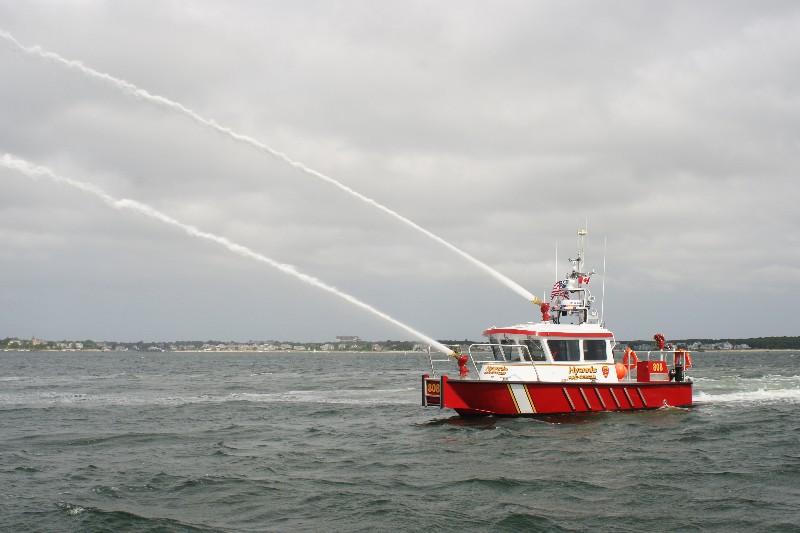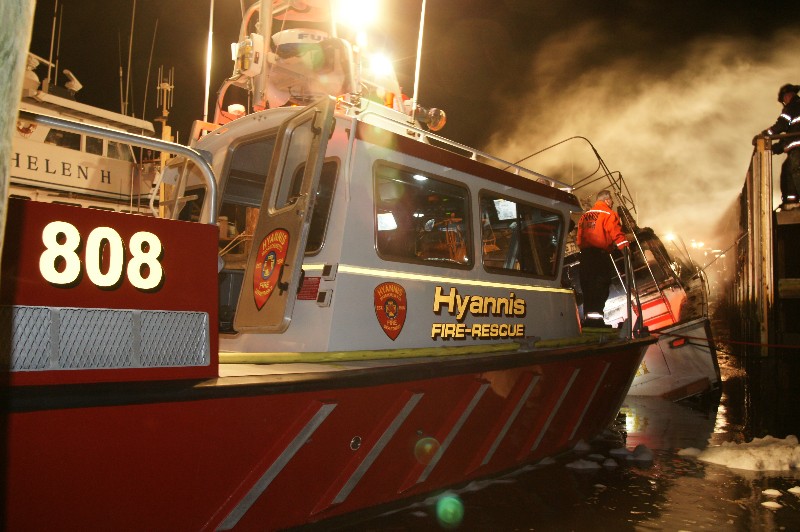 HYANNIS BOAT FIRE
Marine 808 got its first real workout at a boat fire on November 24, 2010
at the Oyster Harbors Marine facility on Pleasant Street, Hyannis.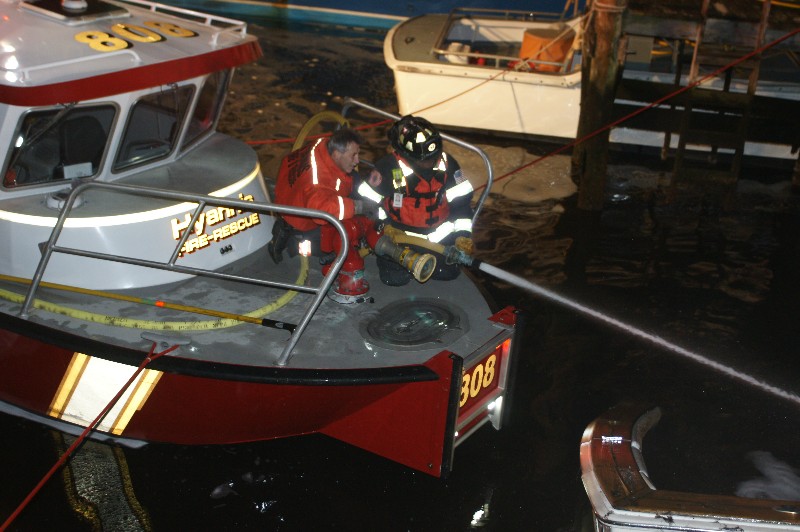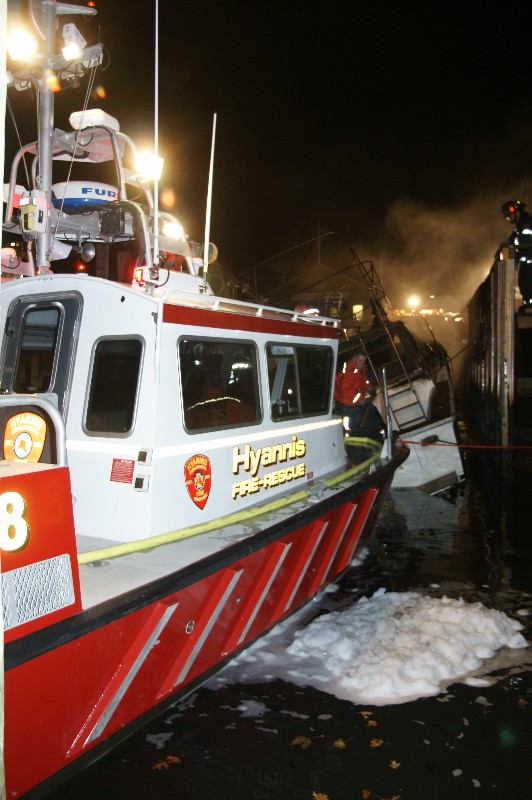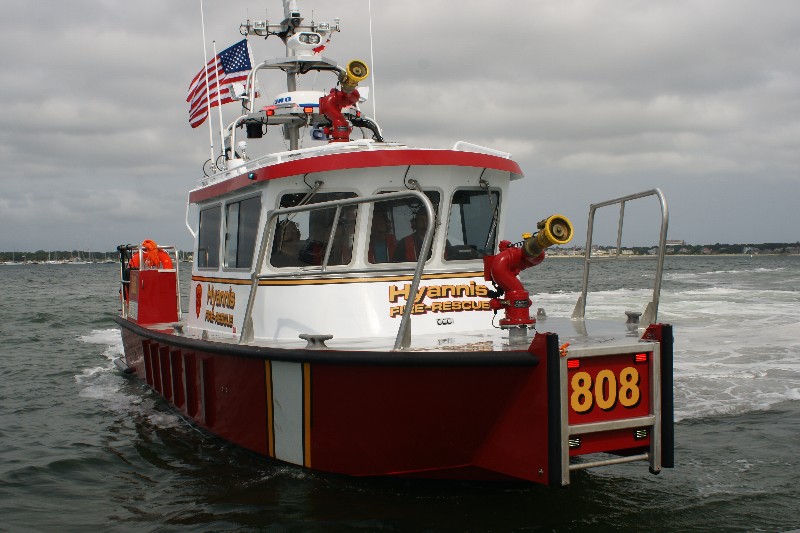 Hyannis Marine 808
As shown in July 2016
Showing some slight modifications including the name "Senator Kennedy"
added as well as "808" added to the hull sides on the bow and a change to
the bow.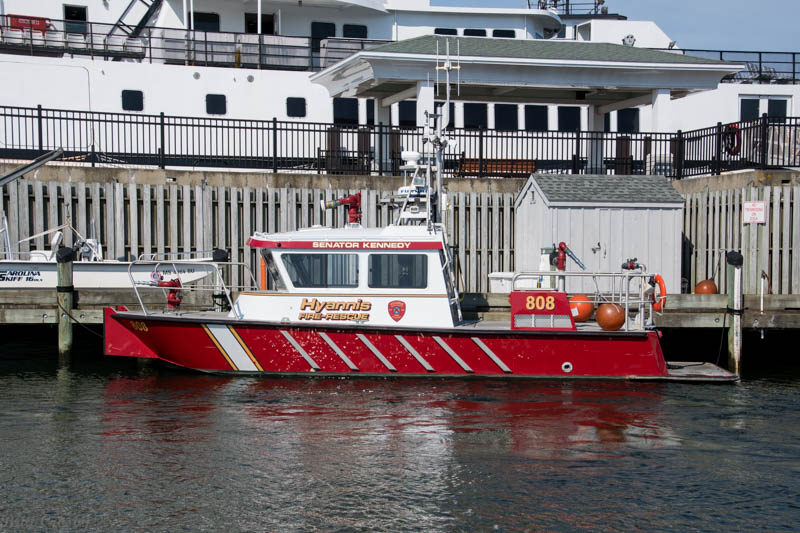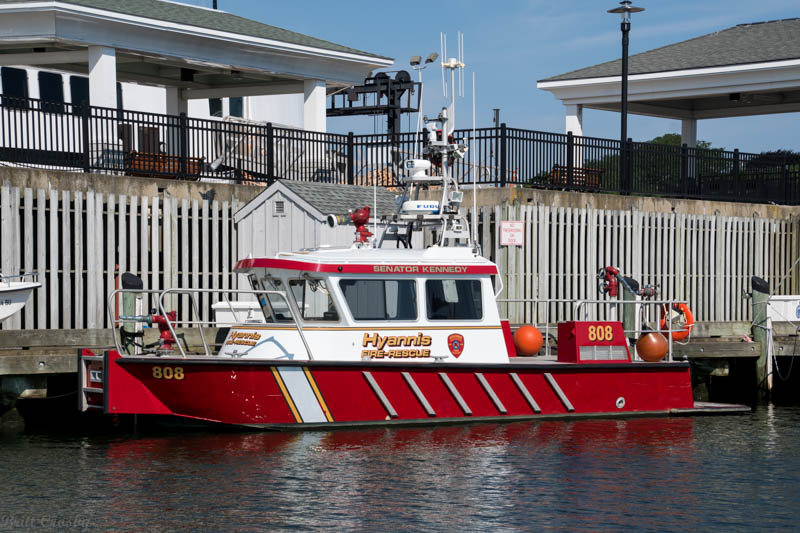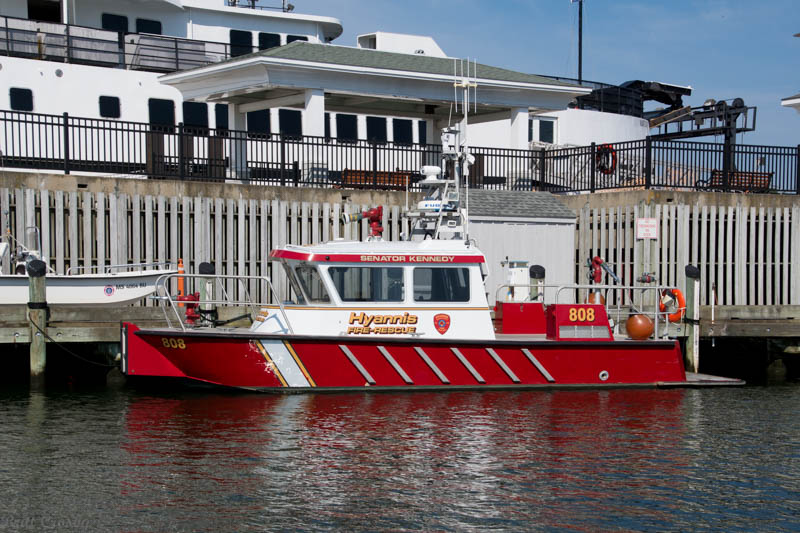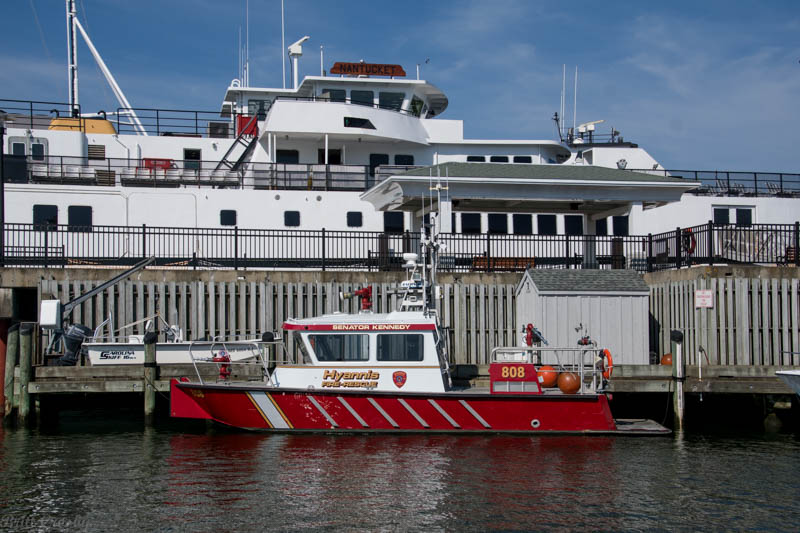 The Hyannis Ferry dock and dock for Fireboat 808, a Police boat and State Police boat.
July 2016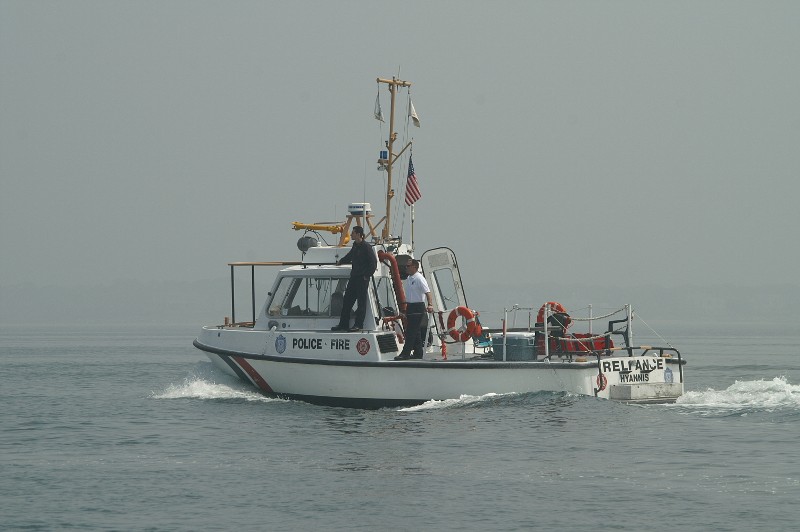 MARINE 808
"Reliance"
The Barnstable Police Department and Hyannis Fire Department
acquired this former USCG 32' boat in 1996.
It operated from 1996 to 2007.
The boat had a 750 gpm pump and cabin mounted deckgun.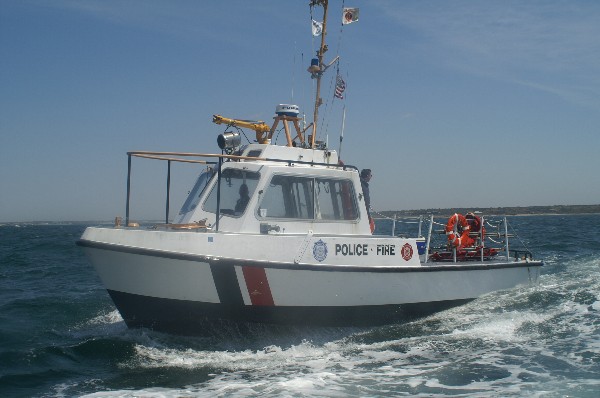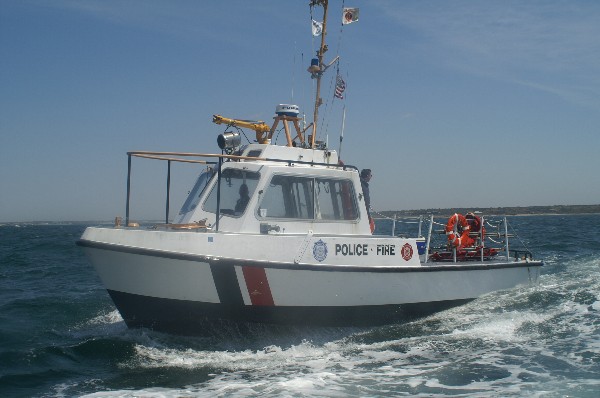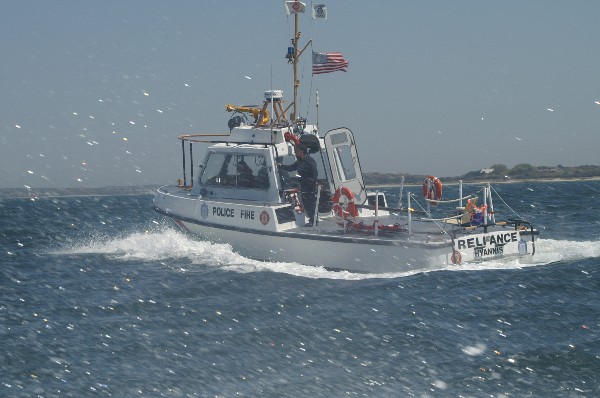 The "Reliance" responded to and operated at the 5 Alarm fire
that destroyed 4 buildings and damaged 125 boats at the
Crosby Yacht Yard fire December 10, 2003.

SEE CROSBY YACHT FIRE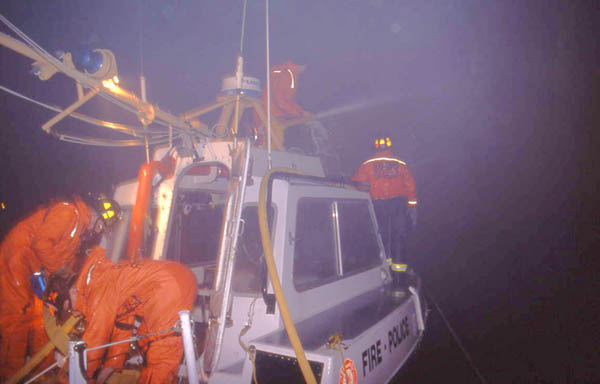 OAK BLUFFS
OAK BLUFFS MARINE 567

"RED, WHITE, BLUE"
2004 Metal Craft 39' 6" LOA, 13' beam.
Jet drives capable of 35 knots.
550 gpm pump.
The vessel was built in Kingston, Ontario, Canada
by MetalCraft Marine and delivered in November 2004.
Constructed of aluminum, it has a LOA of 39'6" and a beam of approx 13'.
The boat is powered by twin diesels and is jet propelled achieving a
speed of approximately 35 knots. It has a 550 gpm fire pump and
has a bow mounted deckgun that can be stowed when not in use.
There is a full lower cabin and a spacious control cabin.
The large cockpit has easy access from either side and the
stern folds down providing access for divers to the platform.
This vessel is operated by the Oak Bluffs Fire and Police Depts
under the O.B. Emergency Management and is docked in Oak Bluffs
harbor providing protection for hundreds of boats and thousands of
travelers on high speed ferries, steamship vessels, and cruise ships
in season. It cost approximately $360,000 to construct.
SEE THE "RED, WHITE, BLUE" OPERATING AT THE
MENSMSHA USCG BOAT HOUSE FIRE IN 2010
NEW BEDFORD
NEW BEDFORD MARINE 38
New Bedford took delivery of their 2016 Moose Boat M2-38 in August 2016
The new boat can pump 1,500 gpm from 2 deckguns and is equipped with all
the latest electronics and navigation equipment. With its speed and capabilities
it could reach Buzzards Bay areas, including the west end of the Cape Cod Canal
or even Vineyard Sound quick enough to be a resource.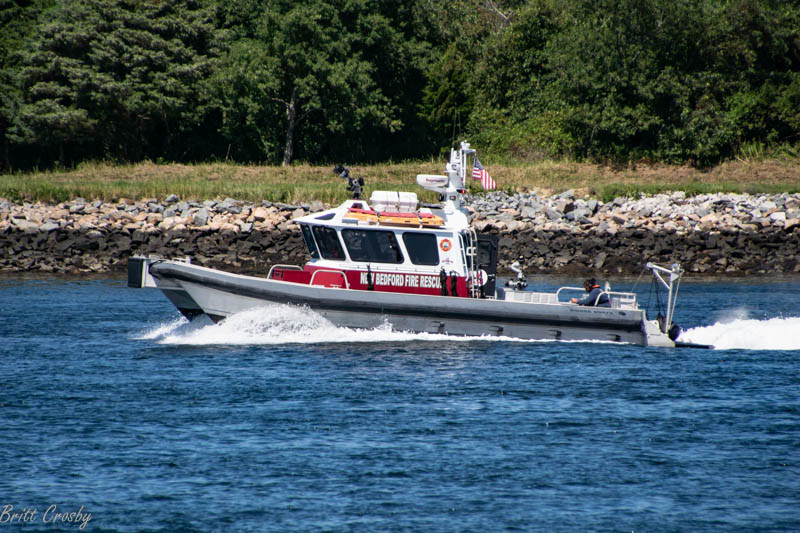 New Bedford Marine 38 in Cape Cod Canal Aug 23, 2023.
SANDWICH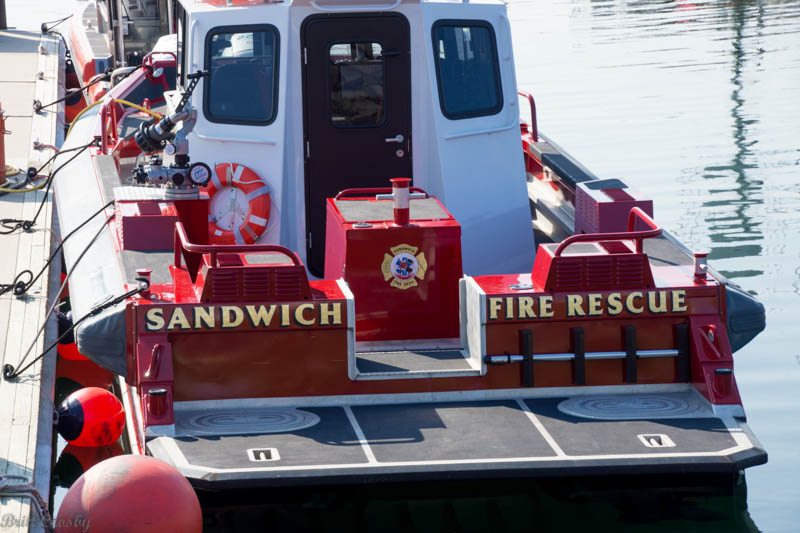 SANDWICH MARINE 439
The Sandwich Fire Department received a Homeland Security grant
to build a fire boat. It is a 39' twin hull "Moose" Boat
similar to Massport's Marine 2. The boat would be kept in the Sandwich
basin at the east end of the Cape Cod Canal greatly enhancing the firefighting
capabilities on the north side of the Cape (Cape Cod Bay), the canal,
and Buzzards Bay. Delivered June 2013.
Sandwich Marine 439 and the Massport Marine 31 "American United"
at the Sandwich Basin May 2017.
TISBURY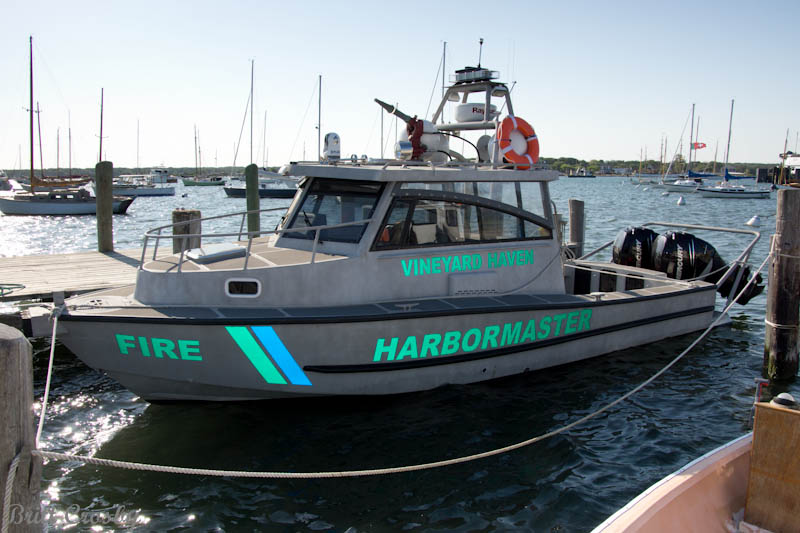 Welded Boat Company of Texas built a 34' aluminum boat
with twin 250 HP engines and a fire pump for the Tisbury
Fire Department and Harbormaster in Sept 2011.
It is used in Vineyard Haven Harbor on Martha's Vineyard.
The Tisbury Fire Departments use of this boat was decreased when the boat
had its firefighting capabilities removed and then in 2019 it sunk.
<![if !vml]>
<![endif]>
Cape Fire / Rescue Boats
Cape Fireboats Cape Boats 1 Cape Boats 2 Cape Boats 3
Islands Boats Plymouth County Boats

RETURN TO

FIREBOATS

FROM


Copyright
Britt Crosby
CapeCodFD.com