Chuck Schneckloth Photos
Saw Mill Fire, Camden, NY
June 16, 2021





Hyannis 5th Alarm
HYANNIS HARBOR HOTEL
Images taken from video of Shawn Bent YFD showing the volume
of fire at the Hyannis Harbor Hotel on Sunday April 25, 2021
at the 5th Alarm fire.
Falmouth 2nd Alarm
FALMOUTH 2 ALARM HOUSE FIRE
Falmouth FD responded to 1 Crystal Spring Ave, North Falmouth
on Wednesday April 22, 2020 around 11:15 hrs.
GUEST PHOTOS - PHIL TURA




Bourne 3rd Alarm
GUEST PHOTOS
Mike Bows Photography
Bourne 3rd Alarm at 1 Sandwich Road
May 28, 2019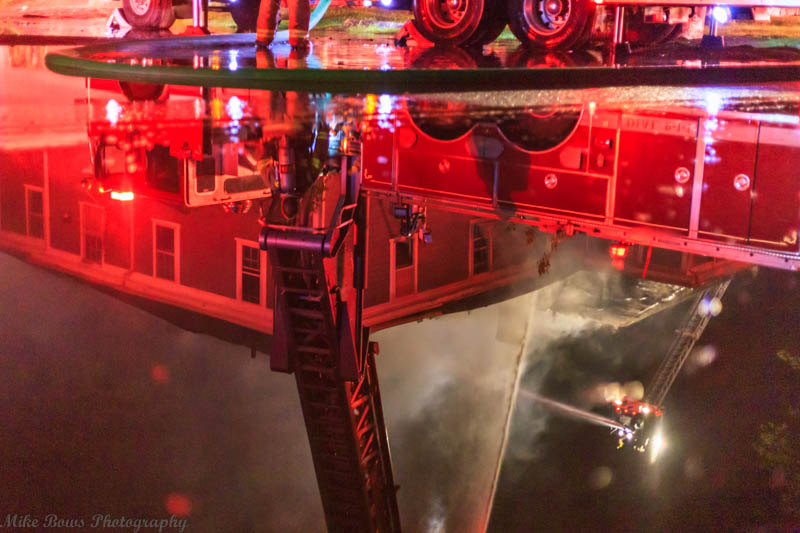 Thanks Mike!
Joint Base Cape Cod Fire
OCTOBER 28, 2016
Barnstable Sheriff's Department Dispatcher Joe Gibbs was getting off duty
at about 23:30 on Oct 28, 2016 and was driving away from the communications center
at the Joint Base Cape Cod Fire Headquarters when he saw a glow in the sky.
He called in the fire which involved about nine construction type trailers used
as office and storage space. Gusty winds and limited staffing prevented crews
from saving thousands of toys stockpiled by the Cape Cod Military Support
Foundation, Inc. that were to be distributed to children at the annual
Christmas Party on the base.

Mutual aid from several departments assisted JBCC FD in controlling
the fire which destroyed the structures.
Photos by Joe Gibbs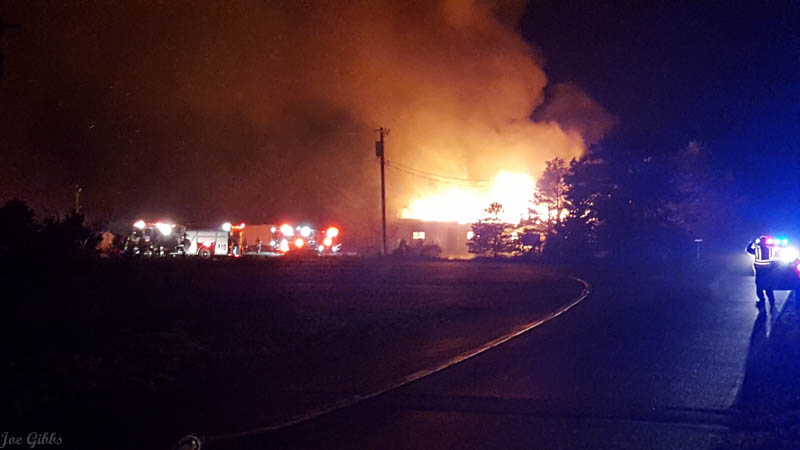 SANDWICH 5TH ALARM
June 26, 2014
Peter Pozerski & Ben Dottridge
SERVICE ROAD, SANDWICH
Fire struck a large steel building early in the morning June 26, 2014.
The recycling center was approximately 100 x 200 and was soon
fully involved. Mutual aid came from across the Cape and into
Plymouth County. The fire went to 5 alarms and was also a Haz Mat
Incident. The DFS sent the ISU and rehab units.
Photos by P. Pozerski and Ben Dottridge

FALMOUTH 2ND ALARM
March 2, 2013
Falmouth Fire Department
PINE BANK ROAD, NORTH FALMOUTH
Firefighters from Falmouth and several other departments battled a 2nd alarm house fire
in North Falmouth, on Pine Bank Road in Megansett on Saturday March 2, 2013
at about 1100 hours. The fire did extensive damage to the structure.
Thanks to Spencer Bauch for sharing these images from the fire.
Photos Falmouth Fire Department

WAREHAM STRUCTURE FIRE
November 2, 2011
Robert Haskell
Wareham firefighters battled this 3rd Alarm apartment building fire
on Main Street, Wareham (diagonally across the street from the Wareham
Fire Headquarters) on Wednesday, November 2, 2011.
These photos submitted by Robert Haskell.
(SEE ADDITIONAL PHOTOS)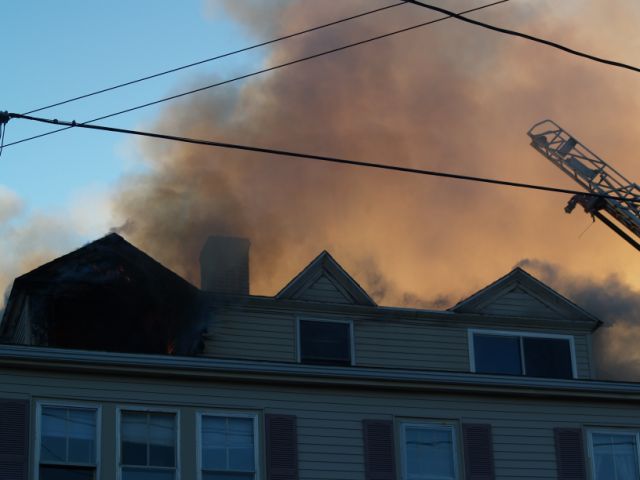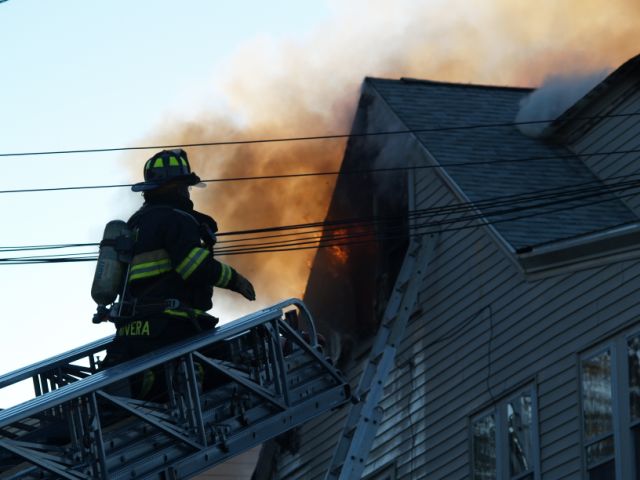 YARMOUTH HAZ MAT INCIDENT
November 2, 2011
Robert Haskell
Yarmouth firefighters responded to an oil tanker rollover
on Route 6 near Exit 8 on November 2, 2011. The truck had
been involved in an MVA and then turned onto its side.
The driver was extricated using the Jaws and transported
to CCH for evaluation.
The truck carried diesel fuel which was leaking.
A tier 2 Haz Mat response brought crews to the scene
working to off load product and upright the vehicle.
The call went on through much of the night, closing
Route 6 for approximately 7 hours.
(Photos by Robert Haskell)