CapeCodFD.com
Special Feature

<![if !vml]>
<![endif]>


Photos by Britton W Crosby

[ CapeCodFD.com ] [ HOME ] [ SPECIAL FEATURES ] [ FIRE BOATS MAIN PAGE ]
<![if !vml]>
<![endif]>


New Page Added September 28, 2016 Updated October 21, 2016
WASHINGTON BOATS
Bellingham Kingston-North Kitsap Pasco Port Townsend-East Jefferson
Ridgefield-Clark County Seattle 1 Seattle 2 Seattle 3 Seattle 4 Seattle 5 Seattle 6
Tacoma 1 Tacoma 2 Tacoma 3 Vancouver West Pierce
SEATTLE FIRE BOATS
P1-Older Boats P2-Fireboat 1 P3-Fireboat 2
P4-FB Chief Seattle P5-FB Leschi P5-Other Boats
P3 - SEATTLE FIREBOAT 2
Seattle Fireboat 2
The City of Seattle built a second "small boat" in 2014 based on the design of the
2006 Fireboat 1. The MetalCraft Firestorm 50 Fireboat 2 is 50' 10" LOA, 16' 9" beam,
and is powered by twin Cat engines capable of 40 knots. The pumps (2) Hale 3,500 gpm
are capable of more than 7,250 gpm.
The boat is normally stationed at Station on Alaskan Way, Seattle's main waterfront street
but is shown here at the Port's Pier 90 while Station 5 is being rebuilt.
Photos Sept 2016
Fireboat 2 is stationed along with the "Leschi" at Pier 90.
Sept 2016
Fireboat 2 headed out for Dive Drill.
Sept 2016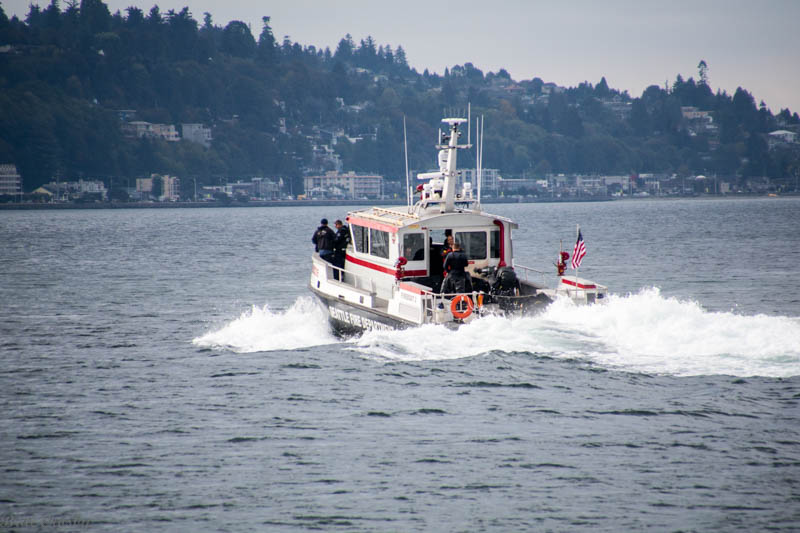 <![if !vml]>
<![endif]>
WASHINGTON BOATS
Bellingham Kingston-North Kitsap Pasco Port Townsend-East Jefferson
Ridgefield-Clark County Seattle 1 Seattle 2 Seattle 3 Seattle 4 Seattle 5 Seattle 6
Tacoma 1 Tacoma 2 Tacoma 3 Vancouver West Pierce
SEATTLE FIRE BOATS
P1-Older Boats P2-Fireboat 1 P3-Fireboat 2
P4-FB Chief Seattle P5-FB Leschi P5-Other Boats
RETURN TO

FIREBOATS

FROM


Copyright
Britt Crosby
CapeCodFD.com