West Barnstable, Massachusetts
2 Simultaneous Multiple Alarm Structure Fires
- Both Suspicious -
First Fire @ 1847 hrs, 132 Packet Landing
Second Fire @ 1859 hrs, 2346 Meeting house Way (Rte.149)
11 May 2002 - Page 5 of 5
Photos and text by Britton W Crosby
The first fire reported at 1847 was at 132 Packet Landing, a dirt lane off Route 6a.
On arrival, firefighters found a very large 2-1/2 story wooden home currently
being renovated and added on to. The home belonged to Aerosmith Band guitarist
Tom Hamilton. The next morning all that stood were two chimneys.
When West Barnstable personnel arrived they found heavy fire on side 2 (left of this photo).
An interior attack briefly contained the fire, but when the 1000 gallon booster tank
ran out, and the 3000 gallon tanker was at the second fire, the fire got away.
Mutual aid companies from all over Cape Cod responded to assist WBFD with
the two fires.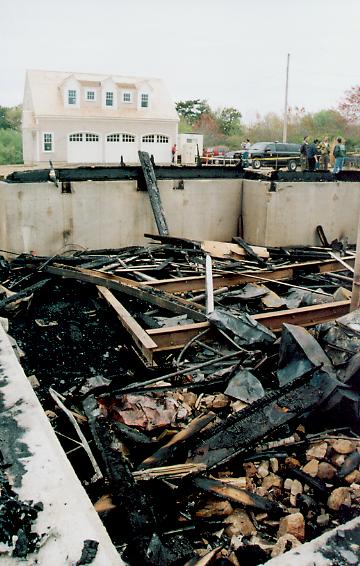 The garage on the property became a major exposure program to radiant heat
and flying brands endangered other homes in the area.