CapeCodFD.com
Special Feature

<![if !vml]>

<![endif]>


Photos by Britton W Crosby

[ CapeCodFD.com ] [ HOME ] [ SPECIAL FEATURES ] [ FIRE BOATS MAIN PAGE ]
<![if !vml]>

<![endif]>


New Page Added September 28, 2016 Updated October 30, 2016
WASHINGTON BOATS
Bellingham Kingston-North Kitsap Pasco Port Townsend-East Jefferson
Ridgefield-Clark County Seattle 1 Seattle 2 Seattle 3 Seattle 4 Seattle 5 Seattle 6
Tacoma 1 Tacoma 2 Tacoma 3 Vancouver West Pierce
SEATTLE FIRE BOATS
P1-Older Boats P2-Fireboat 1 P3-Fireboat 2
P4-FB Chief Seattle P5-FB Leschi P5-Other Boats
P4 - FIREBOAT "CHIEF SEATTLE"


Seattle Fire Department Fireboat
"Chief Seattle"
Built 1983 by Nichols Brothersin Freeland, WA.
96' 6" length - 23' beam
8,500 gpm capacity
Retrofitted in 2013 by Vigor Marine. Portland, OR
Converted from 3 to 2 screws.
Increased to 10,000 gpm.
First few photos from 2000 visit.
Shown behind Station 5 on Alaskan Way.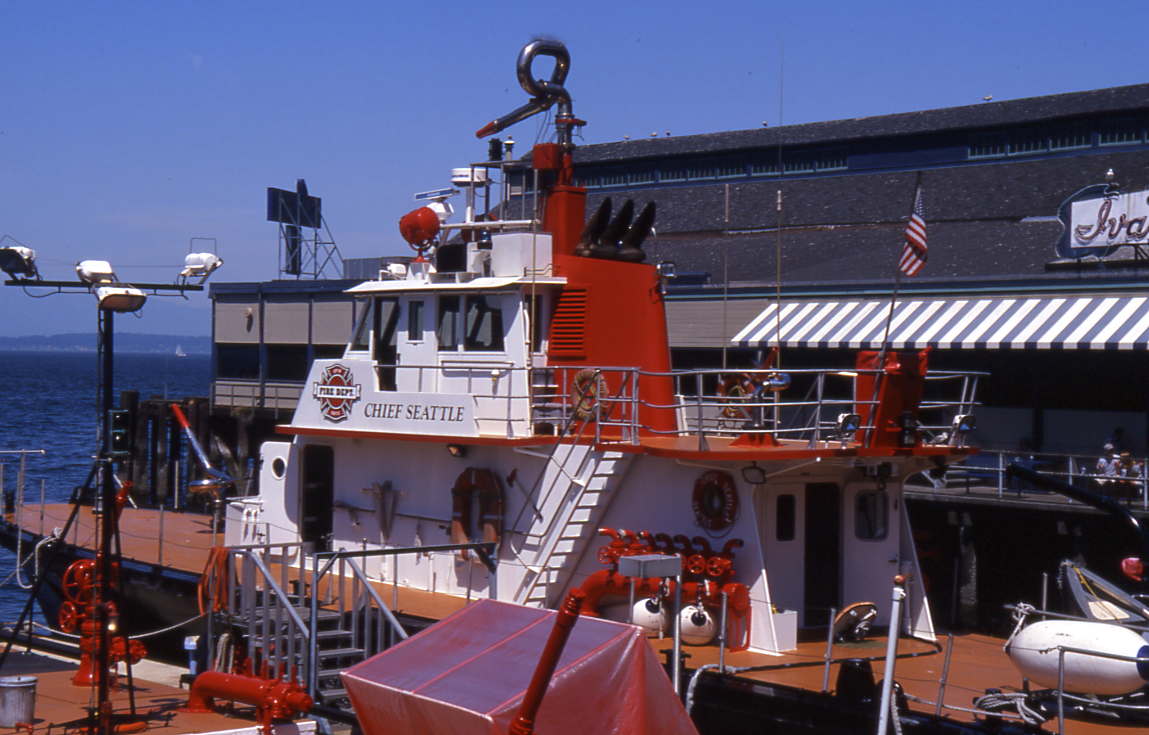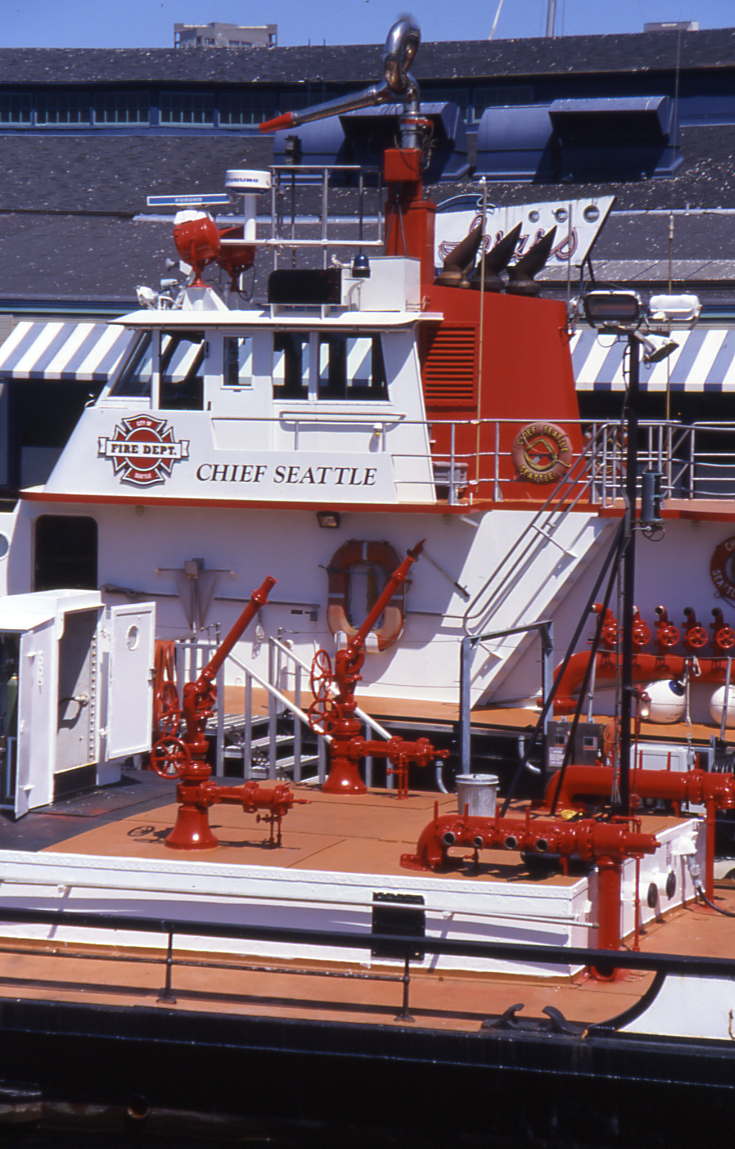 Seattle Fireboat
"Chief Seattle"
The "Chief Seattle" was built in 1983 by Nichols Brothers Boat Builders in
Freeland, Washington on Whidbey Island.
The boat underwent a major retrofitting in 2013 completed by Vigor Marine
in Portland, Oregon.
It was originally built to replace the 1927 "Alki" as the primary freshwater
firefighting vessel of the Seattle Fire Department area.
The "Chief Seattle" is 96' 6" LOA with a beam of 23 feet.
The boat was originally powered by three engines, with 3 props, and 3 rudders.
It was capable of 8,500 gpm with (3) 2,500 gpm pumps
driven by propulsion engines and cruised at about 20 knots.
The retrofit included repowering with (2) engines, 2 props, and 2 rudders
for propulsion and (2) engines for pump operation. This gave the boat an
increase to 10,000 gpm and a cruising speed of 22 knots.
The superstructure was replaced, the hull extensively refitted, repowered,
bow thrusters added, equipped with modern electronics and made new again.
The Chief Seattle is docked at Seattle's Fire Station #3 at the Fisherman's Terminal
on the Lake Washington Ship Canal. Fireboat 1 is also assigned here.
Photo Sept 2016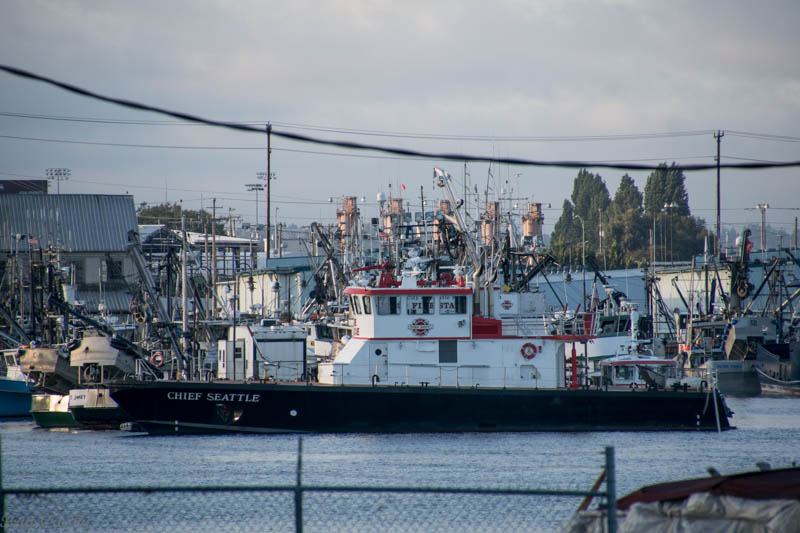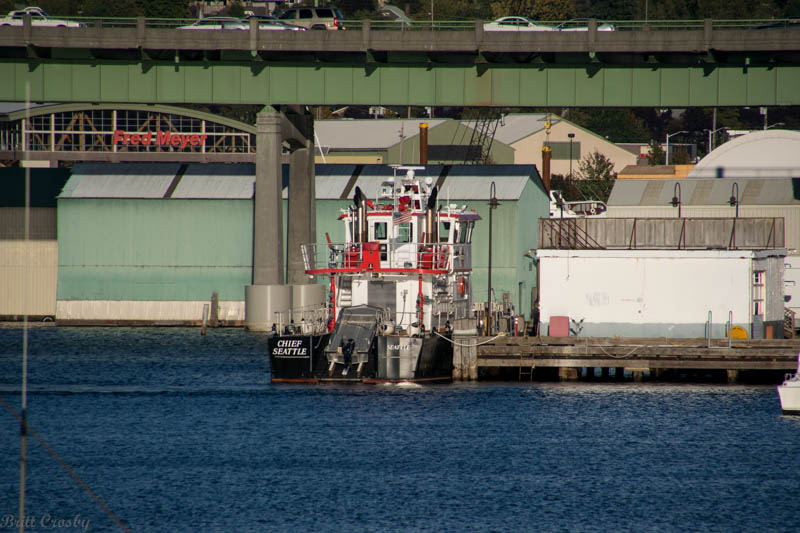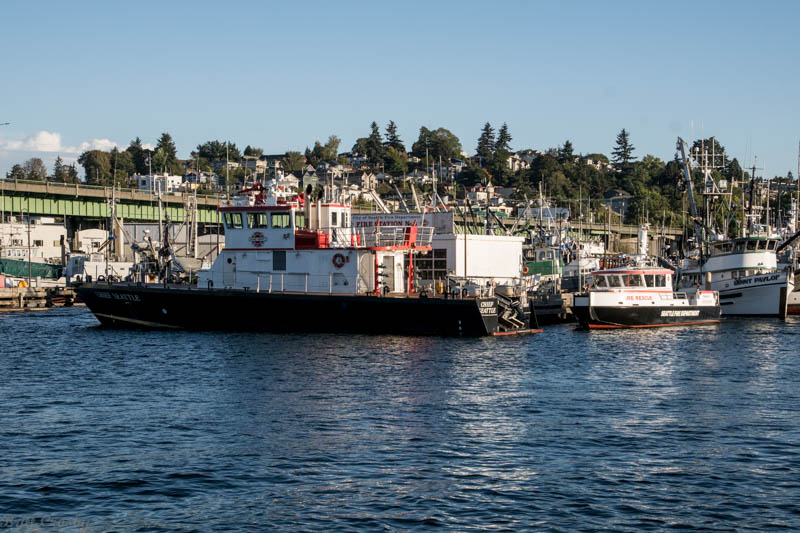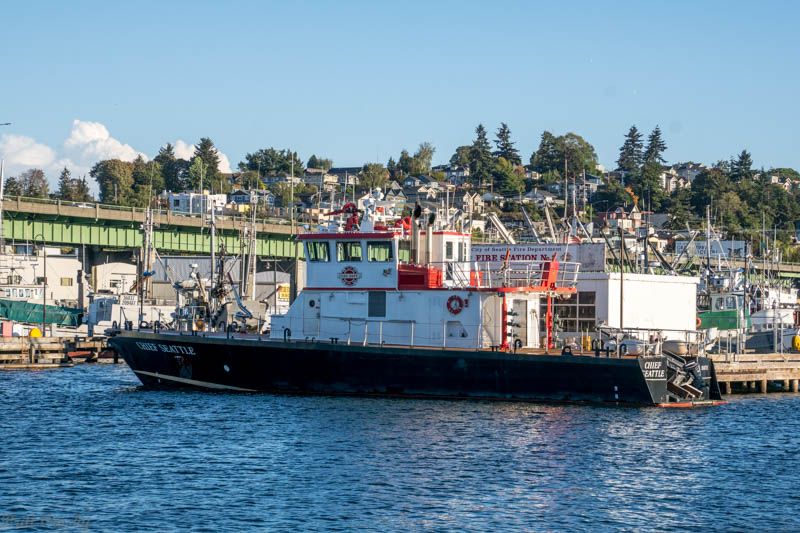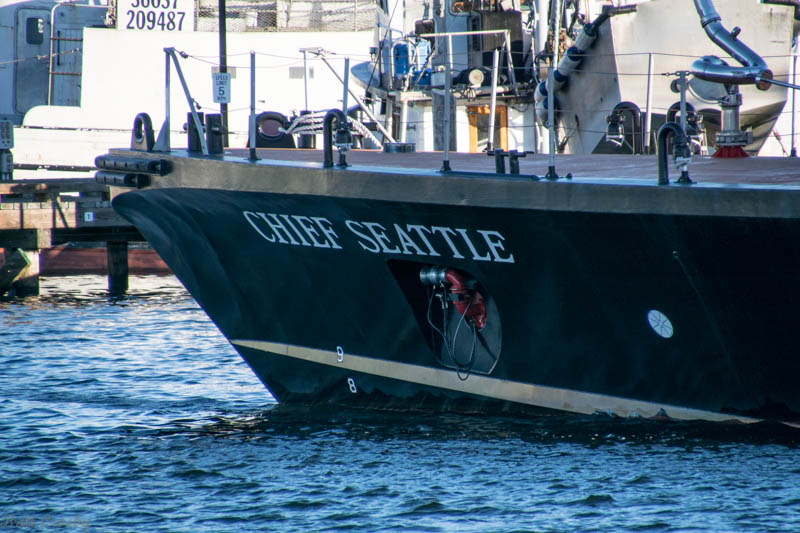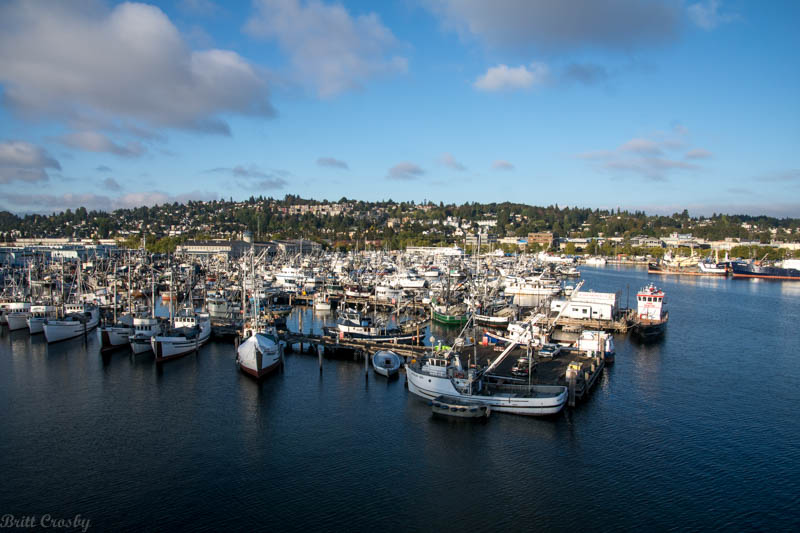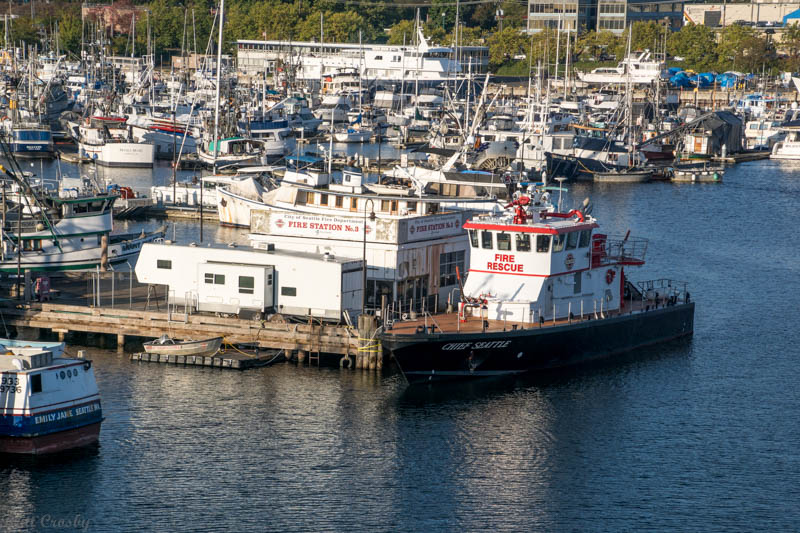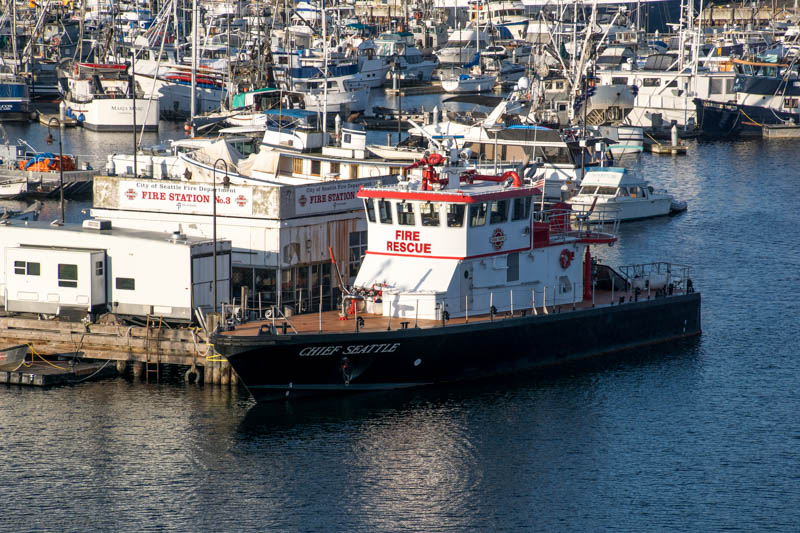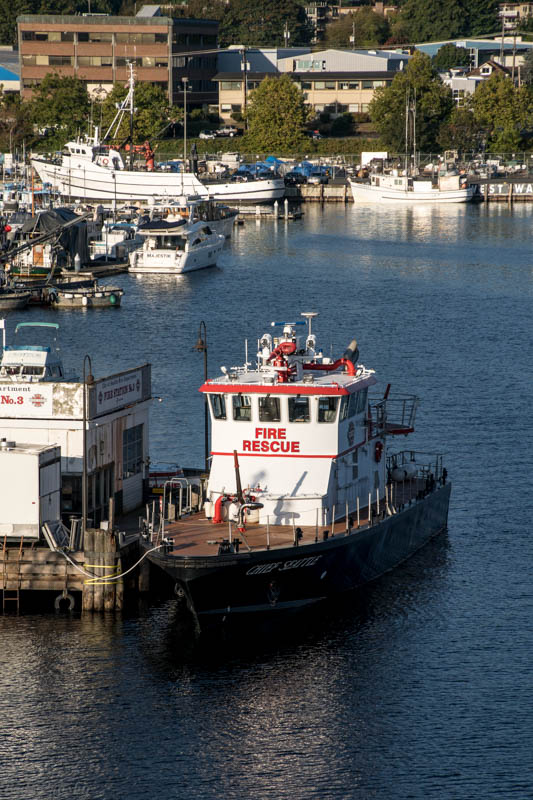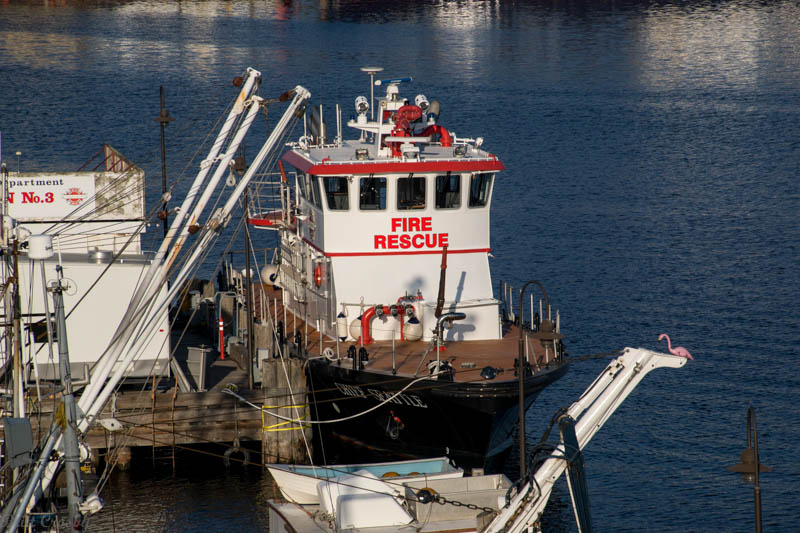 <![if !vml]>
<![endif]>
WASHINGTON BOATS
Bellingham Kingston-North Kitsap Pasco Port Townsend-East Jefferson
Ridgefield-Clark County Seattle 1 Seattle 2 Seattle 3 Seattle 4 Seattle 5 Seattle 6
Tacoma 1 Tacoma 2 Tacoma 3 Vancouver West Pierce
SEATTLE FIRE BOATS
P1-Older Boats P2-Fireboat 1 P3-Fireboat 2
P4-FB Chief Seattle P5-FB Leschi P5-Other Boats

RETURN TO

FIREBOATS

FROM


Copyright
Britt Crosby
CapeCodFD.com